With 150 members in its all-woman gym, Julia Gschwind, Austin Women's Boxing Club owner, said her gym offers an environment that is safe and inclusive for female athletes of all skill sets and backgrounds.
An amateur boxer who found the sport in her mid-20s in her home country of Germany, Gschwind said she fought in mid-level competitions after moving to the United States. She retired from the ring in her 30s and launched the local club to stay close to the sport a little over 14 years ago.
Gschwind said boxing is a sport that traditionally is filled with testosterone and an authoritarian "take it or leave it" training approach. At her gym, she said she works to develop training regimens that are more flexible and accessible for women.
"I realized there are a lot of women who have great potential for whom that traditional training would not work, so I decided to just teach women and wanted to create something that I wish I had when I was training that took the negative parts of boxing away," she said.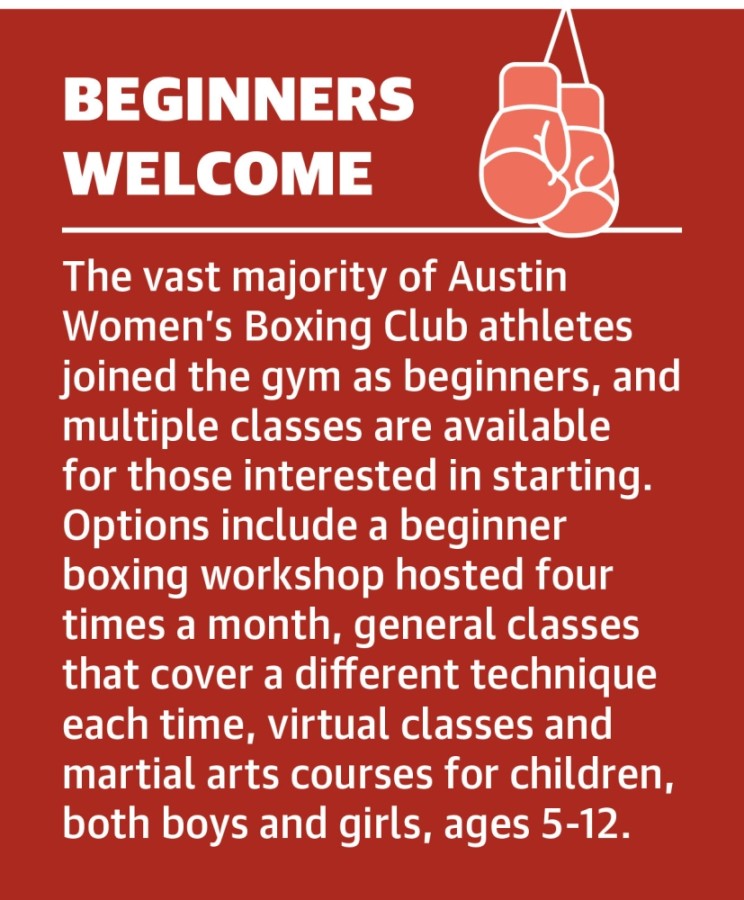 Although early on she recruited help from male martial arts instructors as her class sizes grew, Gschwind prioritized developing her own female students to one day be certified instructors of their own. Now, two other women and Golden Gloves champions help run the show: Alex Plichta and Ashley Bazan.
Originally named Austin Boxing Babes, Gschwind changed the gym's name last year. She said she thought the original name sounded fun at first, but as her students became more competitive at events, she felt other clubs did not take the name seriously.
"The word 'babe' has too much of a cutesy, sexual attachment to it," she said. "It sounded like you have to be sexy or have a certain body to train there, so it didn't seem inclusive."
Five of Gschwind's students are competitive boxers, with 10 others working their way toward that goal. However, she said about 95% of members joined the club without any previous boxing experience, and the vast majority of people who come to the gym do so not to compete but for the exercise and camaraderie her classes are able to provide.
"I started off teaching with that mindset that a lot of people would compete, but I had to change," she said. "There is so much value other than a trophy. There's a lot of personal growth."
Class sizes are being limited, but beginning the week of May 24, masks will no longer be required, according to Gschwind.