For Last Stand Brewing Co. owner Jim Sampson, 2020 was supposed to be a monumental year for the company he launched in Dripping Springs in 2015.
A veteran of the Central Texas beer industry, Sampson was set to open a second location for the business, which would include a new taproom and would move all beer production into the city of Austin by the summer of 2020.
However, when local and state health orders required bars and breweries to close in-person service beginning in March, he said delays to construction and the added financial strain caused by temporarily closing forced him to shift his plans. The words "Patience & Persistence," tattooed on his left arm for years, have never had more meaning.
"It fits all years at all times, but this year it was more true," he said.
Instead of focusing on relocating beer production, he said he prioritized opening the new taproom and kitchen in a safe way as soon as possible to begin regaining some of the profits lost in the spring.
Sampson's revenue losses in the first half of 2020 were shared by most in the industry. Texas brewers surveyed by the Texas Craft Brewers Guild reported a 71% decline in revenue during March and April alone, and 68% had to lay off or furlough staff during the summer. However, legislation passed in 2019 allowing breweries to sell beer to-go have helped some get back on track, while changes through emergency orders at the state level including allowing breweries to reclassify as restaurants gave breweries a way to reopen, Sampson said.
On Oct. 16, Last Stand Brewing SoCo opened its doors, kicking off a round of new openings in the South Austin region. Since then, three other locally owned breweries have launched: Fitzhugh Brewing in Dripping Springs, and Meanwhile Brewing and Pinthouse Brewing in Southeast Austin.
A fifth, Vacancy Brewing, is currently in the works. Co-owners Brent Watson and Sara Hamza said that although the business's timeline and some elements of the project have changed, they are optimistic about opening in February.
"I wouldn't say the pandemic has changed what our dream is at Vacancy Brewing," Watson said. "It's more about adapting to what it takes to be open and rolling with the punches."
Lightening the load

Sampson said selling beer to-go was a new lifeline for breweries in Central Texas struggling during the pandemic. Prior to the pandemic, a bill signed by Gov. Greg Abbott allowed craft breweries to sell up to 288 ounces of beer per day per customer for off-premises consumption beginning in September 2019.
Businesses such as Last Stand Brewing embraced having a new option. However, when the pandemic began, to-go beer sales went from making up less than 10% of sales in February to having to supplement virtually all in-person sales by April, Sampson said.
Rep. Eddie Rodriguez, D-Austin, was one of the state legislators who heavily supported the beer to-go bill during the 2019 legislative session. While he could not foresee a global pandemic stalling the beer and restaurant industries, he said he is proud that a bill he fought for has been able to help local businesses.
"I don't think there's any doubt that the beer to-go legislation allowed for some breweries to keep their doors open and to survive during this pandemic," Rodriguez said.
Sampson said having beer to-go as well as a distribution license to sell Last Stand Brewing products at local retailers this summer kept his business afloat."We were lucky to have our hands in both during this whole thing," he said.
Opening and reopening
In an effort to allow some businesses to reopen amid local and state health orders, the Texas Alcoholic Beverage Commission changed certain state regulations this summer. In July, bars and breweries that added food offerings at their taprooms and projected food sales above 50% of total revenue were given a chance to apply for permits that would reclassify them as restaurants.
Sampson said Last Stand Brewing filed permits to reopen with food as soon as possible, and within a month the brewery's grounds were open to dine-in service again. At the new South Congress taproom, plans already had a kitchen in place, giving Sampson confidence to open in October with food as an added safeguard against future closures.
Meanwhile Brewing opened with two food trucks on-site, while Fitzhugh Brewing and Pinthouse Brewing both have their own kitchens serving food. For Vacancy Brewing, Watson said the 51% allowance made him prioritize securing a food truck partner earlier than anticipated.
"We realized that food is more of an essential now, as is setting up things like having an outdoor space," Watson said.
While Rodriguez said the rollout of the state changes could have been smoother, they have given opportunities to businesses that looked to regain revenue. Prior to the July changes going into effect, a June Texas Craft Brewers Guild survey showed that one in three breweries believed they would have to close by the fall.
The TABC also provided a list of safety guidelines and best practices for breweries looking to open during the pandemic.
Fitzhugh Brewing owner Kerbey Smith said she has learned the new guidelines and regulations "backwards and forwards."
Sanitation practices take extra time out of the day, and other precautions added costs to the overall project while she prepared for the brewery's October grand opening.
"They were definitely things we didn't consider at the very get-go of our project, so it has been really tough, but we're happy to do it because it will help," she said. "We're going above and beyond trying to make people feel comfortable coming here."
Conner Gilfillan, Meanwhile Brewing director of sales and marketing, said there was a lot of uncertainty about both customer turnout and the safety of staff and patrons when the brewery opened. The brewery launched with fewer tables than planned and without offering indoor seating. Also, the venue's stage, playscape and soccer field remain closed.
"There was a big emphasis on the overall experience at Meanwhile Brewing when it was being planned, and we're just having to share that experience in stages now," he said. "We're not comfortable with having it all open yet, but we feel like when the time is right, we'll share those spaces with everyone."
The road ahead
With the Texas legislative session underway as of Jan. 12, Rodriguez said he expects lawmakers could expand some of the state orders passed during the pandemic related to alcohol into permanent bills.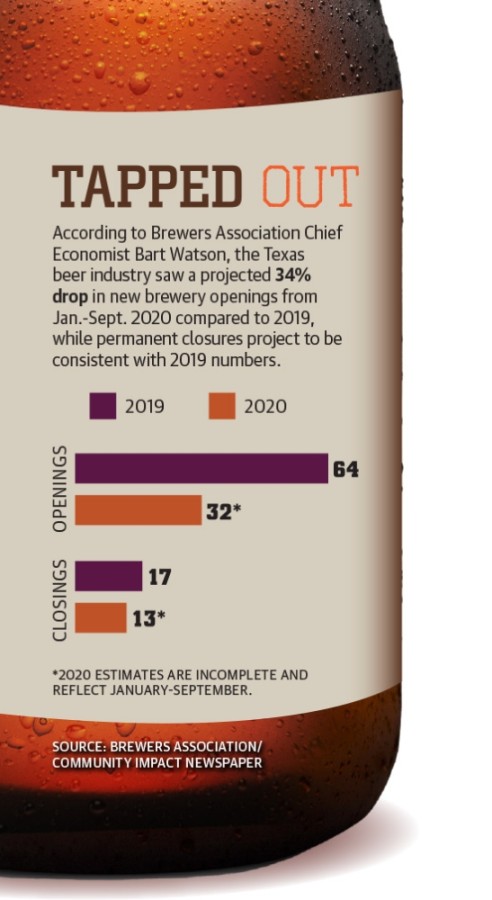 "It's not just all about fun and games and getting your drink; it's about businesses and allowing them to flourish in both the bad times and good times," he said. "The businesses that have benefited most are our local establishments. We need to do whatever we can to give them a fair chance to make it."
The Texas Craft Brewers Guild has also asked the state for additional help. A guild petition asks Abbott to expand executive orders during the pandemic to allow breweries to deliver beer directly from the brewery to its customers' homes. The petition, launched in March, has more than 219,000 signatures as of Jan. 22, but it has not been acknowledged by the governor's office.
For those like Smith, expanding options for brewers could help in her first year of operation or even beyond the pandemic. However, with the Austin-Travis County area in COVID-19 risk Stage 5—its highest stage that encourages bars and restaurants to close for dine-in services— as of Jan. 22, Smith said she still fears another state-mandated closure of bars and breweries.
"My biggest concern is that we'll have it taken away from us again," she said.
Gilfillan said the Meanwhile Brewing team is also worried but can see the light at the end of the tunnel. With the first COVID-19 vaccines distributed in late 2020 and more individuals having access as time passes, he said he hopes the chances of a statewide shutdown have diminished.
"The positivity with the vaccines, I think that optimism is helping people," he said. "Obviously, it's scary that things could still get worse, but we know that if we do what we're supposed to do, the masks can eventually come off and the hugs can return again."