Scott Friedeck started working in the music industry as a weekend hobby. A roofer by trade with a love of music, he said he began connecting with musicians who had worked at the Memory Lane recording studio and event center in Dripping Springs, which is run by his wife's family, and helped them sell merchandise at shows.
When he saw artists frequently selling blank guitars and signing them for fans at shows, he said he got the idea of covering a guitar with promotional art or a picture of the artist to make a more unique experience for fans.
Friedeck turned his hobby into The Graphic Guitar Guys, and built music industry relationships while growing a local and national following.
Friedeck said he does not know how to play guitar, and he had to educate himself about the instrument when first putting graphics onto them. While playable, the guitars he uses are not professional grade and are mostly used as wall decorations, sold by artists with prices ranging from $300-$900 as merchandise at their events.
After taking small orders over three years, in 2014, Friedeck got his big break when someone from George Strait's team gave him a call.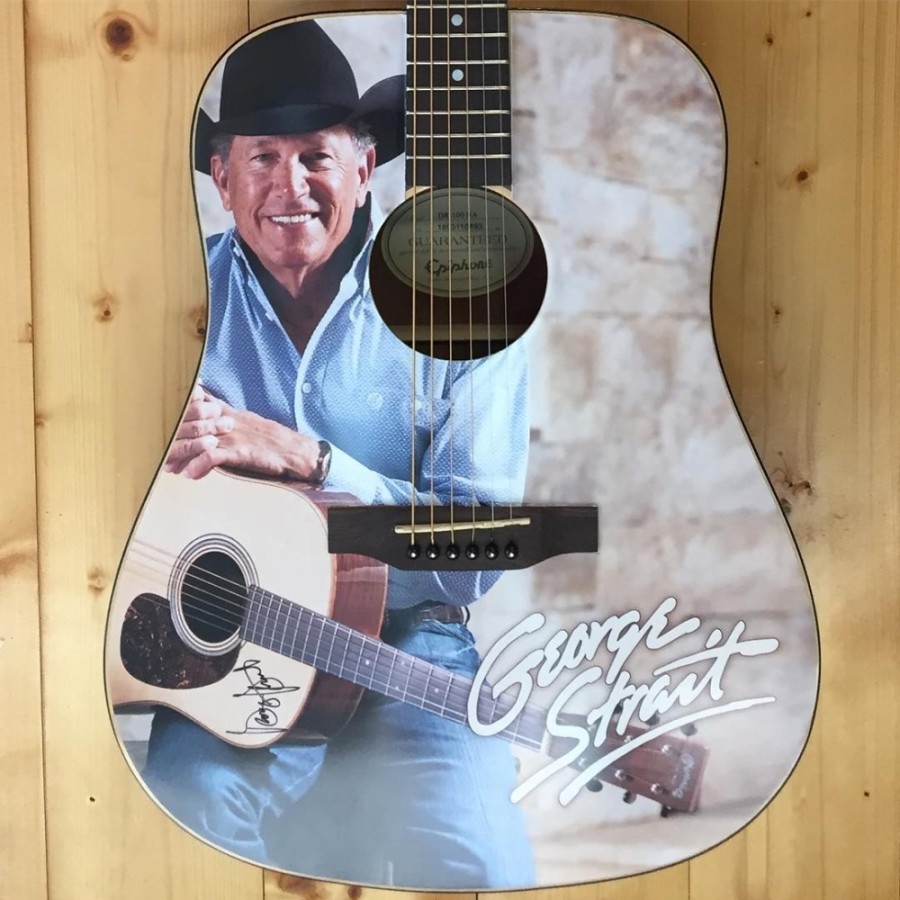 "They had ordered thousands of promotional guitars with graphics from overseas that got stuck in customs," Friedeck said. "They called me and said, 'We need 430 guitars in three weeks for a show in Arlington and were told you're the guy.'"
Friedeck accepted, although his largest single order prior was 34 guitars. But, with the help of some local Boy Scouts who came into his workshop, he said he was able to fill the order and hand delivered them to AT&T Stadium in the Arlington area before the show.
Merle Haggard's team soon reached out for work, and ever since Friedeck has been filling orders full time for musicians.
"That's kind of how the model is in music. If you do great, everybody hears about it, and if you screw up, everybody hears about it," he said. "I've been fortunate enough to be in good graces with a lot of people and have been extremely lucky and have worked hard."
While word of mouth has helped, other times, Friedeck said he has just been in the right place at the right time. This January he met Taylor Swift's father on an elevator in Nashville, and he has filled two orders for the pop star, he said.
Still, with orders coming in sometimes for hundreds of units at a time, Friedeck said no order is too small. He has created one-off guitars for nonprofit auctions locally, festival promotions and even as an alternative to a wedding guest book, with guests signing a guitar with the bride and groom printed onto it.