Electric automaker Tesla will officially build its next manufacturing plant in Travis County in an area just east of the city of Austin, bringing with it at least 5,000 new jobs.
Tesla CEO Elon Musk announced the decision to develop its next "gigafactory" in Travis County in a July 22 earnings call following months of deliberations between the company, Travis County and Del Valle ISD over economic incentives that would help bring the company to Texas.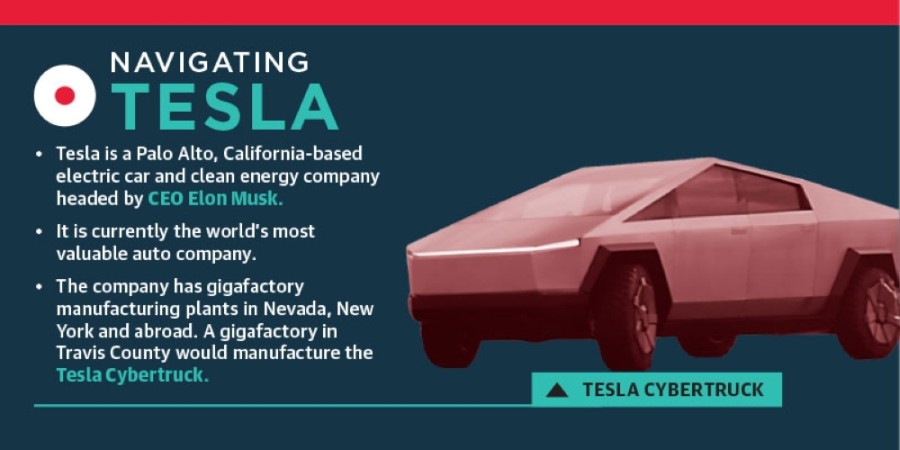 Tesla anticipates construction to begin in the third quarter of 2020, with initial operations at the Travis County gigafactory beginning as soon as the fourth quarter of 2021. Already, Tesla has taken steps to charge forward with the site, seeking its first development variances from the county July 21, which was regarding construction on roads leading to and from the gigafactory site along SH-130 just north of W. Hwy. 71.
"We're going to make it a factory that is going to be stunning," Musk said. "It's right on the Colorado River, so we're actually going to have a boardwalk where there will be a hiking/biking trail. It's going to basically be an ecological paradise—birds in the trees, butterflies, fish in the stream—and it will be open to the public as well."
Texas Gov. Greg Abbott welcomed Musk's announcement with a statement praising Tesla as "one of the most exciting and innovative companies in the world."
"Tesla's Gigafactory Texas will keep the Texas economy the strongest in the nation and will create thousands of jobs for hard working Texans. I look forward to the tremendous benefits that Tesla's investment will bring Central Texas and the entire state," Abbott said.
Tesla's venture into the Austin area began earlier this year, when Musk indicated that Tesla was seeking a site located centrally in the United States for its next gigafactory, one of the company's massive manufacturing plants, as it prepared for production of the new Cybertruck. Austin was specifically floated as a possible location.
In June,
news broke
that Tesla was officially considering a 2,100-acre site in Southeastern Travis County at the intersection of SH 130 and Harold Green Road, northeast of Austin-Bergstrom International Airport. A site near Tulsa, Oklahoma was identified as a competing finalist for the factory.
With gigafactories past—such as those now located near Reno, Nevada and Buffalo, New York—local entities offered hefty economic incentives to rope Tesla in. Travis County did the same,
offering the carmaker at least $13.9 million in tax breaks
to attract Tesla's jobs and tax revenue, something local officials have said would be beneficial due to the strain of a pandemic-fueled recession.
Travis County revs up for Tesla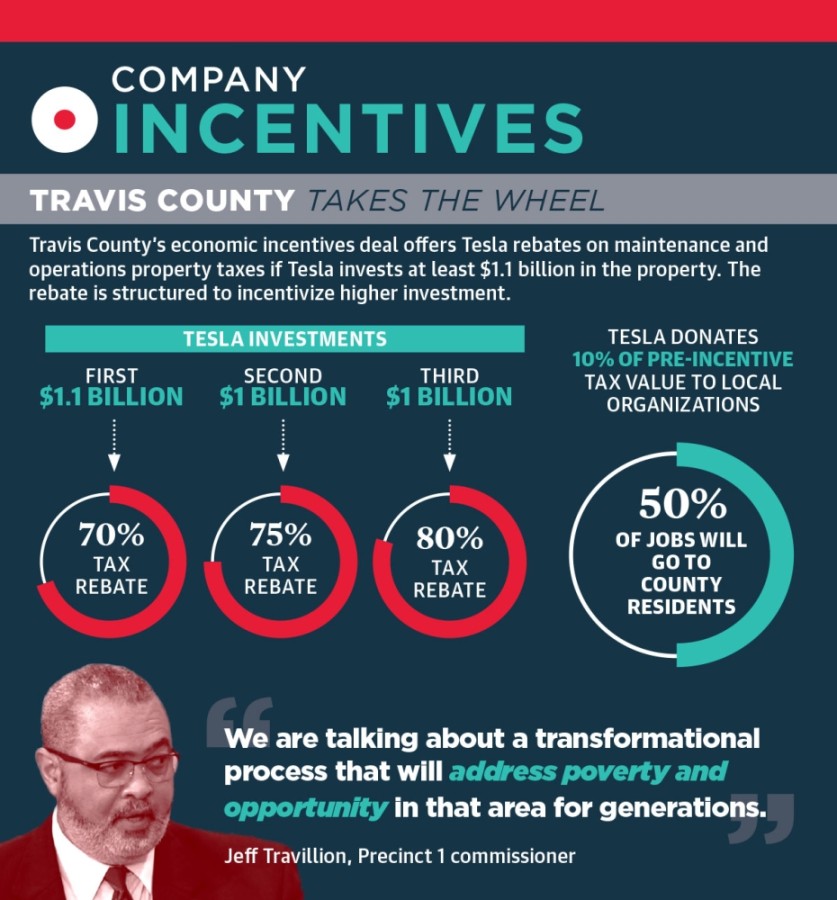 Travis County's dealings with Tesla began in closed-session discussions with county commissioners in May. As a result, the court voted May 26 to lift a local moratorium on development incentives for the Tesla's factory.
The goal of an incentive agreement is to promote business and commercial activity brought in by large companies such as Apple and Samsung. In Tesla's case, the county itself is projected to bring in millions of dollars in new tax revenue, thousands of jobs directly from Tesla and possibly many more through the ripple effects of other companies following to be near the gigafactory.
Due in part to Texas's high property taxes, Rohan Patel, Tesla senior global director of public policy and business development, said economic incentives were a necessity for Tesla to build in the state.
Travis County incentives involve incremental rebates on the Tesla's property taxes paid to the county, with a 70% rebate for maintenance and operations property taxes once the company invests its first $1.1 billion in the area. Tesla will receive a 75% rebate for taxes associated with the second "incremental billion," and 80% once $2 billion of investment is exceeded.
Travis County will still see an influx of tax revenue from the gigafactory, around $8.8 million over its first 10 years of partnership with Tesla, according to county documents. Additionally, Tesla pledges to donate 10% of its preincentive tax liability to local nonprofit, education and transportation causes.
"Travis County has been able to take a tract of land that paid $64,000 in tax revenue over 10 years and turn it into a tract that will pay $8 million in tax revenue during the same period," Travis County Judge Sam Biscoe said after Musk confirmed Tesla's decision to come to Texas. "I am proud of the agreement we have reached. It strikes a balance between incentivizing Tesla, securing significant community benefits, and ensuring protection of workers and the environment."
Because the county's deal with Tesla is performance-based, Tesla could lose out on tax breaks if it fails to hold up its end of the bargain, according to the deal. The company also would be required to hire Travis County residents for at least 50% of its workforce and would have to pay all employees a minimum wage of at least $15 per hour.
However, some local voices have said these requirements fall short. A coalition of labor unions, environmental and interfaith groups have criticized Travis County's lack of contingencies to hold Tesla accountable for labor and environmental practices. Groups took particular issue with the lack of a requirement for Tesla to follow Travis County's Better Builder Standards, which oblige development projects to accept independent oversight for construction and contract work.
"Unfortunately, it appears that the judge and county commissioners are allowing Tesla to write its own ticket and exempt itself from county policy applicable to everyone else," Jeremy Hendricks, a regional director for the Laborers' International Union of North America, wrote to the county.
Many other callers from the Del Valle area, where the factory will make its home, were happy to allow special circumstances for a company with the potential to revitalize a low-income area, as was Commissioner Jeff Travillion, who represents the area.
"We are talking about a transformational process that will address poverty and opportunity in that area for generations," Travillion said.
A catalyst for education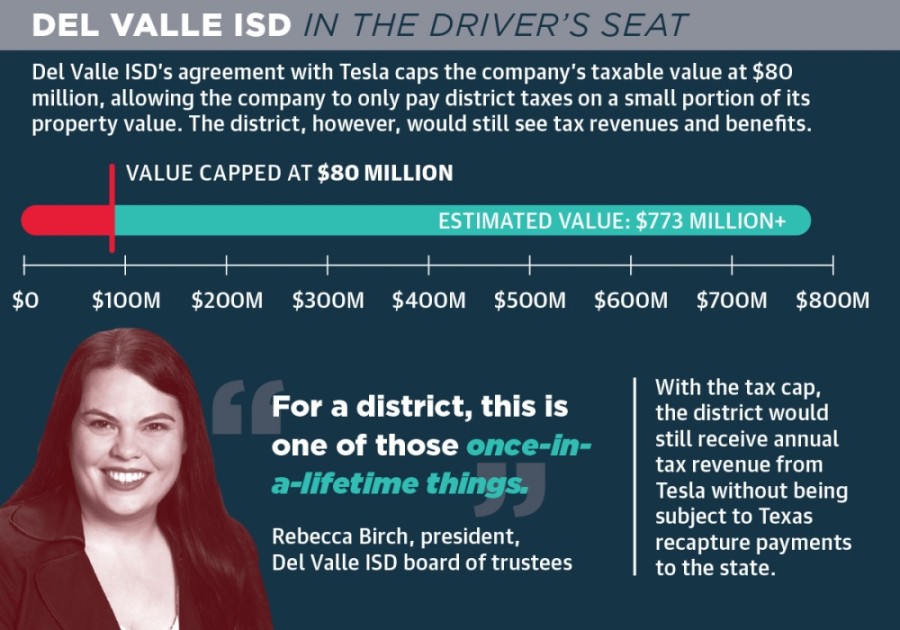 Del Valle ISD, the school district that will receive tax revenue from Tesla's new gigafactory, has also
approved an incentives agreement
that would give Tesla an estimated $46.4 million tax break over 10 years.
According to state regulations, DVISD's deal with Tesla allows the district to cap the taxable value of the development project as long as it would still preserve a net financial gain for the district.
While Tesla is estimated to bring at least $773.4 million in additional taxable value to the property with the construction of a 4 million to 5 million-square-foot plant, according to district documents, DVISD agreed to cap the taxable value of Tesla's project at $80 million.
DVISD will still receive $776,000 in annual tax revenue from Tesla, according to the district. Additionally, without a tax cap, DVISD's local tax revenue funding would have exceeded $9,557 per capita, a state threshold that determines if a district will continue to receive state funding or begin pay into Texas' Robin Hood recapture fund once surpassed.
Through that lens, Tesla's presence in the district will likely shift DVISD into being one of the wealthier districts generating recapture funding.
Additionally, DVISD will receive a range of programming, curriculum and workforce development benefits, according to the district.
Many of these opportunities mirror Tesla's partnerships with school districts near Tesla's Nevada gigafactory, including the Washoe County School District in Reno, Nevada, where staff say Tesla has been a faithful partner.
"Tesla said: 'If you need it, let us know, and we'll do what we can to support and fund that out,'" said Joshua Hartzog, director of career and technical education for WCSD, in an interview with
Community Impact Newspaper.
Tesla's partnership with WCSD is most closely tied to the district's fledgling robotics program, for which Tesla funded a robotics coordinator that collaborates with other school districts across Nevada. According to Hartzog, Tesla has also given WCSD teachers externships and training opportunities so they can lead robotics clubs and classes, and it is working toward implementing automated manufacturing curriculum in district schools. The Nevada gigafactory hired 46 Nevada high school graduates directly in 2019, including several WCSD graduates.
DVISD, too, has been promised a pipeline for graduates to receive employment with Tesla, but some labor groups have voiced concerns regarding protections for these future Tesla laborers.
"How much is a young high school graduate going to be able to push back in terms of safety issues, in terms of worker rights?" United Auto Workers representative Manuel Quinto-Pozos told
Community Impact Newspaper
.
Tesla representatives have said there would be ample training and mentorship opportunities to prepare students for the workplace.
"We haven't even imagined the things [our students] are capable of," DVISD board President Rebecca Birch said. "For a district, this is one of those once-in-a-lifetime things."
Sealing the deal
Tesla's Patel repeatedly told both Travis County and DVISD representatives that the company's decision was by no means made as the local entities deliberated.
Throughout July, Texas' primary competitor, Tulsa, continued to make a play for the gigafactory. Oklahoma Gov. Kevin Stitt was vocal that Tulsa holds a more pro-business attitude than Austin, pointing to criticisms from labor representatives in the Texas capital.
However, most local labor representatives have been clear that they welcome the idea of Tesla and its 5,000 jobs moving into one of the poorer areas of Travis County. What they want, according to Workers Defense Policy Director Jessica Wolff, is to ensure Tesla will offer a "true benefit" to the community when it arrives.
"I think what our community really needs is not only 5,000 jobs, but 5,000 good, safe jobs," Wolff told
Community Impact Newspaper
.
Patel said following DVISD's agreement with the company that he appreciated these voices for holding Tesla accountable.
"[This site] has risen to the top because of you all and because of the clear passion of your community," Patel said. "You're going to hold us accountable if we choose this site, and you're going to work with us to make this the best possible site we could come up with."
This is a developing story. Updates will be added as new information comes to light.