Off of Center Street in downtown Kyle, the city's police department resides in what used to be a bank. The Kyle water tower stands high behind the building that still has a teller window and drive-thru lines, now occupied by police cars.
Though the police department has bounced from building to building over the years, staff will not have to wait much longer for a permanent home. City officials broke ground Sept. 17 on the new public safety center that will expand the current police department from 8,000 square feet to 64,000 square feet. Set to be located at 1760 Kohlers Crossing, the new public safety center was a $37 million proposition on the November 2020 bond election that voters passed by 55.49%.Kyle City Council began working on the project proposal in 2018, according to council member Rick Koch. He said the council hoped residents would see the work being put into the plans for the center and understand the need for the continued work toward public safety as the city continues to grow. "We believe our police department is going to grow. That's exactly why the public safety center was put on the ballot, so that we could grow our police department and concentrate on our public safety and put that at the forefront of many of the needs of the city," Koch said.
In addition to having the space to add to the police department growing alongside the city, Mayor Travis Mitchell said the public safety center benefits more than just the police. An emergency operations center within the new facility will allow for multiple entities to work together and assist the community during major critical events such as floods, fires or even another winter storm.
"This building will allow for us to bring all departments in without compromising the integrity of the police department side of things," Mitchell said.
When not in use as an emergency operations center, the space will serve as an event center for the city.
Growing pains
In the past 10 years, the city of Kyle's population has almost doubled, and with the rise in residents, the police department is struggling to meet demand according to Chief of Police Jeff Barnett.
Barnett said the department had 26 police officers in 2010 to accommodate the city's population of just over 28,000 people, according to the U.S. census. Effective Oct. 1, the department has 61 sworn police officers, Barnett said. Over the last 11 years, the department has added 35 officers, a 134.62% increase, while the city's population has increased 63.11%, according to the U.S. Census.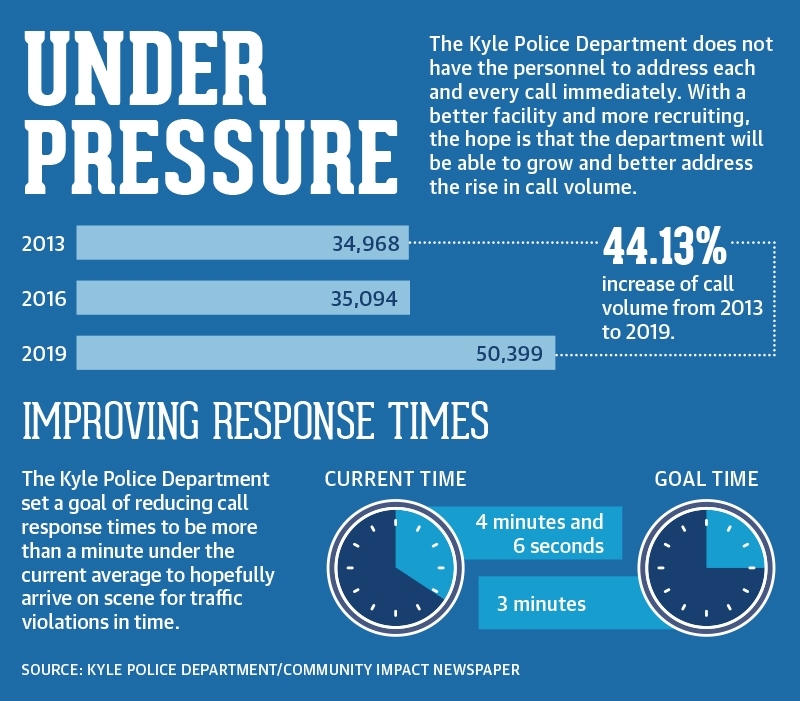 While the department has adequate staffing for emergency calls, it is unable to address one of the biggest complaints from citizens: traffic violations. From running a stop sign, speeding or reckless driving, Barnett said by the time an officer can arrive at the scene, the driver is long gone and more often than not, an officer cannot further address the issue. On average for 2021, he said, the response time for calls is at 4 minutes and 6 seconds. He said he hopes having the new center and an increase in officers can bring down the response time to 3 minutes.
Many officers are fairly busy going from call to call, and Barnett said that limits the amount of time they have to interact with and seek input from the community. He also said he hopes the new center can provide a way to do more proactive work, engage with the community and scale down the additional work officers are doing on a regular basis.
Officers 'wear a lot of hats'
On top of dealing with the challenges of such a quickly growing city, Barnett said many officers "wear a lot of hats." The new and bigger space will "allow officers to concentrate on their assigned job rather than having two or three assignments all rolled up into one job," Barnett said.
Two officers who are taking on extra responsibilities are the juvenile officer Dago Pates and the mental health officer Nathanael Waters.
Pates said he has been with the department for over 12 years doing regular police patrol and traffic enforcement until the juvenile position was created through grant funding in 2015. In this position, he is responsible for working with individuals under age 17 in the community who need help to keep them out of the adult criminal justice system, he said."I feel like a lot of the youth problems, issues that these kids are having, you can't pin it down on one thing, but I like to try to get in there before it becomes a real problem and they are now in the system of building these habits that are going to follow them into adulthood," Pates said.
When problems arise with juveniles within the community, it is most likely reported through their school. Schools get in contact with parents who then reach out to Pates. For issues at home, parents usually contact Pates, he said. To keep juvenile processing equitable, Pates teaches the processing protocols to all the officers. He said if it is not done enough, it can easily be forgotten.Not only does he teach the processing to all officers, but Pates added that he is also responsible for registered sex offender compliance, which is usually a position in and of itself with an officer or two at its helm.
Pates will set aside one day a week to conduct walkthroughs and check-ins with registered sex offenders in the area.
The mental health officer position is another newer position the department created in February. Waters has been with the Kyle Police Department for four years and he said that while on patrol, he would regularly gravitate toward calls relating to mental health. "It's one thing to get the bad guys, but it's another thing to help people when they're at their lowest points in life," Waters said.
Waters helps those in the community get the right care for the issues they are experiencing. He said he coordinates transfers from Ascension Seton Hays Hospital, which can only service those experiencing mental health issues through their emergency room to inpatient mental health facilities. Aside from being the only mental health officer for the city, Hays County does not have its own inpatient mental health facility, leaving Waters to drive transports from Kyle to San Antonio, Waco and even Houston.
He also said that on some days, he will go as far as wearing a police uniform so he can help when patrol is short-handed and cover calls.
For both Pates and Waters, managing their duties and the slack they pick up all comes down to prioritizing, they said. They will assess what happened over the weekend, and if there is a runaway or someone under an emergency detention order, they will prioritize that over a robbery. More staff in their minds would mean not having to make those choices.

Looking ahead
Though the department is adequately staffed for emergencies, Barnett said the department could use more officers. However, Koch said the city is struggling to recruit enough officers to match the city's growth.
Pates said the department has brainstormed ways to attract more recruits, including a career day to share about police work with children and young adults in the area who are unsure of their futures and to normalize police interactions.
"We obviously do not have any space like that to do [a career day] here," he said. "That's one idea that we could get more youth kind of a little bit more involved in not seeing the police as scary or intimidating."
Koch added that this "state-of-the-art" two-story facility will attract "the best and brightest officers" to Kyle, rather than neighboring cities' police departments, such as New Braunfels.
The city of New Braunfels broke ground in January on a new police headquarters that will be 1,000 square feet larger than the Kyle public safety center. However, the population of New Braunfels is double that of Kyle. Set to be fully operational by late 2022, the hope for such a large space is to allow the Kyle police department to steadily grow over the next 20 years or so, in line with the city, Barnett said.
"I think in the future, as our population continues to grow ... we will see our police department grow by another third by the near future. Within five to 10 [years], we will surpass the 100 officer mark to keep pace with our city growth," Barnett said.