The city of San Marcos is once again seeking proposals for companies that offer microtransit shuttle services to bid on a contract to connect workers and shoppers to downtown without fighting over parking spaces.
Microtransit is a term used to describe various public transportation services that can offer "first-mile, last-mile" service from a parking location, bus or train station to a rider's workplace or shopping destination. Over the past few years, the city studied the issue and how it might help with downtown congestion and ease of transport as well as provide alternatives for shuttling to and from festivals. In October 2019, the parking advisory board recommended use of $500,000 set aside from the city's downtown tax increment reinvestment zone, or TIRZ, for an electric cab pilot program.
Established in 2011, the downtown TIRZ had a fund balance of $1.8 million as of Sept. 30, according to city documents. The TIRZ is approved to operate through December 2027, and 70% of taxes collected over the base year, 2011, go toward the fund. Over the summer, the city put out an initial request for proposals but denied all of them at the City Council meeting Sept. 7, citing a lack of clarity in the proposal itself and a need to better outline the objectives of the program.
Now work is underway to again ask for bids.
"The parking advisory board didn't really anticipate the respondents focusing only on the app hailing portion of it. And that's what kind of got us off track of what we were looking for. None of the respondents seem to really have a ride-hailing capacity or a designated stop-off circulator," said Council Member Maxfield Baker, who is also on the parking advisory board.
The other issue, Baker said, was over what map of the downtown area and other areas would be used as boundaries for where the system would operate.
"There are three maps that we call our downtown maps, but they have different boundaries to them," Baker said.
One of the maps defines the boundaries of what the San Marcos Main Street Program defines as downtown. A second map included the historic district, but that reaches deep into some neighborhoods off West Hopkins Street. Another map encircled the downtown area and stretched to I-35. The scope of the proposals received went beyond what the city was looking to accomplish.
"So that was unintentionally included as the footprint for our original [request for proposals, or RFP], and we've since decided to pare that down to the Main Street map," he said. "So that was one of the things that we're hoping to kind of clarify with this new rewrite, and then we'll finalize that and begin the RFP process again, hopefully to be completed in about a six-month time frame."Josie Falletta, downtown coordinator for the Main Street Program, said the area is a near perfect 20-block square. "Our Main Street map goes from the university on the north edge down to MLK [Drive] on the south, then on the west over to CM Allen [Parkway]," she said.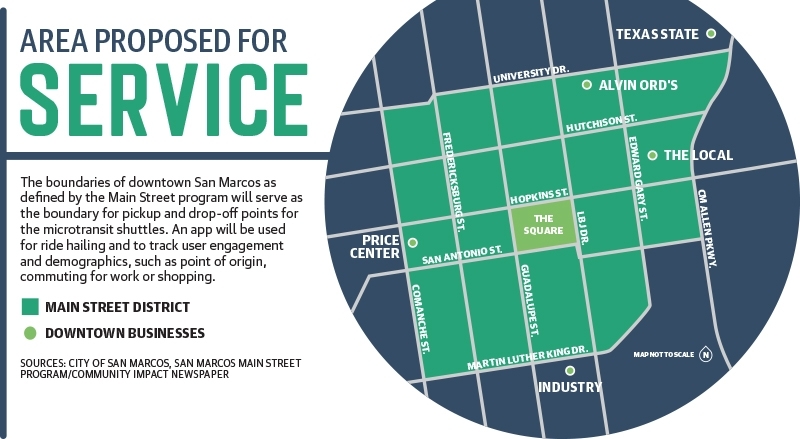 A free, rapid shuttle service
A goal of implementing the microtransit service is that it is expected to be free for anyone moving to and from downtown and is meant to encourage fewer cars and more walking, said Peter Binion, transit manager for the city of San Marcos.
Microtransit service can utilize different platforms, such as with ride hailing on-demand or a circulating route. "From rural environments to urban environments to suburban environments, there are a variety of use cases looking at things like gaps or transit deserts in networks, helping to either bolster or replace underperforming pieces of networks for first-mile, last-mile commuter services. Really you can use the technology, particularly around microtransit to solve a lot of transit needs," said Dillon Twombly, chief revenue officer for Via, a global transit technology company based out of New York City that did not bid on the contract for the city.
Mayor Jane Hughson said the city is looking to have a circulating route where riders can wait at pickup points and get a ride within a few minutes. They also hope to have service daily until 3 a.m. to accommodate downtown workers. "My concern and the concern of many others is if you have someone, male or female, working at a bar, and they're leaving at 2:30 in the morning. That's a long way to walk, especially if you have cash. And we don't want people having to walk that far. We want to get them safely from where they work to where they have parked," Hughson said.
Hughson emphasized that part of whatever goes into the future agreement will be that the rides are not only free, but drivers will not solicit tips.
Outcomes from microtransit elsewhere
Twombly said companies such as Via tend to be "agnostic" to any model or approach and let the municipality figure out what works best for it. Via operations in Arlington, for instance, are a completely on-demand model in a city that previously had no public transit. Since 2017, Via has reported more than 494,000 rides in Arlington.
Via Metropolitan Transit in San Antonio—not affiliated with Via—used another company to help underutilized corridors in northwest San Antonio and the northeast. The agency used a ride-hailing system rather than traditional buses to move passengers to and from transit hubs, cutting down on ride cost per passenger, the agency said.