With over a combined total of 35 years in the coffee industry, husband and wife Ron and Megan Watkins said they were confident they would be able to handle anything that came their way when they left their franchise in Seattle and set out to open their own coffee truck.
Now located in Buda, what they said they did not bank on is the scarcity of product and price increases as a result of supply chain issues.
They left their jobs in late 2019 and immediately began decking out the shell of a mobile food truck. They purchased wood and other materials in 2019 and early 2020 before the onset of the pandemic and subsequent coronavirus-related restrictions that led to global supply chain issues.
Facility closures, lockdown measures and delivery delays contributed to interruptions in production and rising costs of consumer goods, according to a report from the American Farm Bureau Federation.
"Our syrups and sauces and flavors even from what I ordered [in September] has gone up $0.75 to $1 per bottle," Ron Watkins said. "The price increase has been shocking, especially how quickly it's been going up. I do an order every three weeks to a month and just noticing that our tab is a lot higher than it was last time."
Over the course of the pandemic, the Watkinses spent their time finishing their truck and drove it from Washington to Texas. They opened in late October.
Higher prices and longer delivery
The Texas Consumer Price Index has steadily increased in 2021 and is, overall, higher than at any point in 2020, according to data from the Texas comptroller. In October, the Consumer Price Index rose 6.2% year-over-year in the U.S., accounting for the largest increase since November 1990, according to the U.S. Bureau of Labor Statistics.
The CPI is a measure of inflation and average changes over time in the prices of goods and services determined by the Bureau of Labor Statistics. Statewide the CPI rose 5.41% in September compared to 2020, according to the Texas comptroller.
Though the Watkinses did not face problems with the wood purchases for their truck, owner of local furniture studio and workshop Mockingbird Made Jeff Daly reflected on the inconsistencies of wood and how the pandemic has bolstered his business.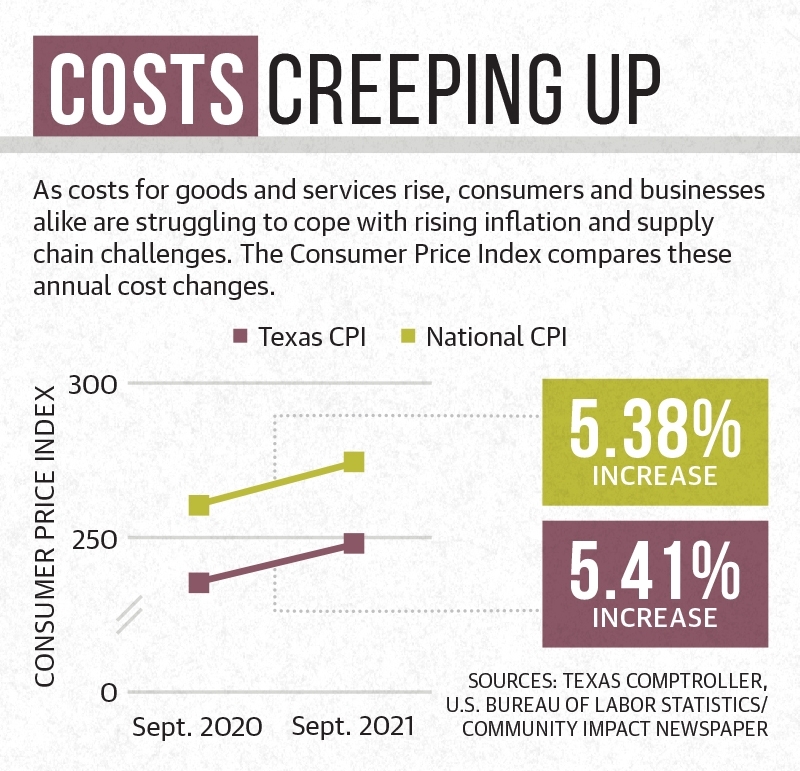 Daly said that from April to August 2020, business fizzled and the volume of orders halted. Nobody knew what the future held, and residents remained wary. As the pandemic raged on, a boom hit the workshop in August as people adjusted to the new at-home dynamic.
"A lot of the manufacturing operations can't stop on a dime and then turn around and restart operations at full capacity in a few weeks," said Sam Tenenbaum, an economist with CoStar Group. He said the factory closures and global shipping delays at the beginning of the pandemic precipitated the issues businesses and consumers are feeling in the current economic climate.
William Chittenden, associate professor of finance and economics at Texas State University, said anyone in the market for furniture will probably have to wait a few months for a new couch or a new desk for those working from home.
"In 2019, the end-to-end transit time between China and the U.S. was 40 days, and today it's almost twice that at 73 days," Chittenden said.
He added consumers and businesses are still feeling the ripple effects of decisions manufacturers made upwards of 18 months ago. Chittenden noted that he ordered furniture in August for a home that he moved into in October. It is not expected to be delivered until sometime in December.
Businesses adapt
Daly said the sudden boom caused a spike in demand for his Buda-based business. Mockingbird Made dealt with price increases as oak, walnut and all fine lumber went up about 20%, and steel is three times the usual cost, Daly said.
"It has caused inflation because, supply and demand, people are willing to pay more for something. The supplier is going to increase the price; I don't blame them," Daly said. "Labor's gone up, too. I consider labor part of the supply chain."Despite the scarcity, quality and price issues, Mockingbird Made is busier now, and Daly mentioned that the team has doubled in staff since September 2020 though it has been hard finding skilled workers qualified for the work they do.
Looking at the supply chain, Daly said he believes certain commodities will catch up and level out.
Businesses may have become accustomed to selling their items at a higher price to remain profitable and may continue to do so, even if the prices of goods drop, Daly said.
For the Watkinses, so far they have not run out of any items—they said they find supplies more expensive or take a longer time to find—but that is not dampening the spirits on their fresh venture.
"It makes it hard to keep your prices competitive and low," Ron Watkins said. "When we had no choice, we did what we could, but customers have been very understanding."