This noncomprehensive list represents a number of food trucks in the San Marcos, Buda and Kyle areas that are home to a variety of cuisines. Truck owners regularly post their location on social media.
Asian
Meera's Kitchen
210-803-9344
The truck serves chow mein, fried rice, dumplings and quesadillas. Red Bus Food Park at 801 Chestnut St., San Marcos. Call ahead for hours.
Pinoy Express
512-596-8543
The Filipino truck specializes in authentic dishes and dessert such as chicken and pork adobo and turon, a deep-fried banana topped with ice cream. Red Bus Food Park at 801 Chestnut St., San Marcos. 11 a.m.-7 p.m. Thu.-Sat.
Thai 2 U
512-993-1771
The truck features daily menu items such as Pad Thai Red Curry Rolls or Lemongrass Noodle Rolls. Other options include pad thai and specialties such as the Papaya Salad Roll. Red Bus Food Park at 801 Chestnut St., San Marcos. Call ahead for hours.
Barbecue
Bat Wings Co.
512-994-5602
www.batwingsco.com
The truck offers fried chicken wings with flavors ranging from mild to extra hot such as Sweet Thai Chili and Caribbean Jerk. The menu includes meatless alternatives, such as cauliflower wings. 400 Main St., Buda. 5:30-10 p.m. Thu.-Mon.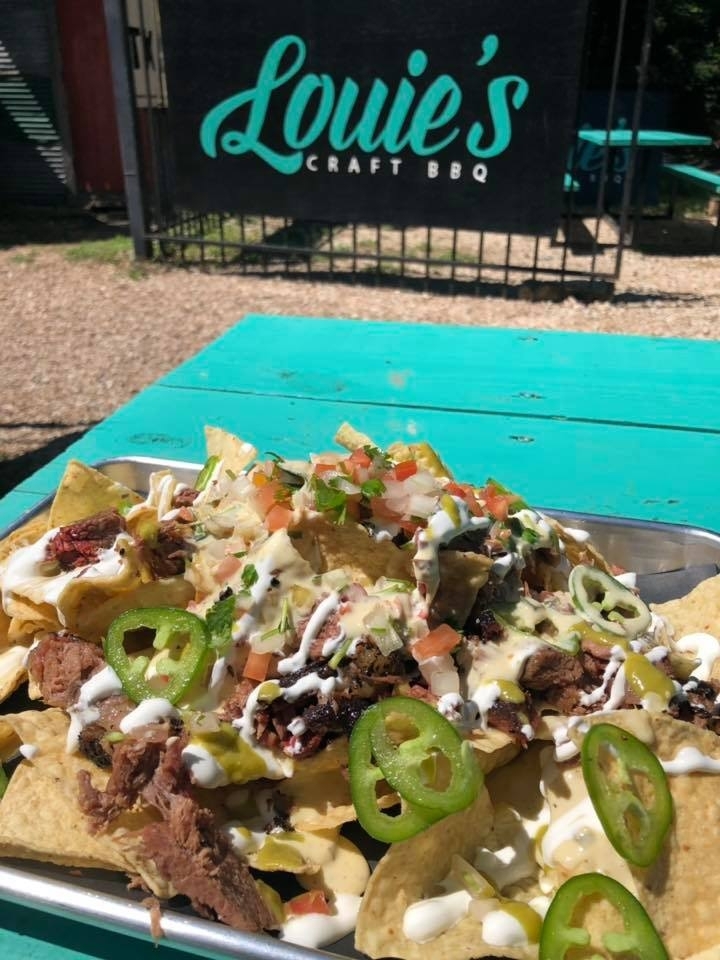 Louie's Craft BBQ
512-649-2727
www.louiescraftbbq.com,
www.facebook.com/louiescraftbbq
The barbecue truck specializes in brisket, pulled pork and racks of ribs paired with loaded sides enough for one or the whole family. 112 N. Main St., Buda. 11 a.m.-8 p.m. Wed.-Sun.
Sander's BBQ and Soul Food
512-351-0363
www.facebook.com/sandersbbq
The truck has Texas classics such as brisket sandwiches, potato salad and cornbread.
1101 Hwy. 123, San Marcos. Call ahead for hours.
Coffee & Desserts
Coffee Box
512-850-1530
Tea or espresso drinks and breakfast tacos are available at the truck. Lunch options include a hamburger with chips or a BLT sandwich. 1101 Bunton Creek Road, Kyle. 6:30 a.m.-2 p.m. Mon.-Fri., 8 a.m.-2 p.m. Sat., closed Sun.
King of Snacks
210-552-8337
This truck is known for it deep-fried carnival foods, including brownies, cheesecake and Oreos. Other treats include funnel cakes, chili cheese fries and nachos. 128 S. Guadalupe St., San Marcos or the Tanger Outlet Mall. Noon-8 p.m. Thu.-Sat., noon-7 p.m. Sun. Call ahead for location.
MamboFreeze
www.mambofreeze.com
The menu has traditional and specialty shaved ice flavors and toppings, such as Flaming Hot Cheeto nachos and tamales. The truck also has doggy snow cones for four-legged friends. 5401 S. FM 1626, Kyle. 15300 S. I-35, Buda. Open daily 11 a.m.-9 p.m.
Mexican & Latin American
Bandit Tacos
512-909-9086
www.bandittacos.com
The taco truck has breakfast, lunch, dinner and dessert. Breakfast tacos come with scrambled eggs, cheese and a choice of meat. Other options include chips and salsa, street corn and fried-to-order tortillas tossed in cinnamon sugar. 824 Main St., Buda. 4-9 p.m. Wed.-Thu., 4-10 p.m. Fri., 1-10 p.m. Sat.
Francis Pupusas
512-627-7412
www.orderfrancispupusas.com
The menu has an array of classics such as the namesake pupusas, ceviche and enchiladas as well as agua fresca. 101 Summit Drive, Kyle. Noon-10 p.m. Mon.-Sat., 11 a.m.-9 p.m. Sun.
Lucy's Tacos
512-920-7962
www.lucystacostx.com
The Mexican food truck serves classic and breakfast tacos with a selection of toppings as well as tortas, tostadas and burritos.
705 Aquarena Springs Drive, San Marcos.
7 a.m.-3 p.m. Mon.-Tue., Thu.-Fri.; 10 a.m.-
3 p.m. Wed.; 8 a.m.-3 p.m. Sat.
Tejas Birria
https://tejas-birria.square.site
The truck has Mexican favorites with hints of Japanese flavors, such as birria tacos and a beef birria ramen. 2390 FM 2001, Buda. Noon-8 p.m. Thu., noon-9 p.m. Fri.-Sat.,
11 a.m.-3 p.m. Sun.
Other
Gotji's Kitchen
512-766-0279
www.facebook.com/gotjikitchen
With vegetarian, gluten-free and spice options, customers can find customizable authentic Thai food. 400 N. Main St., Buda. 5-9 p.m. Wed., 4-9 p.m. Thu.,
noon-9 p.m. Fri.-Sun.
Parasol
512-333-4543
https://parasolfood.square.site,
www.facebook.com/parasolfood
The truck serves an adult version of an Uncrustables sandwich, grilled PB&J topped with corn flakes. Vegetarian options include a grilled barbecue tofu sandwich or a tempeh BLT. 400 Main St., Buda. Open daily, call ahead for hours.
Quick Fix Cuisine
210-606-2057
www.facebook.com/quickfixcuisine
Customers can find healthier entrees or smaller plates such as chickpea taquitos or a serving of grilled chicken with ginger, turmeric and jasmine rice. 801 Chestnut St., San Marcos. Call ahead for hours.
Texas Crab Co.
830-433-9063
www.facebook.com/texas-crab-company-102222314802081
The seafood truck offers crab and shrimp boil trays, fried lobster, a variety of po'boy sandwiches with fries, sausage and fried corn. The truck periodically sets up in the Blanco Vista neighborhood, 4040 Trail Ridge Pass, San Marcos. 5-8 p.m. or until sold out. The main location is at 350 N. Hwy. 123 Bypass, Seguin. Check Facebook for days open or call.
PizzaPie Shack ATX
512-655-3855
www.pieshackatx.com
Now open in a new location, the Pie Shack offers wood-fired pizzas with a twist such as a savory peach or BLT pizza. Arugula
and garden salads are also available along with homemade cookies and a s'mores brownie covered in toasted marshmallows.
408 N. Main St., Buda. 5-9 p.m. Fri.-Sat.,
noon-7 p.m. Sun.