Sparks flew when Stephanie and Wade Lin first met over the flames of a hibachi grill some 13 years ago at a restaurant they worked in together. The couple soon set out on their own restaurant ventures, and in June, they celebrated the fifth anniversary of their second restaurant, Sakura. The San Marcos establishment is a hot spot for students, professionals and lovers of Japanese food, Stephanie said.Sushi, nigiri, sashimi and hand rolls are made with generous portions of fresh, never-frozen seafood, Stephanie noted.
"We put in more stuffing than sushi rice," Wade said. "That's how our sushi rolls taste better than any other competition out there."
Wade, who Stephanie said is known for his Gordon Ramsay style leadership in the kitchen, said fresh ingredients were a cornerstone of the business.Sakura receives several shipments from Houston every week, with fish typically used within a day and a half of arriving.
Delivered whole, the fish are processed on site, Stephanie said.
"They'll bring it in and we have a period of [roughly] an hour to cut it," she said.All-you-can-eat sushi ($13.95 before 4 p.m., $17.95 after 4 p.m.) is removed promptly from a conveyor system running through the dining room after two circuits, or 10-15 minutes, to ensure customers always enjoy fresh rolls."We don't load a whole bunch (on the conveyor) at a time," Wade said. "Freshness is always there."
Sakura's menu includes a variety of other notable dishes, which are as much a draw as the stream of fresh rolls gliding past tables, which can also be ordered individually.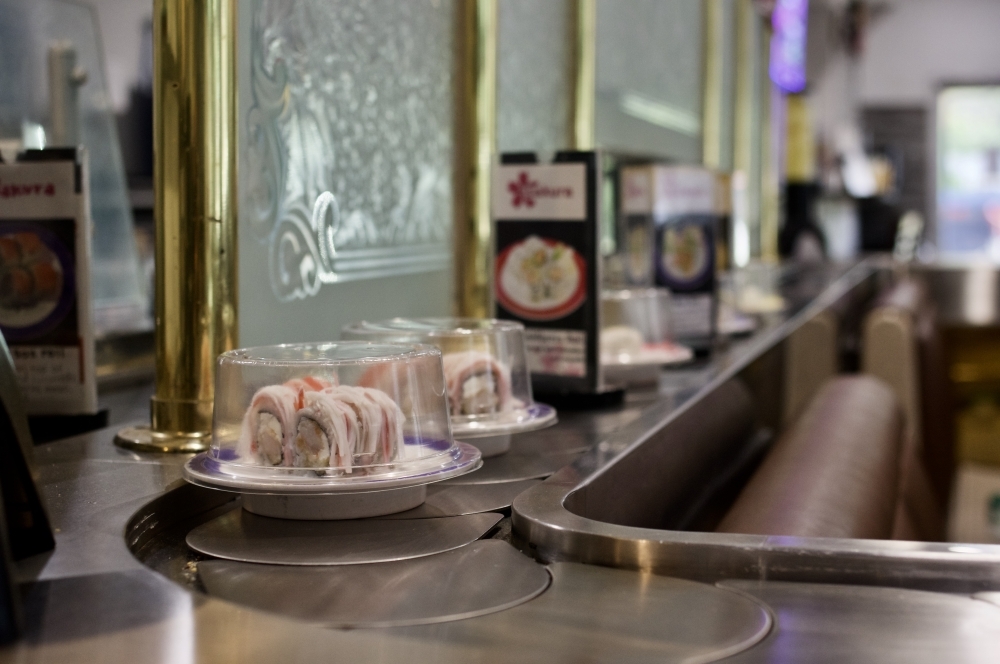 Multiple Hibachi grills are stationed throughout the restaurant. Popular dishes from the hibachi include Teriyaki Chicken ($14) and Teriyaki Salmon ($18).
Dining tables are also equipped with heating elements for hotpot, which has ingredients cooked in flavorful broth under the watchful gaze of customers.
Stephanie said these modes of dining invite socialization and communal experiences, with guests able to share food from the hotpot with friends or enjoy a shared performance from Hibachi chefs, which include Wade's brother.At its heart, Sakura is a family operation, with Stephanie's oldest son working as a manager. She grew up in her family's restaurants in Wimberley and San Marcos before taking on the challenge of her own business.
"It's crazy but fun, and I love it," Stephanie said of her family's busy lives and restaurant. "That's what keeps me going and keeps us going." "We put in more stuffing than sushi rice. That's how our sushi rolls taste better than any other competition out there."Wade Lin, Chef