A proposed manufactured home community is up in the air after San Marcos City Council voted Jan. 5 in favor of annexation but against a zoning change to allow the planned development on land across from Harris Hill Raceway.
City Council voted 5-2 to approve the first of two readings of a proposed annexation of a 73.412-acre plot at 2811 Harris Hill Road. Place 1 Council member Max Baker and Place 3 Council member Alyssa Garza were the dissenting votes.
A zoning proposal for the same plot of land to move from Future Development to Manufactured Home zoning failed in a 3-4 vote. Baker, Garza, Place 2 Council member Saul Gonzales and Place 4 Council member Shane Scott voted against the zoning proposal.
Mayor Jane Hughson, Place 6 Council member Melissa Derrick and Place 5 Council member Mark Gleason voted in favor of the zoning.
Arguments over the zoning centered on affordable housing, tenant rights to purchase plots of the land and additional factors related to the cost of renting manufactured homes.
"I know this is a difficult one for everyone, but it's not all about affordable housing—it's about housing for all," Derrick said in support of the zoning ordinance. "That is the name of the plan that came out of the Affordable Workforce Housing Committee that we gave our charge to."
A second reading for the annexation is scheduled for Jan. 19, but it could be withdrawn by the applicant due to the zoning vote. The applicant could also bring different zoning or a different development plan back to City Council.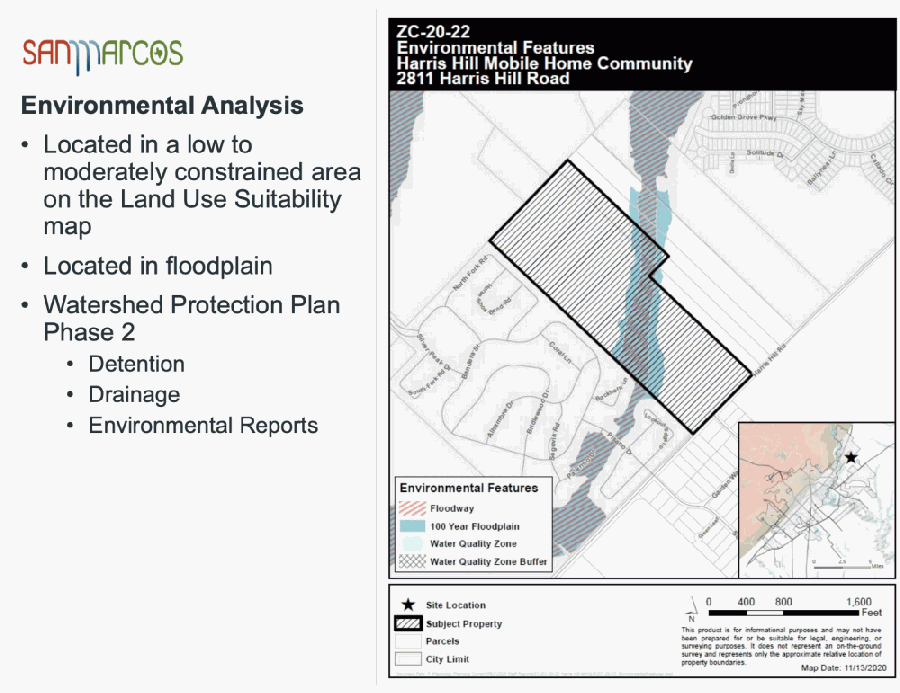 The plot is adjacent to the Saddlebrook manufactured home community and is across from the Harris Hill Raceway. It backs up to land zoned as heavy commercial in the Whisper North development. The requested zoning would have allowed a maximum of nine units per acre.
A dry creek bisects the property—which is partly in a floodplain—and the developer would be required to meet city floodplain requirements before development, according to city documents.
Water service would be provided by Maxwell Water and Wasterwater, and wastewater service would be provided by the city. The developer would be responsible for extending water and wastewater facilities through the site. Pedernales Electric Cooperative would provide power to the development.
The request for annexation was submitted by Alejandra Ruiz Esparza of the LanZola Corporation on behalf of Alvin Popham.