Editor's note: This story was updated with information from a Hays County spokesperson about the source of a large increase in reported testing. Information on testing options was also updated.
As of Oct. 6, Hays County had reported 55 new lab-confirmed cases of the coronavirus over the previous seven days, or 16.22% of the 339 cases reported active within the last three weeks.
The Hays County Local Health Department began reporting active cases for the previous three-week period Sept. 28. These cases decreased by 75 between Sept. 30—when there were 414—and Oct. 6.
The county also reported 1,138 active cases in a separate category that requires infected individuals to confirm with a county official that they are free of the coronavirus before they are transferred to the recovered category.
Hays County also began reporting probable cases of the virus Oct. 6. This new figure included 732 probable cases that had been reported to the county since April.
From Oct. 5-6, Hays County reported 1,450 new coronavirus tests, an increase of 4.33% to all coronavirus testing of Hays County residents since the pandemic began.
In total, 2,179 new tests reported over the previous seven days caused the seven-day positivity rate for testing to fall to 2.52%—an 87.84% reduction from the seven-day positivity rate of 20.73% on Sept. 30.
According to a spokesperson for the county, 1,074 coronavirus tests were reported Oct. 5 by a testing center on the Texas State University campus and the university's Student Health Center tested nearly 200 additional students.
To date, 34,909 coronavirus tests have been performed on Hays County residents, and 5,995 have lab-confirmed cases of the virus. The overall testing positivity rate was 17.17%, as of Oct. 6.
Active hospitalizations increased from eight to nine between Sept. 30 and Oct. 6, and total hospitalizations increased by two to 346.
The county reported no additional resident deaths during the past seven days, with 55 county resident deaths reported since the pandemic began.
However, the Texas Department of State Health Services was reporting a total of 67 Hays County resident deaths.
So far, 2.6% of Hays County residents have been infected with the coronavirus based on Census Bureau estimates of the county's population, assuming no repeated infections.
Hays CISD
has reported five cases of the coronavirus among district staff and five within its student population since classes began Sept. 8.
San Marcos CISD
has reported three staff cases and one student case of the coronavirus since its classes began Sept. 8. One case was considered active as of Oct. 5.
Testing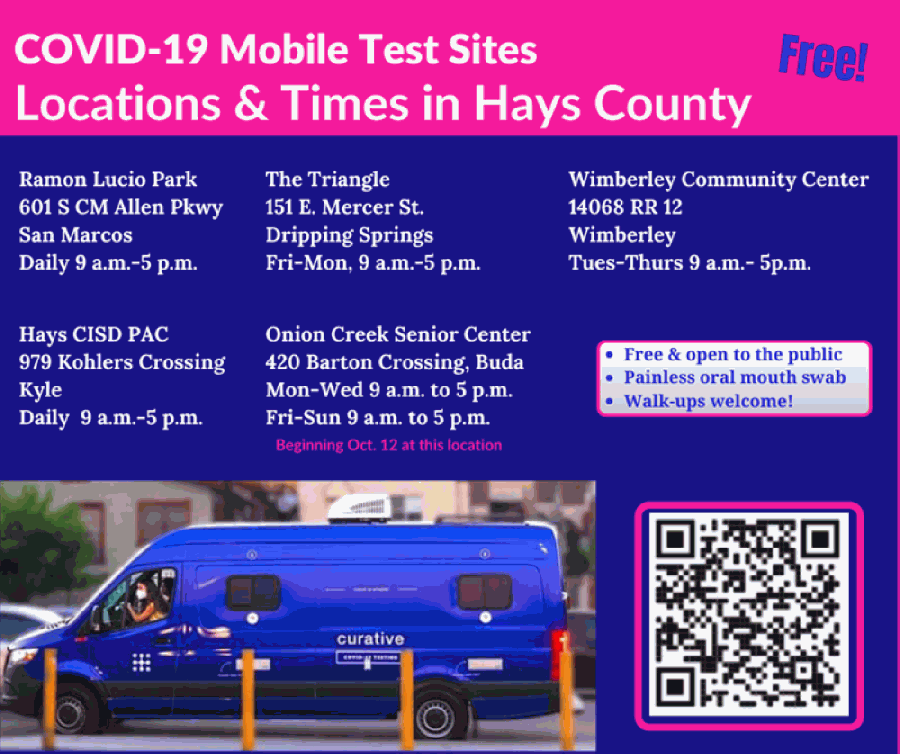 According to a Hays County press release, free COVID-19 testing with painless oral mouth swabs was available, and appointments and walk-ups will be welcome at the following locations (see image for QR code):
Kyle
Testing is available daily from 9 a.m.-5 p.m. at the Hays CISD Performing Arts Center at 979 Kohlers Crossing, Kyle.
Dripping Springs
Testing is available Friday, Saturday, Sunday and Monday from 9 a.m.-5 p.m. at The Triangle at 151 Mercer St., Dripping Springs.
San Marcos
Testing is available daily from 9 a.m.-5 p.m. at Ramon Lucio Park at 601 S. CM Allen Parkway, San Marcos.
Wimberley
Testing is available Tuesday through Thursday from 9 a.m.-5 p.m. at the Wimberley Community Center at 14068 RR 12, Wimberley.
Buda
(beginning Oct. 12)
Testing is available Monday through Wednesday and Friday through Sunday from 9 a.m.-5 p.m. at the Onion Creek Senior Center at 420 Barton Crossing, Buda.