Trends in employment and unemployment in Hays County show the labor pool growing and expanding past 2020 lows, but not keeping pace with job postings.
Unemployment has come down to 4.4% in July from a high of 12.3% in April 2020, and the amount of people in the labor force has grown beyond even pre-pandemic levels.
Workforce Solutions Rural Capital Area, an organization that provides job seekers with training and recruitment services to employers in the nine counties that surround Austin, reports that the labor pool in Hays County has swollen to 126,017 workers, up from 121,435 last year. In April 2020 the labor market fell to 115,020 from a high of 124,113 in February. In the nine-county area, the total workforce has grown to nearly 600,000, and as of July the average unemployment rate was 4.3%.
"It's really interesting to me when we look at the civilian labor force, if you look at where we were in February 2018 to February of 2020, we grew by about 9,000 people," Workforce Solutions CEO Paul Fletcher said. "The whole labor force grew. And then in April of 2020 because of COVID[-19] we were down to about where we were back in February of 2018. And then in July, just two months ago, we read 126,000. So we've really rebounded," he said.
Yet recent lower unemployment numbers have not translated into the same pre-pandemic labor market. Many businesses, especially in the service sector, have shuttered, and many workers have found an opportunity to jump careers, get new training or be more selective in where they work.
"We were in such a low unemployment scenario before COVID[-19] hit that if you wanted a job, you had a job, and we're kind of back in the same place again now if you want a job, you can get a job," Fletcher said. "But people have been able to be a lot more selective about where they go to work. They're looking for higher pay and better hours."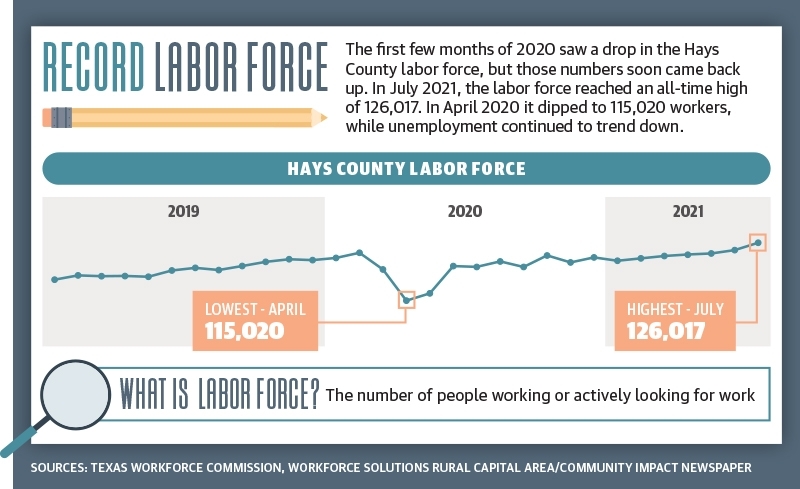 Competing for employees
At a normal fall job fair for students at Texas State University in San Marcos it is common to see a turnout of around 400-500 job seekers, but the most recent fair on Aug. 31 saw an estimated 1,500 people, said Ray Rogers, director of career services for TXST. He said the high turnout was not just students, but also employers eager to fill jobs.
"We've seen employers want to hire our students in pretty high numbers. We've had a lot of employer engagement, and a lot of requests from employers to come on campus and attend our job fairs," Rogers said. "Our job postings have been pretty high that we receive, just from employers wanting to post on our job posting system for students and alumni."
Rogers said that even for part-time student work, job seekers are seeing incentives such as higher hourly pay then they would make on campus and sign on bonuses. What is surprising is that with the influx of students back on campus and looking for work, more employers than they usually see—some that have not tried to recruit student workers before—are eagerly offering incentives and higher wages, he said.
"The student employment that we see here on campus or off campus, it cannot meet the demand right now that our employers have, and as a result employers are starting to pay quite a bit," he said. "I just saw a job posting come in from Dairy Queen for $14 an hour, which is a great salary for a student, coming in working a part time job for 20 to 15 hours a week."
What is happening right now in San Marcos with student employment is like having two freshman classes move to town, he said, because last year's freshman class was remote learning, so now freshman and sophomores are trying to find work for the first time.
"It's not just 6,500 students, you know, we have 12,000-13,000 students who are in that first time, on-campus experience," Rogers said.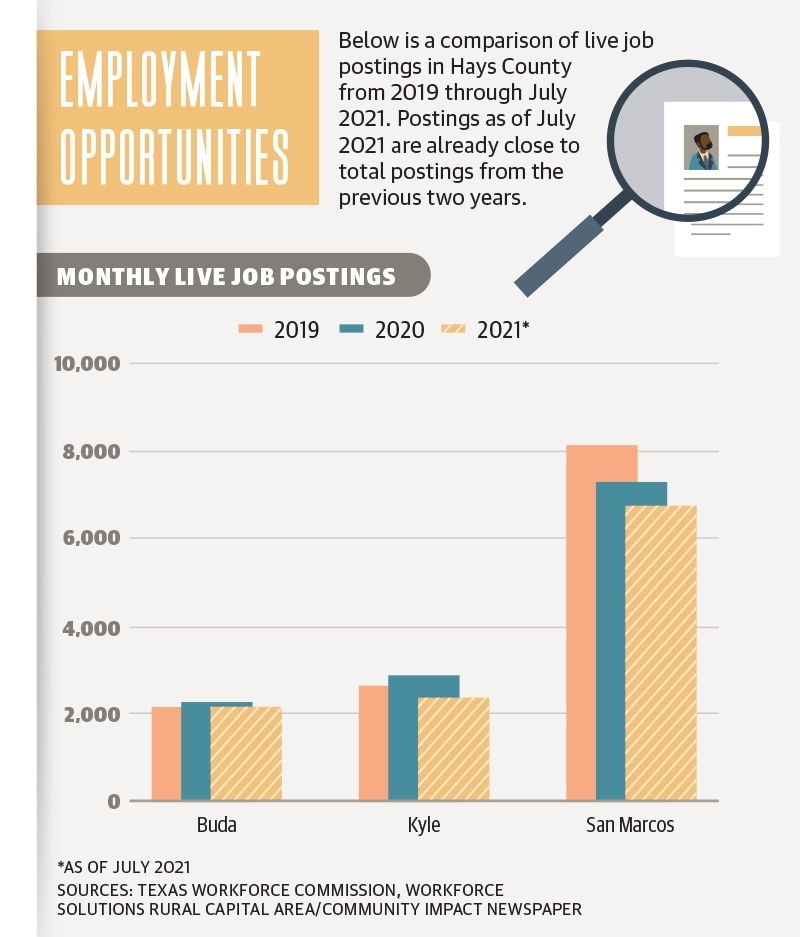 An increase in wages has been both a recruitment and retention tool in the hospitality industry.
Kyle Mylius, founder of The Root Cellar Cafe in San Marcos that is part of a restaurant group that includes Rhea's Ice Cream, The Coffee Bar and Tin Top Burgers, said the businesses that managed to survive lockdowns and to-go ordering only have had to adapt to a workforce no longer willing to work for historically low wages. "When we were shut down, and we were shut down for longer than most of the restaurants in the market, we lost a lot of people," Mylius said. "I think what the industry has had to do is increase their pay. We've done that as well. We're working on other things that we've wanted to do for several years, and we're in the final stages of being able to try to provide benefits for our employees."
It is not just the hospitality industry that has struggled with employment retention. Hospital staff, especially nurses, are in demand more than ever. While nursing is always an in-demand job, stress from working in hospitals with nearly every bed filled with patients during the recent Delta-variant COVID surge has created a situation where many seasoned professionals are leaving for other work.
In a joint statement from Ascension Seton and Baylor Scott & White Health, the hospital groups emphasized that they continue to face ongoing staffing shortages and are actively recruiting for open positions.
"This latest COVID-19 spike is putting extraordinary pressure on our hospitals, emergency departments and healthcare professionals," the statement reads.
"Given the recent surge in hospitalizations affecting facilities in Central Texas and throughout the state—and the statewide nursing shortage—both health care systems are sourcing staff using multiple resources, increasing shifts, paying critical staffing bonuses and redeploying non-nursing staff to assist with non-clinical tasks."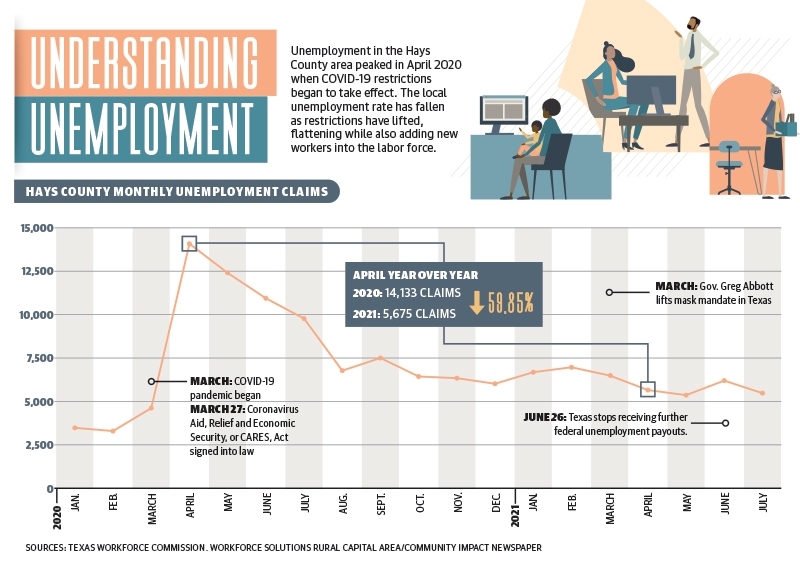 Changing industry trends
Spencer Thomas, co-owner of the Texas Pie Co. in Kyle, said employee retention was paramount beginning in March of 2020. "We limited our hours and we broke our crew up into three different shifts, so there weren't too many people here at the same time," he said. Despite sales declining 40% by the end of 2020 compared to 2019, Texas Pie Co. was able to keep most of its staff because of a mix of the payroll protection program and some employees working part time, Thomas said.
"We are just now, as school has started, starting to undo that scheme of three shifts a day. ... We're pretty much back to normal," he said.
While Texas Pie Co. tried to stay open in a limited way, Mylius said his restaurant group remained completely closed longer than most of the restaurants in the San Marcos area before gradually implementing to-go orders only and finally reopening for dine-in customers.
It has still been daunting to get employees back, he said.
"Even with a kind of higher-end market pay, it's still a challenge to get people back, especially more so in the kitchen and in the back of the house," he said.
Fletcher said these trends are still mostly anecdotal and the data is not conclusive, but it is becoming clear the hospitality industry workforce is going through a huge shift, with many career workers deciding not to come back. "We are seeing people that were previously employed in the food service and hospitality industry—restaurants and hotels—not return to those occupations because those occupations were kind of the first to shut down, and the last to really restart," he said. Many of those former employees also took the opportunity to improve their skills and move into a different industry such as manufacturing, skilled trades or health care.
"[They moved to an] occupation seemed to be a little more stable and opportunity for more upward, upward movement, and more of a career rather than a job," he said.
The increase in total workforce has not kept up with increases in help wanted postings. Of the top 25 most postings per sector, according to Workforce Solutions data, the most postings are usually for retail sales people, and over the past year that number has gone down by only about 400 postings. In 2020, the county had a total of 2,087 job postings compared to 1,682 in 2021 through July, putting the total number of postings on pace to surpass 2020.
There are already more postings for registered nurses in Hays County than all of 2020, rising from 1,502 last year to 1,529 between January and July of 2021.
Hotel, motel and resort desk clerk job posting have completely dropped off, with 311 postings in all of last year. This year has only seen a handful of postings and the sector did not break into the top 25.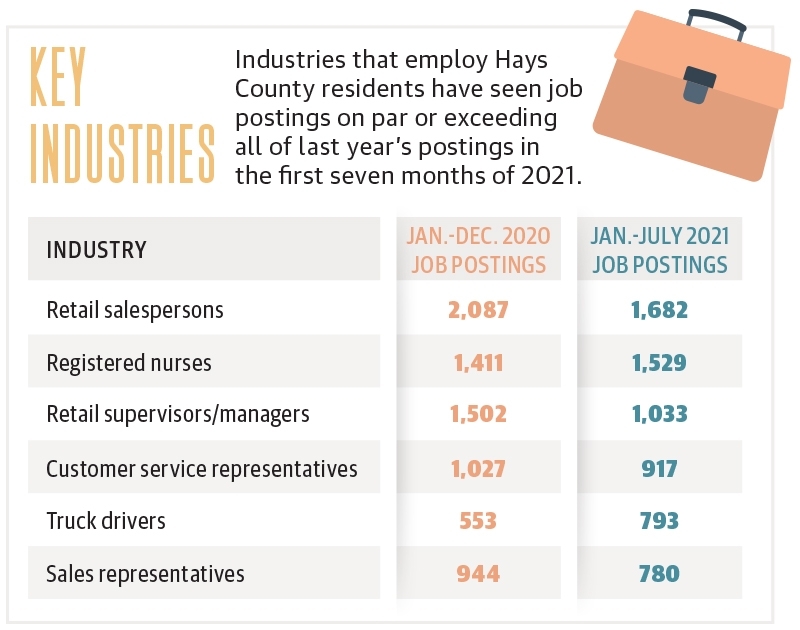 Child care remains a hurdle
For workers who are also parents, the struggle to show up to work and have any sort of child care remains difficult. Fletcher said the pandemic caused a lot of closures of child care facilities, and while his organization is seeing more reopen, the total need is not being met.
"The whole child care industry really took a big hit during COVID because they had so many children that stayed home with parents, everybody just stayed home if they could. That meant that that industry didn't have any revenue coming in, and it's hard to keep those businesses open without the kids coming in," Fletcher said.
Virtual learning might continue to be a factor that could put a strain on childcare, as parents of older children rely on the school day in order to go to work.
Senate Bill 15 passed through the Texas Legislature on Sept. 1, and would provide funding for school districts to fund virtual or remote learning. The bill has yet to be signed by Gov. Greg Abbott. The bill would allow districts to mitigate spread of the Delta variant by sending students home but keeping them enrolled in virtual classrooms, and enrollment would be capped at 10%.
If classrooms continue to see viral spread and school children are sent home, SB 15 could prevent them from falling behind in their studies, but does not address the burden placed on parents and caretakers who have to keep their children at home while out sick. While many employers are beginning to offer more competitive pay, wages remain low in many sectors, making it difficult for some workers to afford child care to begin with. Texas has kept the current federal minimum wage of $7.25 an hour and tip-earner wage of $2.13 an hour since 2010. Other states have adopted higher minimum wages, averaging out to $9.21 in 2021 according to the Labor Law Center. That makes child care virtually unaffordable for many families. Throughout last year, Workforce Solutions was able to provide a 25% child care subsidy for workers who apply for it through a grant from the U.S. Department of Health and Human Services. That funding has ended, Fletcher said, but more funding should be available in the future.
Even if that funding resumes, the cost of childcare in Texas could still prove unaffordable. According to the Economic Policy Institute, the average cost of infant care in Texas is $777 per month, and $589 per month for a four-year-old.