With an approximate length of 100 miles running continuously from Austin to San Antonio, the Great Springs Project is one of the most ambitious trail concepts in the state of Texas.
When complete, the trail will connect four natural springs running approximately parallel with I-35—Barton Springs in Austin, San Marcos Springs in Hays County, Comal Springs in New Braunfels and the Blue Hole in San Antonio.
Project CEO Garry Merritt said the main idea centers on protecting the area's natural waters while improving the quality of life for the region's residents.
"That's what people are asking for in the community," Merritt said. "When cities do surveys, parks and open space and trails are always one of the top things people ask for in Central Texas."
Planning and organizing for the GSP has been ongoing for the last several years, but local efforts have accelerated in the first few months of this year.
Leaders of the GSP have been working with city and county governments in Hays and Comal Counties, where the majority of the trail will exist, to help solidify funding toward the definition and construction of smaller trails that will ultimately come together to form the GSP.
The overarching Austin segment that begins at Barton Springs will be in large part accommodated by the Violet Crown Trail, and it will meet the Hays County portion, which is called the Emerald Crown Trail.
Farther south in Comal County, there is not yet a defined overall trail plan that will meet at Bexar County to complete entire path to the Blue Hole spring in San Antonio.
However, officials and staff in New Braunfels in January began taking initial steps toward funding a trail that could become a part of the Great Springs Project.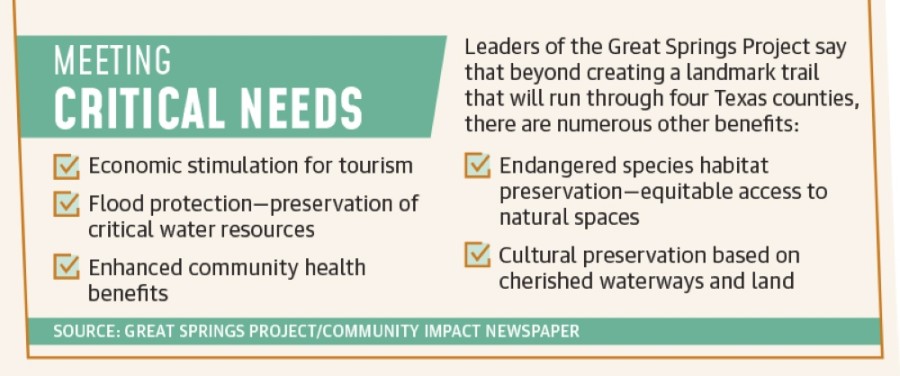 Merritt said the goal is for it to be complete by 2036, and along with local governments, Great Springs Project leaders are working with the real estate community, the National Parks Service, a development company, private land owners and conservation groups to develop a clearer picture of what will eventually become the longest continuous trail in Texas.
"This network of trails will be connecting from the Alamo to the capital, and 2036 is the 200th anniversary of Texas becoming a republic," Merritt said. "So, it's a good target."
The big picture in Hays County
Hays County officials are still working to allocate more funding for area trails that will eventually be a part of the Great Springs Project.
A recently-passed $75 million county parks package could go a long way toward that end, according to Hays County Commissioner for Precinct 3 Lon Shell.
In anticipation of the passage of that bond, county officials reformed the Parks and Open Space Advisory Commission, or POSAC, which is a body with members appointed by the commissioners court as well as county staff and a facilitator.
Part of their job is to accept and make recommendations to the court on open space projects throughout the county based on its master plan, and that will include any related to the Great Springs Project, Shell said.
One project that staff at the GSP have submitted to POSAC so far involves land northwest of San Marcos.
"That project was recommended [to the court] by POSAC, so that means it is on the list," Shell said. "The actual determination of funding and that project becoming a reality is what will [likely] happen ... with the help of our [POSAC] program manager, which will kind of shepherd us through that planning process."
Staff in San Marcos have said that because the city's role the Great Springs Project planning is still strictly conceptual and without firm details, they did not want to provide an interview at this time.
"Our team has had a few meetings with Mr. Merritt, but City Council has yet to weigh in on the trail to discuss specifics related to costs," said Nadine Bonewitz, senior communications specialist for San Marcos, in an email. "The fact is that it is too early in the process for the relevant members of our team to speak about the process and project."
Shell said he anticipates funding and other planning recommendations to come through POSAC to the Hays County Commissioners Court sometime this summer, and approvals and other definitions should come after that.
Besides local governments in Hays County, other entities are working to bring the Great Springs Project to fruition, including the San Marcos Greenbelt Alliance.
Former SMGA President Mark Taylor said once Hays County, San Marcos, Buda and Kyle signed on to be a part of the Emerald Crown Trail, he helped form a work group in 2017 called the Emerald Crown Work Group.
That committee includes the SMGA, the Texas State University Meadows Center and the geography department at TSU, among other stakeholders.
The purpose of that work group has been to connect with local governments to implement a plan for the Emerald Crown Trail which would involve routing corridors through the county.
Taylor said plans for the workgroup were delayed due to the COVID-19 pandemic, but some initiatives are already underway, including working with members of the Great Springs Project.
"We're kind of fitting under the Great Springs Project's larger vision ... of bringing an Austin-to San Antonio trail into being, along with conservation lands, along the way," he said.
An emerging path in Kyle
Though the entirety of the Great Springs Project is not anticipated to be complete until 2036, there are several segments that are planned to be a part of the overall trail that are either in the planning stages or are in various stages of construction.
As one example, a portion of the project that runs through Hays County—the Kyle portion of the Emerald Crown Trail—is at this point well defined. Much of it is called the Plum Creek portion due to the body of water it follows from west to east across the city.
"We have agreements with certain property owners or developers that have defined the trail through their property from the Blanco River on the west, to Cool Springs on the east," said Scott Sellers, Kyle's city manager. "Now, what we're calling the Buda/Kyle segment, that hasn't been quite as defined yet."
Sellers said another portion that still needs more work is what city staff and officials are calling the Kyle/San Marcos segment, which would run from Cool Springs in east Kyle south toward San Marcos.
But with regard to the main segments of the Plum Creek portion, work is either ongoing or in the planning stages of fundraising.
The farthest along segment of the Plum Creek portion is called the Spring Branch section, which runs from RM 150 West to James Atkins Drive.
The city has solidified $387,500 for that piece—more than half from a grant from the Texas Parks and Wildlife Department and the remainder in matching funding from city coffers.
Those costs cover work that includes concrete laying, vegetation removal and environmental studies.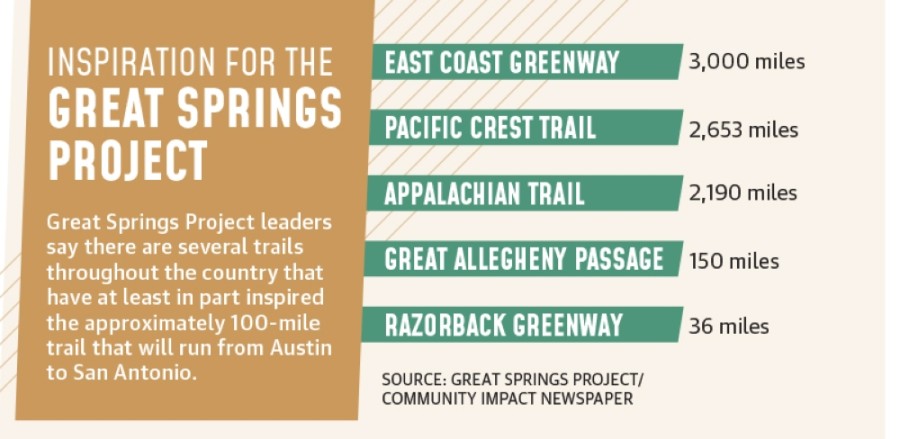 "The Great Springs Project is interested in this Kyle leg because it does fit into the larger north-to-south Emerald Crown Trail, but it does so in a very roundabout way," Sellers said. "And we are using their (GSP leaders) expertise to harmonize the trails and establish more community input and feedback in the process."
Comal County in the early stages
The process for creating trails that will accommodate the Great Springs Project is not as far along in Comal County as it is in Hays County.
During a January New Braunfels City Council meeting, Merritt addressed officials with a presentation about the benefits of the trail and an offer to help city staff apply for a grant from the TPWD.
The grant was for $250,000 to pay for a segment of what will likely become the Alligator Creek Trail. The 46 acres of land being donated by the development company D.H. Horton and which is earmarked for that segment represent the first physical ideations of a trail that could become part of the Great Springs Project. New Braunfels staff said they are waiting for a response from TPWD sometime in May.
In the meantime, local proponents of the Great Springs Project are excited for its potential.
"It will highlight the best parts of New Braunfels, being the green space and the local community," said New Braunfels Parks and Recreation Director Stacey Dicke. "There would [also] be a great tourism draw for folks to come visit the state for sure."
Dicke, Merritt and several other stakeholders in Comal County are now working to identify trail linkages in the north and south.
Beyond the Alligator Creek trail that runs mainly north and south through northern New Braunfels, Dicke said another possible connector could be what is called the Dry Comal Creek corridor. Both are still in the planning and design phases, Dicke said, and added there is no definite association yet with the Great Springs Project for either future trail.
Another reason proponents in Comal County say they are excited for the Great Springs Project is because of the increase in public green spaces it has the potential to bring.
"It is still a concern, especially in Comal County, that there is virtually no public green spaces available," said Nancy Pappas, founder of the Comal Trails Alliance. "There are just a couple of small nature trails, and so there needs to be more of a collective effort brought about. There are little pieces here in New Braunfels, but very few of them are connected."
Along with Alligator Creek and Dry Comal Creek, Pappas mentioned Panther Canyon Nature Trail near Landa Park as another possible connector.
The biggest challenge to the overall effort in Comal County remains finding funding, Pappas said, adding that collaboration efforts toward that end are going to be crucial as the Great Springs Project moves forward.
Once the Great Springs Project is complete, Merritt said its combination of characteristics—its existence in a rapidly developing corridor, its connection of several metropolitan areas, its urban and rural components, its involvement of four natural springs—will make it one of the most special outdoor projects in the country.
"There are some places that have regional trails that connect areas to communities, but nothing that's got all of these components to it that I know of," he said.