Editor's note: City documents incorrectly reported that St. Paul AME was the first African American church in Round Rock. This story was corrected to reflect that it is one of the oldest in the city.
Off Sheppard Street in Round Rock lies a one-room white church, with etchings of its founders' names carved into marble to the left of the front door. Centered in the heart of the city, St. Paul African Methodist Episcopal Church traces its origin back more than 135 years.
Founded in 1885, St. Paul AME is one of the oldest African American churches in Round Rock. Founding families included the Sauls, Mays, Dixon, Washington, Wheeler, Freeman and Earl families.
St. Paul AME was originally located off what is now I-35, just south of the Market at Round Rock shopping center, Sauls Morrison said. Relocating to downtown Round Rock in 1958, St. Paul AME's new location reused the original church's lumber, pews and preserved the original pulpit.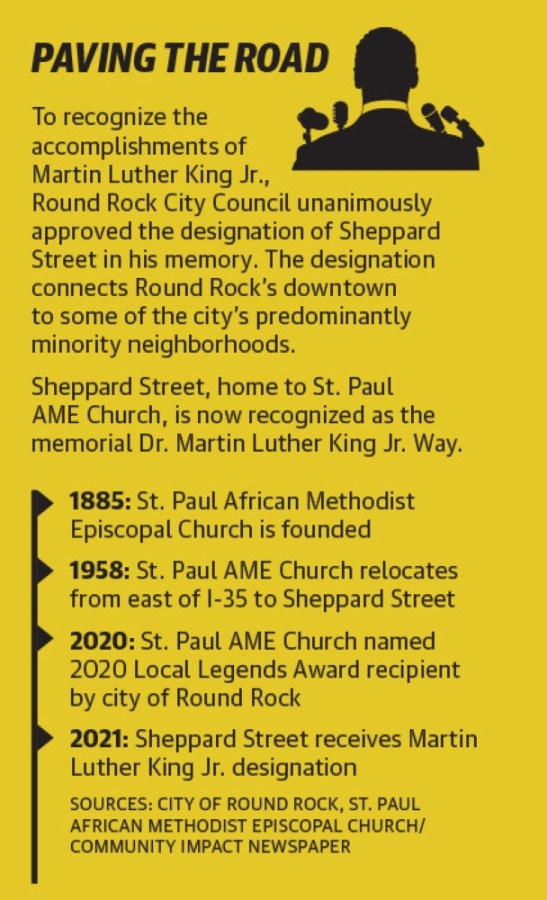 Ella Sauls Morrison traces her ancestry through the history of St. Paul AME, where her great grandfather served as one of the founders. At the heart of her family lies both her faith and the ancestral bonds connecting her to St. Paul AME.
"It was just a loving family — everyone cared about each other," Sauls Morrison said. "We were involved with the community, neighbors around who were neighbors of color. It didn't make any difference which church you went to."
Rev. Sharian Brown-Taylor has served at St. Paul AME since 2017, after changing denominations and entering the ministry within the African Methodist Episcopal Church. St. Paul AME is home to approximately 15 congregation members today, she said.
In leading St. Paul AME's congregation, Brown-Taylor said she strives to strike a balance between strengthening spirituality within the church alongside its community efforts beyond the four walls the parishioners call home.
"The lord really blessed me with this congregation," Brown-Taylor said. "Aside from being loving people, they're very involved people in the community. And so what they were already doing in the community, I was able to add even another layer of spirituality."
St. Paul AME was named a 2020 local legends award recipient by the city of Round Rock in November. With few people of color awarded in the past, Sauls Morrison said she was determined to see to it that St. Paul AME and other community staples were recognized.
Round Rock's history is interwoven with efforts made by Black residents, Sauls Morrison said. Through her work in the Round Rock Black History Organization, she aims to highlight prominent residents of color, including Round Rock native Juanita Jewel Shanks Craft, a fellow 2020 local legends recipient for her leadership efforts in Texas' Civil Rights movement.
"I wanted our youngsters to see someone—to see how [Black residents] contributed to the community," Sauls Morrison said. "So many people that have moved in here now, they don't even know that there were as many Black folks in the community as there were, because it hadn't been publicized. And I just want them to recognize it because they were a very important part of this community."
Outside of Sunday service, St. Paul AME congregation members actively engages in city council meetings and education initiatives, she said. A central focus of her work is undoing racism within the community and ensuring the contributions of Black residents are not overlooked, Sauls Morrison added.
Brown-Taylor said St. Paul AME's storied history is a direct result of God's work and a loyal and devoted congregation.
"God has maintained it, and it is God who has kept it. It could have closed down when it was moved from I-35, but God saw fit to have it relocate and be in the heart of the community," Brown-Taylor said. "It's in the heart of the city and because it sits in the heart of the city, it always has its pulse in the city."