A mounting spike in home values has sellers in Round Rock, Pflugerville and Hutto pocketing an additional 20% or more, according to area Realtors, equating up to $175,000 above the asking price.
Real estate agents are reporting some of the strongest sales in their careers with homes being snatched off the market in a matter of hours. But for buyers, the rising costs and low housing inventory are making it difficult to find a home.
"You see stuff on the internet about the hottest markets in the U.S., and Austin pretty consistently seems the hottest market in the U.S.," said Round Rock Broker Walter Rock with Rock Properties Realty. "Some of the home I've looked at are on the market for 12 hours, and then they stop taking offers."
The sales volume in Hutto and Pflugerville also demonstrates the increased demand in the markets. In Hutto, the total sales of homes grew from $181.5 million in 2019 to $201.1 million in 2020, equating to an increase of $19.6 million, according to the Texas A&M University Texas Real Estate Research Center. In the city of Pflugerville, the home sales volume grew from $269.3 million in 2019 to $326.7 million in 2020, marking an increase of $57.4 million.
Climbing demand
Sales volumes for the Austin-Round Rock metro area ended 2020 by shattering records as the housing demand continues to climb, according to the Austin Board of Realtors. The Year-End Central Texas Housing Market Report, released in January by ABoR, reported a total of 40,165 homes sold totaling $17.58 billion in total sales during 2020. Comparing the 2020 report to 2019, the sales volume grew by more than $4.4 billion.
"This is a historical and unprecedented time for our housing market," ABoR President Susan Horton said in the report. "The pandemic only increased demand for all types of housing across the region, pushing inventory to near-zero levels and creating the strongest sellers' market Realtors have ever seen."
Local Realtor Ken Lopez said at the beginning of the pandemic he saw a slowdown for home sales in Pflugerville while interest rates were high. As soon as the rates dropped, Lopez said buyers' interest peaked, creating a huge demand in an already limited inventory market.
"Right at the beginning of May 2020 [sales] were more normalized, and then they really took off," Lopez said. "We were already in a seller's market before this huge demand. Now with a huge buyer's demand out there, it has just become more and more."
Budding number of bids
As the housing demand continues to grow, the number of bids for each home is reaching numbers Realtors said they have never seen before. For Lopez, this time last year it was common to get between three and five bids per home; now he said he is getting up to 26 offers within two days of putting a house on the market.
"This time last year it wasn't too bad. It was probably three to five offers, pretty common. Since everything ramped up, two days on the market and we're getting 26 offers submitted in the lower $300,000 price point," Lopez said. "I've talked to other agents, and they are telling me they have 75-plus offers."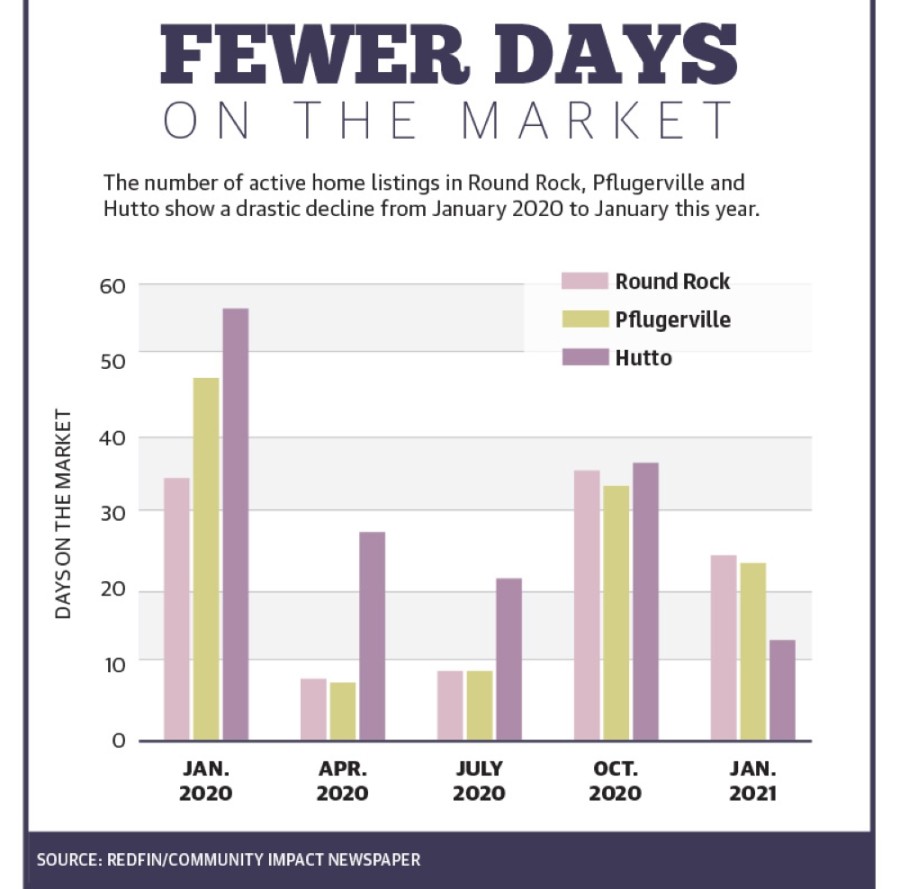 Hippo Realty LLC broker Brooke Daniels said for the homes she is selling in Hutto, Round Rock and Cedar Park she is getting between 40-60 offers with a minimum of 10 offers even for rural homes.
"We put houses on the market, and we have offers the same day pretty much every time," Daniels said. "With a minimum of 10 offers every day, even in the rural areas."
Some houses are only on the market for 12 hours before sellers are flush with bids, according to Rock. He said a lot of his properties are on the market for only a couple of hours before he is sifting through numerous offers.
Rock also pointed to the number of remote workers and business headquarters, such as Tesla and Oracle, moving to the area as a potential cause for the increase in demand. He said he is seeing a lot of people moving from California after their jobs went remote due to the pandemic, allowing them to move out of the state and into Texas where the prices seem much cheaper than in California.
"There are more mobile workers now. People working from home can move here and keep their jobs in California," Rock said.
Sarah and Oscar Garza, who are selling their home in Hutto through Daniels, said they expected some offers to come in above the listing price for their home, but the number of bids they received was well beyond their expectations.
"We listed the house Friday afternoon, had 30 submitted offers by Monday at 10 a.m.— all above the listing price—with many offers higher than 20% above listing price," said Sarah Garza, who is planning to move to Southwest Austin. "It is the ultimate seller's market right now."
Low housing inventory
As more and more people move to Round Rock, Pflugerville and Hutto, the demand for housing is drastically increasing coupled with very low inventory numbers. For all three cities, housing inventory took a major dive starting in August. Housing inventory is defined as the length of time it would take for all active homes on the market to sell.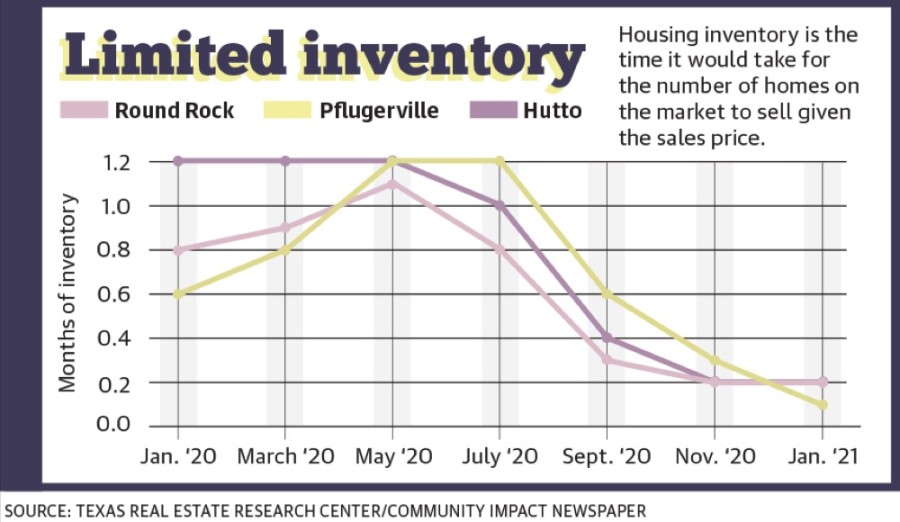 According to ABoR, the Austin-Round Rock metro area has a limited market inventory that is down 50%. The month's inventory for Round Rock and Hutto from the Texas Real Estate Research Center shows a dip down to 0.2 months in January, marking one of the lowest inventory numbers for the past six years. Pflugerville dipped even lower with 0.1 months supply of inventory in January.
With people working from home during the pandemic, Daniels said many families wanted to upgrade their homes to find one with a home office or room for their kids who are learning virtually. People living in smaller homes or apartments suddenly needed more space as they realized working from home was going to be long term, flooding the market with potential buyers.
"Seeing that people don't need to live near their work anymore because they are working remotely, people chose to move into the suburbs or the city because it doesn't matter where they live now," Daniels said.
Along with the high demand, one of the reasons for the low inventory is the backlog builders are dealing with, Rock said. Inventory in Round Rock is close to zero as the supply is trying to keep up with the demand.
In addition to the backlog, builders are dealing with a lumber shortage, Daniels said. Previously, they were able to build 20-30 homes in a month but can now only produce around five houses a month. Facing mounting costs, once homes are completed, builders are auctioning off the homes to the highest bidder, which are going up to 20% above the listing price.
"Real estate is like everything else; it's supply and demand. If you go out to buy a house nowadays nothing is available," Rock said.
Moving out of the market
While the increased home values are good news for sellers, it is making it harder for first-time homebuyers or anyone with a government-backed loan to enter the market, according to Lopez. Most of the buyers Lopez is seeing are purchasing in cash and using the properties as investments.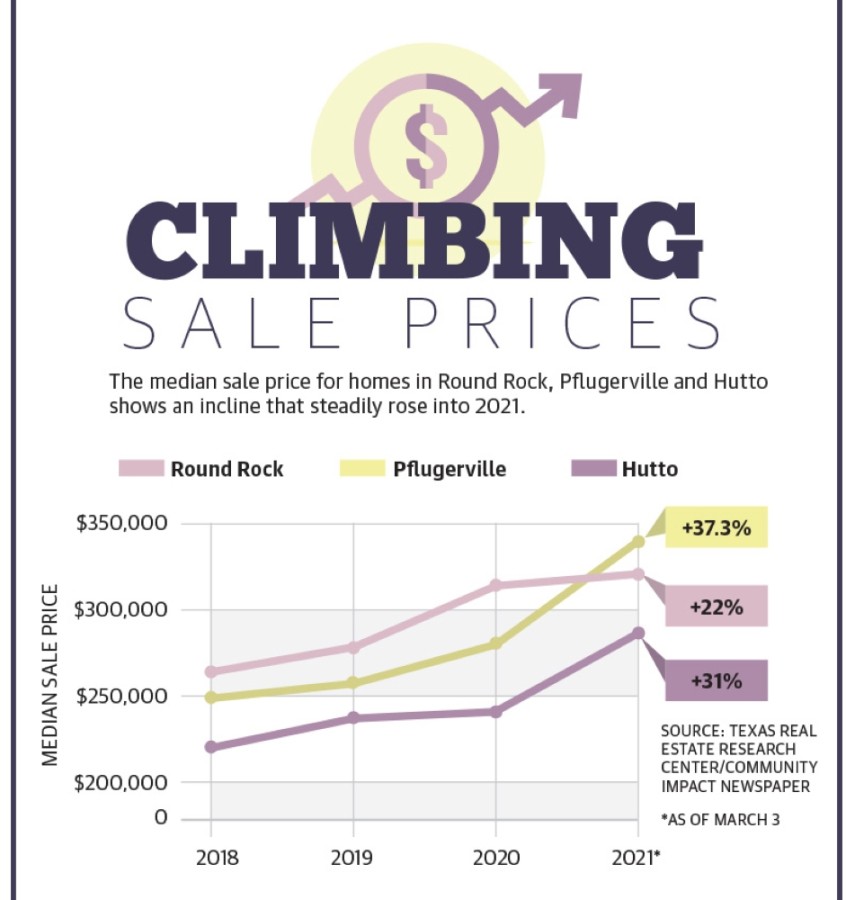 Many sellers are unable to afford to buy another home in the market after selling their home. With limited options, area real estate agents said sellers are now renting apartments or townhomes hoping that home values will eventually decrease and they can afford a home.
"Local people are wanting to buy houses, and they can't. They've been priced out of the market," Rock said. "It's a great time to sell, but if you're a buyer, it's not a great time to buy."
While the supply remains low and the demand remains high, home prices will continue to be pushed north over the next 12 months, according to area Realtors. The most recent forecast shows home values in the Austin-Round Rock MSA will rise 7.9% by December.
Daniels said the rest of the year is difficult to predict for Realtors, but she believes the current trends will continue into the summer and taper off at the end of the year.
"Builders are starting to catch up a little bit; the hope is that builders will catch up with the demand. Hopefully, by the end of this year it will get better," Daniels said.
The Garzas said their experience has been unlike any other and wanted to share advice for sellers in the area.
"It's hard to describe how quickly things move in the current market," Oscar Garza said. "If you are thinking of selling, be prepared to move faster than you might expect as multiple buyers are ready to place offers as soon as the listing goes live."