The May 6 election featuring two Round Rock City Council seats will have another high-impact item as voters will decide on the largest bond package in city history.
The $274 million bond consists of Proposition A, which would designate $230 million to improve city parks, facilities and trails, and Proposition B, which would allocate $44 million to the city's Public Safety Training Center and two new fire stations.
Rene Flores, Place 2 Council Member and Mayor Pro Tem, February 9 stated his satisfaction with the communication of the bond package to voters before voting to call the election.
"Certainly I am comfortable with what's being put out there to the residents," Flores said. "I think it's a bond package for all. It's for quality-of-life issues and safety issues."
Recreational upgrades
Improvements to Old Settlers Park account for just over half of the bond and a majority of the first proposition, according to city documents.
Of the $230 million proposed for amenities improvements via Proposition A, $147 million would apply to Old Settlers Park, and $83 million would go toward improvements to other facilities throughout the city.
Should Proposition A pass, amenities within Old Settlers that include the Multipurpose Complex, Lakeview Pavilion and the Rock'N River Water Park would see some upgrades.
Despite the high level of investment, not all residents are on board.
The $60 million proposed for the expansion of the Multipurpose Complex that is tied to the relocation of the city's 12 tennis courts in the park has sparked concerns for some park users.
Colette Bellville, board president of the Round Rock Tennis Association, said she has asked the city to either reconsider the relocation or expand the number of tennis courts in the bond.
The bond includes a proposal to relocate the existing tennis courts near Kenney Fort Boulevard. Bellville said the city resurfaced the existing courts in 2020, and she would rather see four courts added to either the tennis facilities or to the relocated ones. Association members were under the impression that this was the original plan for the courts, she said.
Some of the projects outlined in the bond package will be carried out as written, but others such as the number of new tennis courts could be subject to change, said Sara Bustilloz, communications director for the city of Round Rock.
City proposals also include plans to start building a second recreation center in Old Settlers Park, which would be smaller than the existing Clay Madsen Recreation Center and house the city's Parks and Recreation Department, which shares space with the city's Planning and Development Services Department.
"That'd be great to be able to do, to free up space for Planning Development Services and [Municipal] Court," Assistant City Manager Brooks Bennett said.
In addition to improvements at Old Settlers Park, a $20 million expansion of the Round Rock Sports Center on Chisholm Trail Road, upgrades and additions to citywide trails, and systemwide infrastructure improvements are all included in Proposition A.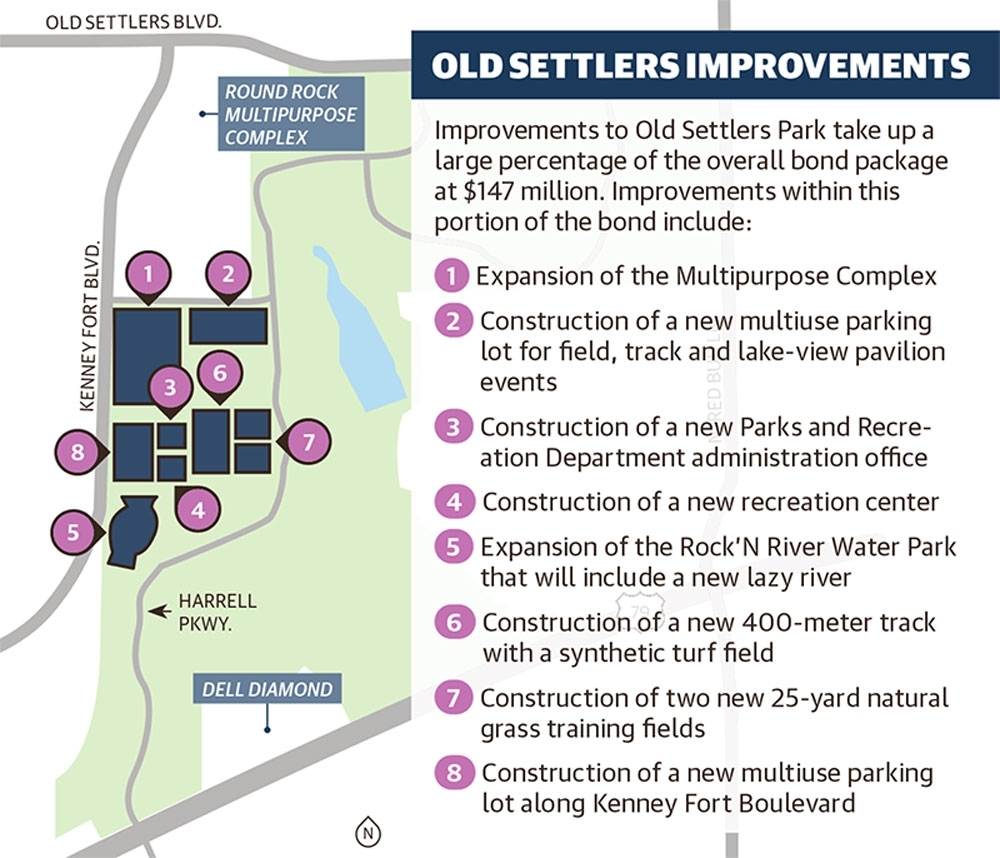 Public safety upgrades
The $44 million set aside for public safety improvements in Proposition B includes a driver training track for cadets and officers to practice driving maneuvers and an expansion of the Public Safety Training Center classroom, which Round Rock police Chief Alan Banks said is necessary to facilitate ongoing cadet and officer training.
Additionally, two new fire stations would improve response times in the city's northeast area.
City staff have not yet issued detailed information on what the fire stations would include but said they are needed in that part of town due to rapid population growth in that area. One of the stations would be located at 1703 E. Old Settlers Blvd.
Round Rock Mayor Craig Morgan said these expansions and improvements are necessary to uphold the city's standard for public safety.
"I think people want to maintain safety in our city and continue to be one of the safest cities in America," he said. "That's going to require some of these things being added as well."
Impact to taxpayers
If passed, taxpayers could expect a $0.069 increase to the city's tax rate of $0.342, said Susan Morgan, Round Rock chief financial officer.
The tax rate over that period would result in a $36-$48 annual property tax increase for homeowners over the next five to seven years based on a median home value of $369,000 to repay the bond over 25 years.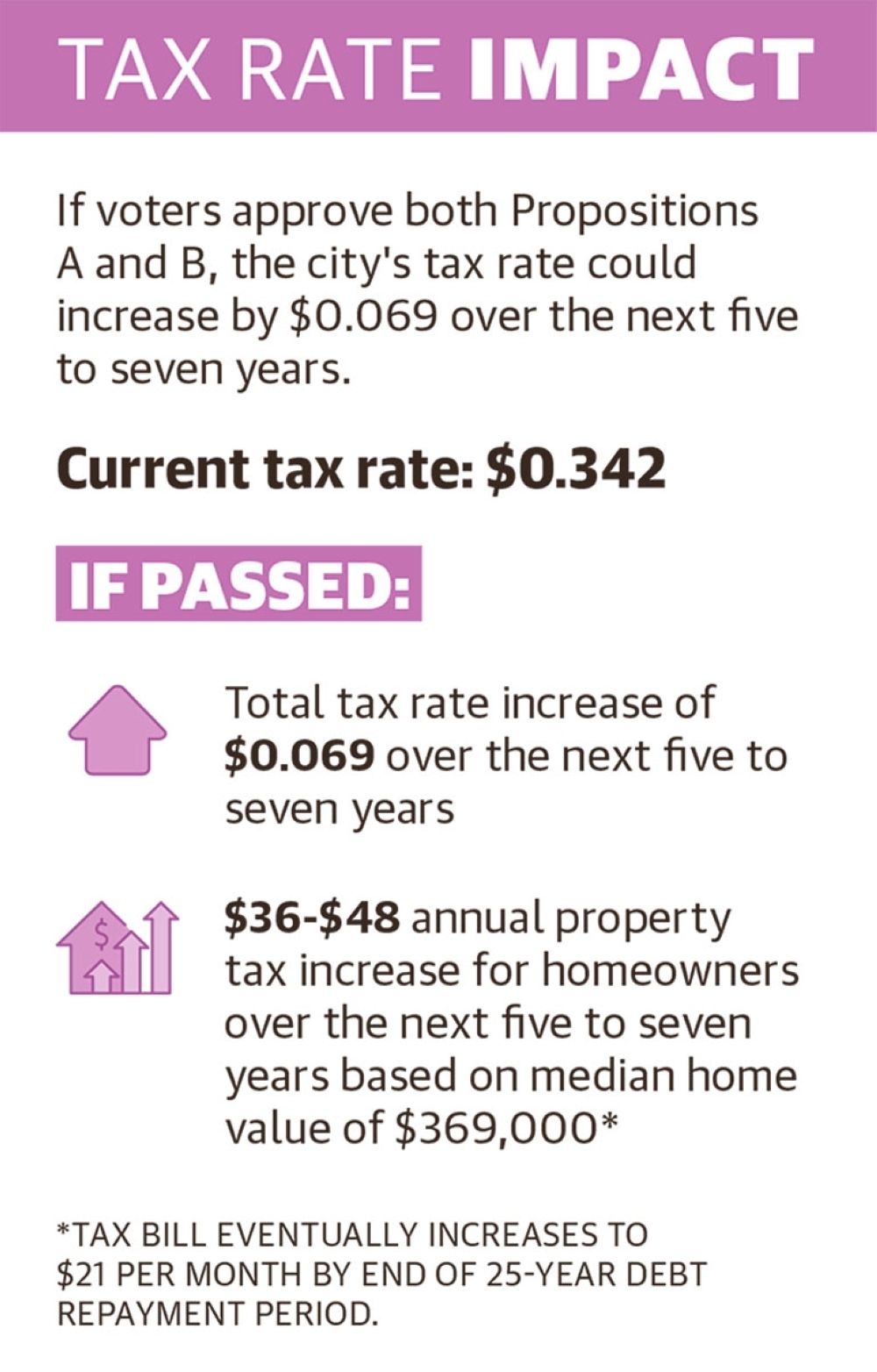 "If these projects are approved, there's a lot more work to be done in terms of design and figuring out exactly how everything is going to go together with the dollar amounts that we have," Assistant City Manager Brooks Bennett said.
Writ Baese, a former Round Rock City Council member who served from 2015-21 and spoke as a representative of a political action committee advocating for the 2023 bond, compared the tax increase to that of the 2013 Round Rock bond.
Through the committee Vote for Round Rock, Baese and a collective of community members said they hope to influence voters to approve the bond.
Baese said the impact of the $123.6 million 2013 bond was also minimal. Property values rose, and new residential property added to the tax rolls negated a tax rate increase.
At the time, city officials predicted around a $0.07 tax increase to fund the bond. In reality, the city's tax rate has decreased by just under $0.08 since 2014 due to the increase in property values.
Baese said he could see a similar scenario playing out during the repayment cycle of the 2023 bond.
Should the bond fail to pass, Round Rock officials have stated that alternate funding methods for some of the proposals would be sought.
"Given the history of how the money is managed, how the investments were made and our track record for economic development, we're hopeful," Baese said. "History indicates that we'll see something more favorable if things continue on the same trend."