Round Rock real estate agent and former resident Mari House said she had to move out of the city in May 2021, mainly because the cost of living there was rapidly surpassing her ability to pay for it.
A single mother, House said she moved her family to Leander in May 2021 after rent increases in Round Rock driven largely by market demand for housing made her leased home unaffordable.
"I wanted to purchase a home in Round Rock, but the houses were already over half a million dollars," House said.
Her situation illustrates one reason why city leaders are working with developers to create more accessibility for living in Round Rock.
Bradley Dushkin, assistant director for planning and development services in Round Rock, acknowledged that housing production must continue to speed up, and said city staff and officials are continually working to meet the need.
As thousands of new residents are drawn to the area by new job opportunities annually, according to data from the U.S. Census Bureau and the city of Round Rock, officials have made it a top priority to add diverse housing options that are financially attainable.
In order to accommodate the two-pronged problem of rapidly rising population in combination with substantial increases in housing costs, area officials and developers are working to bulk up the number of housing units available as well as continue diversifying options.
From single-family rental homes to apartments, condos and duplexes, housing units and options in Round Rock are growing, but local officials and developers are not certain the efforts will keep pace with demand
"The demand has always been high," Dushkin said. "But the increased demand that we are seeing for affordable, market-rate housing has just been through the roof."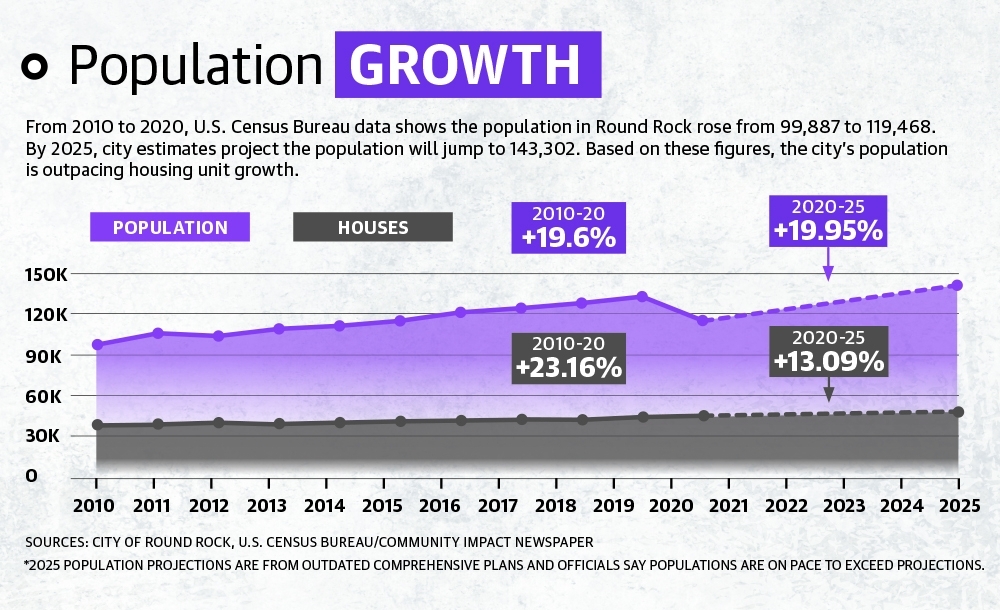 Working to match growth
Despite a rapidly growing population, homebuyers in Round Rock will have more housing types to choose from in the next decade than they have in years past, thanks to new options being pursued by developers.
The number of available housing units—a mix of traditional single-family homes, townhomes, condos, duplexes and apartments—increased from 37,223 to 45,844 from 2010 to 2020.
More than 6,000 housing units are in development. The majority are expected to deliver within the next few years.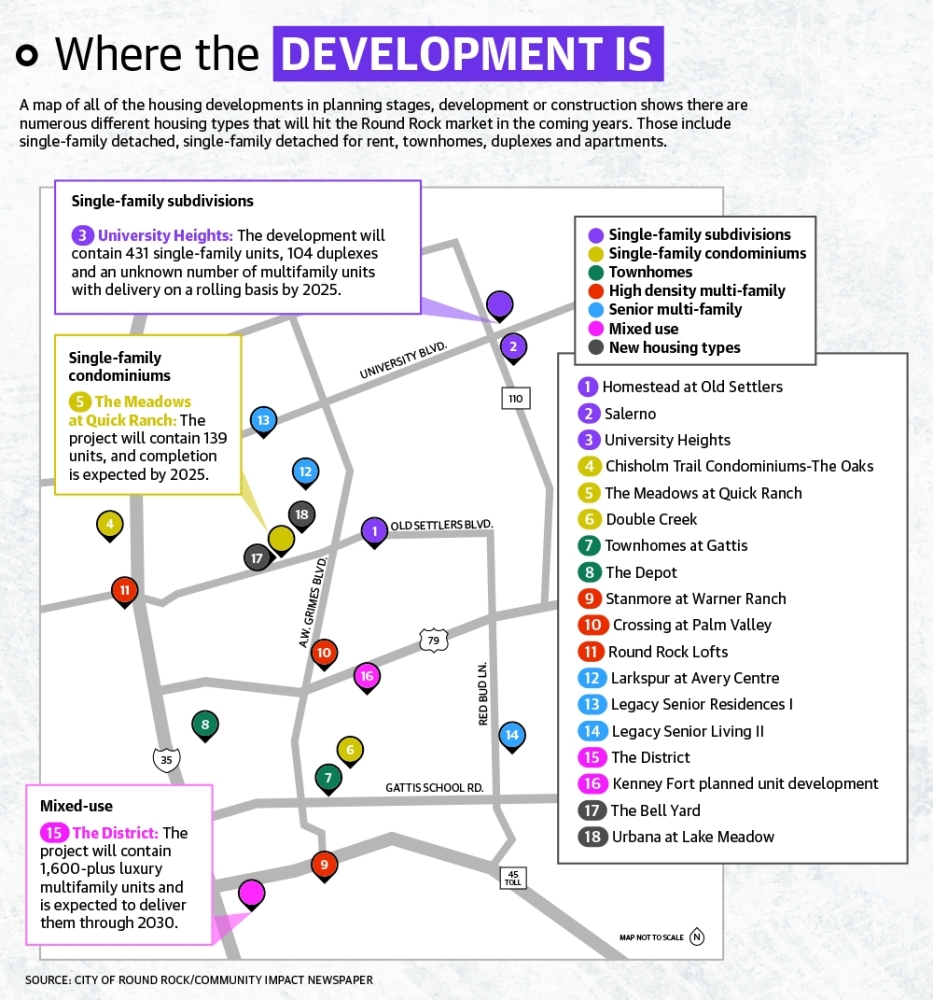 Essentially, that means current housing production is quickly outpacing production from 2010 to 2020. However, while data from the city shows housing production from 2020-25 is expected to grow by about 13%, the city's population is projected to grow by about 20%.
City officials and developers are nevertheless working to close housing gaps as more and more people move to Round Rock.
Dushkin said the city limits and its extraterritorial jurisdiction extend far to the east and northeast, to and beyond SH 130.
"We're still looking at multiple decades before Round Rock is going to be built out," he said. "I'd say we're probably only halfway there."
Single-family homes remain the city's most prominent residence type, and city staff have stressed the need to zone more land for various other housing types that fall between apartments and single-family detached homes as the city continues to be built out.
"We have dealt with some [planned unit developments and] mixed-use developments, [but] we're not seeing a lot of those come to fruition," said Jen Henderson, Round Rock Planning and Zoning Commission chair.
Still, the explosive population growth has helped bring more housing options to prominence in recent years, according to city data.
Some recent examples of developments in progress include the city's first mixed-use projects—The District and another planned unit development on Kenney Fort Boulevard—which will bring in more than 2,000 housing units combined.
Similarly, development companies such as Aspen Heights are creating communities in Round Rock and Hutto that will offer single-family housing in a rental format to meet the needs of those who cannot yet purchase a home.
As local initiatives to match housing supply with population growth continue to gain momentum, local officials also say it is important to maintain a balance between the needs and expectations of existing and potential residents.
"We try to keep up with what we find in the comprehensive plan," Henderson said. "That's kind of our document that we use to make sure that what we're approving is what the residents actually want."
Finding affordability within a housing boom
Todd Larue, managing director of real estate consulting company RCLCO, said at a December summit on growth in Williamson County that keeping area housing attainable will be crucial if cities want to continue seeing healthy growth.
"One of the biggest threats to our region is housing affordability," Larue said.
According to market analytics from the Austin Board of Realtors, in November 2021 the median price of a home in Round Rock was $460,000, a 46% increase over the previous year.
That is also the main reason House said she moved her family to Leander last May.
To address the issue of affordability and ensure prospective residents can find a place to live, developers and local officials have been reconsidering what types of housing they should bring to Round Rock. That means zoning for more housing types that include duplexes, condominiums and apartments, they said.
One housing type that is trending locally and throughout Central Texas is single-family rental units. Area experts say they offer amenities not normally provided through traditional apartments and are more affordable than standard single-family detached homes for sale.
T.C. Selman, a representative of Aspen Heights, the firm producing two rental communities in Round Rock and Hutto, said single-family rental units may provide a path to ownership that multifamily housing cannot.
One such project slated to offer a single-family rental home option in Round Rock is Bell Yard, which will offer 210 rental houses, though a timeline for completion is not yet available.
Other developments that have recently been approved through the city include Homestead at East Old Settlers, which when complete will deliver 481 single-family detached homes and 139 townhomes; Stanmore at Warner Ranch, which will deliver 336 apartments; and The Reserve on University, which will deliver 315 senior housing units.
To help further explain all of the housing production evident throughout the city, Selman said the market in Round Rock and beyond is catching up from a "lapse" in which home developers essentially stopped producing while demand grew.
"It wasn't until it started back up in 2021 did you start to see some inventory back on the market," Selman said. "This year has been a rebuilding, but it's still vastly behind what the needs are for the growth of the areas that you're particularly talking about."