Recent data from the city of Round Rock shows permit requests for residential developments have risen substantially from 2020-21.
During a Feb. 4 work session of Round Rock City Council, Planning and Development Services Director Brad Wiseman said that in 2021, the total number of permits filed for new construction of residential developments for single-family homes, duplexes and townhomes grew by 72% year over year.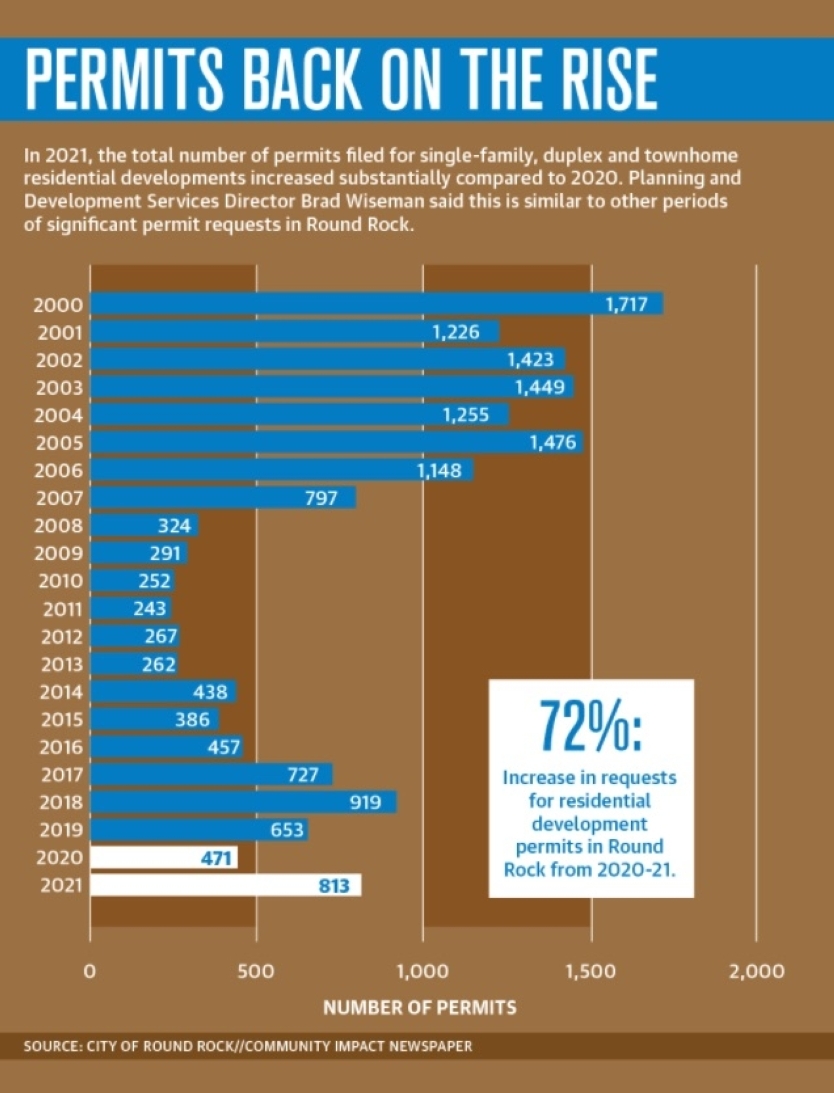 "We've been on an uptrend every year, but 2021 was just unlike anything we've seen, particularly in single-family residential," Wiseman said.
The city has 1,200 multifamily units under construction and received double the number of planned unit development applications in 2021 than in the previous year, Wiseman said.
City figures show a total of 715 permits for single-family residential developments were submitted in 2021, along with 98 for townhomes. That is up from 437 single-family permits and five townhome project permits in 2020.
Going back to the early 2000s, Wiseman said growth in the city was explosive. From 2000-05, between 1,200 and 1,700 permits were filed each year.
However, in 2006 permit requests began to drop, and 2007 was down to less than 800.
By 2011, permit requests began to expand and increase nearly each year after that along with housing costs. Exceptions include dips in permit requests in 2015 and from 2018-20, but numbers increased drastically again in 2021.
Community Impact Newspaper
reported in January that despite growth in the availability and variety of home types, affordability still remains a major concern for current and prospective Round Rock residents.
Wiseman said housing costs could ultimately prevent the city from reaching the record highs of filed permits from the late 1990s and early 2000s.
"I don't know that we'll get there," Wiseman said. "Back then we were producing really affordable units. Right now, we're not. These are expensive homes."
Wiseman also said some larger developments previously anticipated to take up to 10 years to fully build out, such as the K.B. Home Salerno planned community that is expected to bring just over 1,100 units of housing, are now anticipated to be complete within five years.
Place 4 Council Member Frank Ortega expressed concerns regarding the availability of affordable housing and an interest in working with developers to bring more affordable options. Wiseman suggested allowing for more high-density developments could remedy some of the cost barriers.
"Our tax rates may be low, but the price to purchase a home now is past $300,000," Ortega said. "Our citizens who work in our own hospital don't make that $100,000 salary."
Backing Ortega's assertion, figures on local housing costs reveal a dramatic rise in local residential home prices.
Data from the Austin Board of Realtors shows in Round Rock, Pflugerville and Hutto, the median sales price of a home in January 2022 was $450,800. Just one year prior, the median price was $325,000.
The January ABoR report also highlighted the need for affordable housing in the area, as supply chain issues are causing delays in completion of housing developments.
Round Rock real estate agent Naomi Westgard said most of the new construction she is seeing is the standard single-family home, not the multifamily units that Wiseman said would help with affordability.
"You have to keep up with the market," Westgard said. "All around this area, prices are going up. You're not going to have an investor buy a piece of land and build homes on it and make them cost less than the neighborhood across the street that has the exact same thing."•