Making its mark in Central Texas, Amazon is investing $250 million in Pflugerville, bringing 1,000 new full-time jobs and building a 3.8 million-square-foot fulfillment center that is marking a new chapter for the city's economic landscape.
"There's a great, talented workforce here in Central Texas," said Daniel Martin, operations public relations manager for Amazon. "We've got great support from the [local] leaders. We are seeing increased customer demand and, you know, I think that the growth factor is really just building out capacity to meet that demand."
The Pflugerville facility is the latest in a series of Amazon sites that recently opened or are planned to open in Central Texas in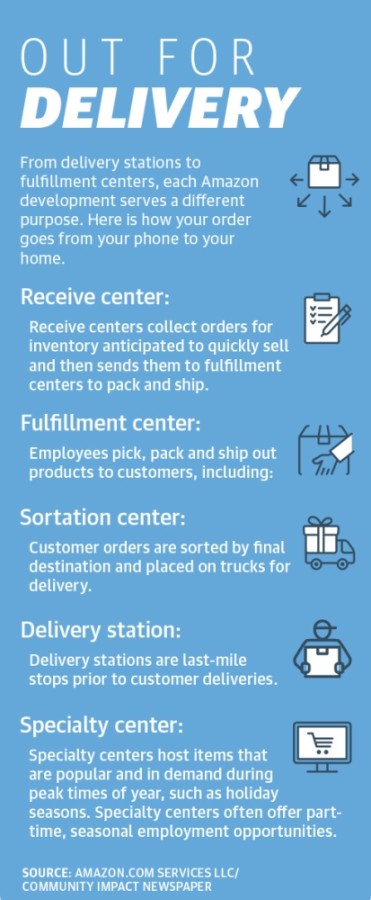 2021. Other Central Texas locations include a Round Rock delivery station that opened in September; a sortation center in Kyle that also opened in September; and an additional 1 million-square-foot fulfillment center scheduled to open in San Marcos in fall 2021.
Martin said factors such as population growth play central roles in deciding where to develop future Amazon sites. With a greater influx of residents comes heightened service demands and a prospective employment pipeline, Martin said.
"We look at whether or not there is strong customer demand; we look at whether or not there's a talented local workforce—if there's a local community of workers that we can employ," Martin said. "The areas in and around Central Texas really check all of those boxes for us."
Amy Madison has served as executive director of the Pflugerville Community Development Corp. since 2014. Madison said this project is one she has personally been pursuing since first coming to Pflugerville.
"I just felt that a project of this nature would really fill the gap for our workforce and also for our community," she said. "It was an ongoing, extended process that went well over a year prior to us finally identifying a potential project site."
Expanding local workforces
Diversifying the Pflugerville economy and bringing new industry opportunities into play are key initiatives for the PCDC, Madison said. Prior to the coronavirus pandemic, she said there were portions of the Pflugerville workforce with the necessary skills to thrive in a logistics center's environment.
However, as the pandemic continues and shifts employment patterns, the need for jobs has intensified.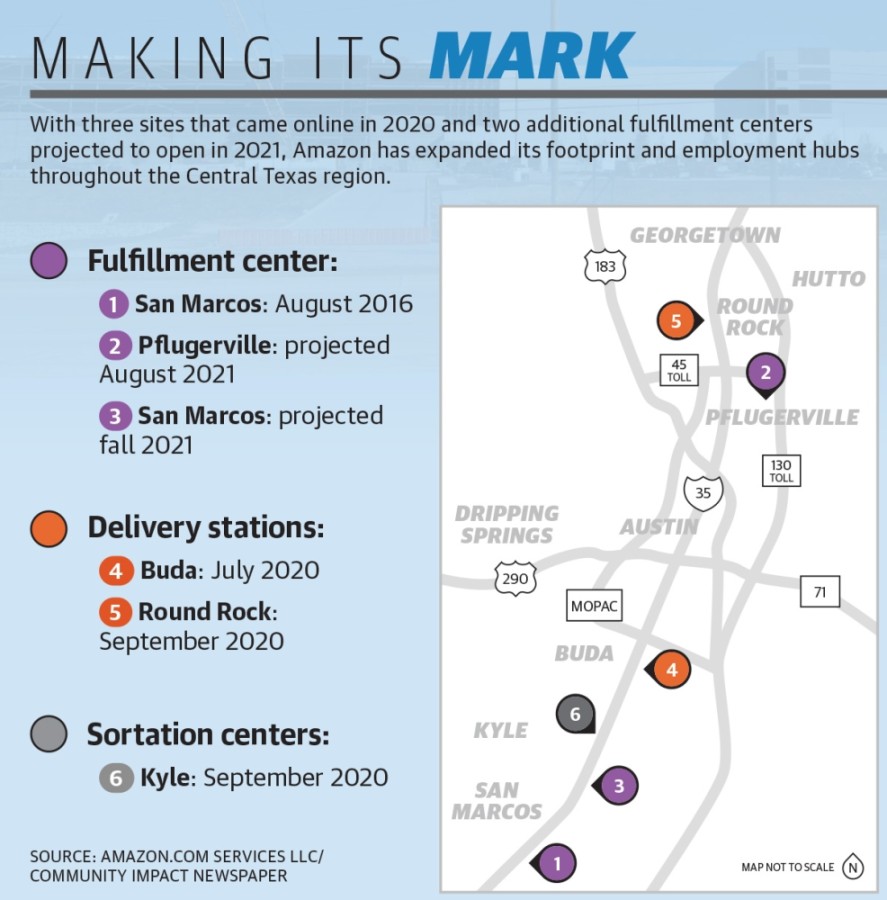 "Once the pandemic started, we knew that a lot of people were going to be put out of work and would not be returning to their original occupations," Madison said. "We were very excited about the fact that we knew that we offer jobs that were dependable jobs ... when so many had lost so much."
The average Amazon fulfillment center employs approximately 1,000 full-time employees, while sortation centers and delivery stations employ in the hundreds. Round Rock's delivery station employs more than 400 full-time and part-time employees, Martin said.
Amazon will invest at least $250 million into the Pflugerville facility during its minimum 10-year lease agreement, according to an economic development performance agreement between the PCDC and Amazon.
During the rezoning process, several Pflugerville residents questioned the quality of jobs available at the site. Martin said full-time positions have a $15 per hour starting salary, which includes benefits such as health care, dental, 401(k) and parental leave. Hiring in Pflugerville is anticipated to begin in late spring 2021, with positions ranging from packing and shipping to management, information technology and security roles.
The Round Rock Chamber announced in June details about the city's delivery station, in the midst of heightened unemployment numbers and Central Texas' first major coronavirus spike, chamber President and CEO Jason Ball said. Ball said it felt like a sign that economic growth and opportunity were still on the forefront of the city's horizon.
"I think it gives many people a sense of hope. You know, once we get past this pandemic, the economic prospects for everyone are going to turn a little bit brighter," Ball said. "And I have to assume that for folks who lost jobs, wages or opportunities in the first mitigation shutdowns ... there were a lot of people that were eager to pursue an opportunity with a company like Amazon in this area."
Combating traffic congestion
Pflugerville first began hosting public discussions on its proposed Amazon facility in December 2019, then referred to as Project Charm in city documents due to ongoing agreement negotiations between the city and company. Resident concerns expressed to city leadership in public meetings included heightened area traffic and potential strains on the city's aging roadway infrastructure.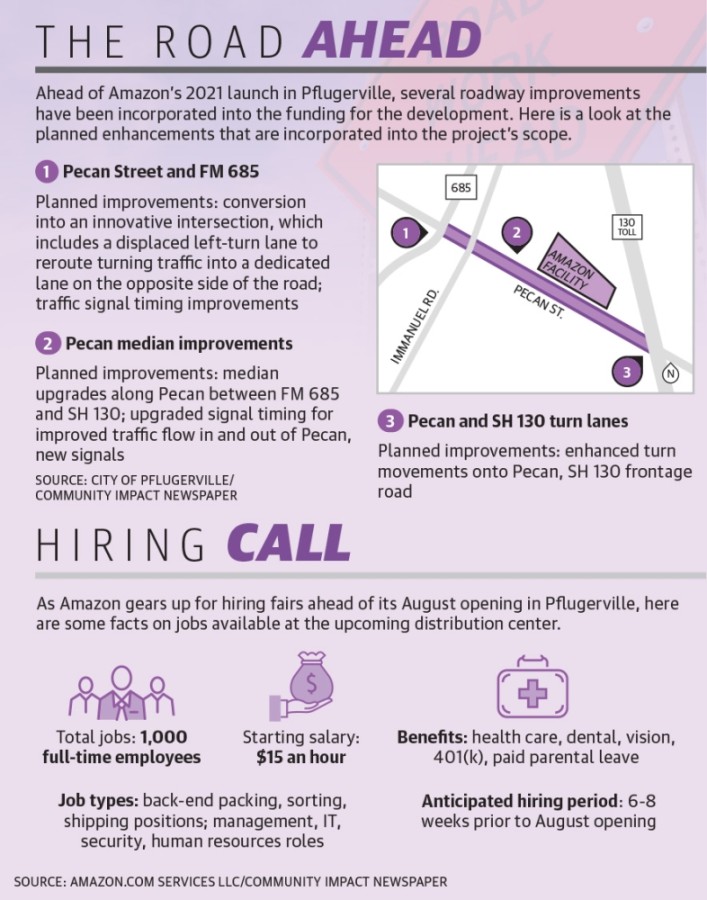 The PCDC will cover the cost of a $3.8 million incentive payment to be given to the city of Pflugerville for transportation improvements, per the agreement. The PCDC will cover the expenses for said project funds through costs factored into its fiscal year 2020-21 and FY 2021-22 budgets.
With the project proposal came a traffic impact analysis, which identifies potential improvements at specific locations and intersections within the project's scope. Improvements were identified at the FM 685 and Pecan Street intersection, where Pflugerville City Council approved the implementation of an innovative intersection design.
The innovative intersection's project scope includes signal upgrades and the addition of a displaced left-turn lane, which relocates turning traffic into a dedicated lane on the opposite side of the road. The FM 685 intersection project is being funded by Amazon and the PCDC, said Emily Barron, director of planning and development services for the city of Pflugerville.
Other projects include median improvements along Pecan between FM 685 and SH 130 and new signals. Additional turn lanes at the intersection of Pecan and SH 130 have been incorporated to enhance mobility onto the toll roads.
"We're excited to leverage our scale for good to support the community around us and where we operate and where our employees live and work," Martin said.
Aligning visions for the future
As Amazon continues its expansion within Central Texas, its influence continues to play a role in the metro region's economic growth and employment prospects, said Charisse Bodisch, senior vice president of economic development at the Greater Austin Chamber of Commerce.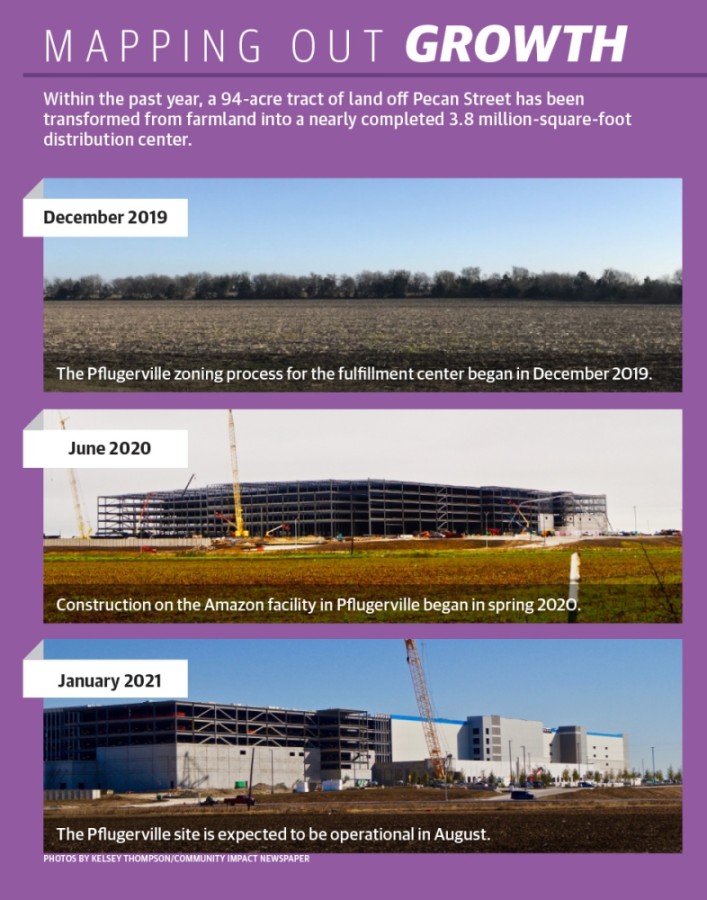 "Amazon is a great community partner to our region, providing a wide diversity of jobs from entry-level to high-skilled positions offering opportunities for all," Bodisch said.
Once a mostly residential community, Pflugerville is now a more competitive business environment because of companies such as Amazon, Madison said.
With an increase in Pflugerville-based jobs and a boost in sales tax revenue related to the site, both Barron and Madison said diversified employment centers attract entertainment and recreation development opportunities. Given the proximity of SH 130 and SH 45, each said this region is poised to become a hub of live-work-play activities.
Ball said Amazon's footprint in Round Rock is not only a new endeavor for the city, but also a continuation of both Round Rock's pro-business mentality and the Austin region's growing employment hub.
"I think Amazon is actually an extension of one of the key industry sectors that was already very prevalent here because of our proximity to the Central Texas and greater Austin metro, and that's logistics in general," Ball said. "We are right on the cusp of, I think, seeing some exciting developments begin."