Jeff Spector, owner of lumber reclamation business This Old Wood in Pflugerville, said he thinks the COVID-19 pandemic has caused a permanent shift in how people think about health and cleanliness.
Spector said his business has been minimally affected by the pandemic—he and his staff already wore masks as part of daily operations—but on a personal level, it has prompted him to consider more carefully many things he would have given little thought to before the pandemic.
"We're just kind of considering different stuff," Spector said. "Stuff that we used to do like blowing out the candles on a birthday cake—I don't think people will ever do that again."

As the U.S. reaches the two-year mark since the start of the pandemic, Spector is far from the only person who has experienced changes. Many local business owners have not escaped the effects of the pandemic as This Old Wood has, and area leaders in government and education have had to constantly adjust their policies and operations as case numbers shifted.
According to leaders, many of the changes brought about by COVID-19 will likely fade with the pandemic, while others may be here to stay.
Evolving health care
Sequoia Owens, project manager for BrightStar Care, a company that oversees COVID-19 testing sites, said she tested positive for COVID-19 in late January, her first positive test since the beginning of the pandemic in March 2020.
Owens worked during the pandemic for nearly two years before contracting the virus, and she said her story is an example of why testing for COVID-19 will remain important, even as case rates begin to wane again following a massive upswing in December and January.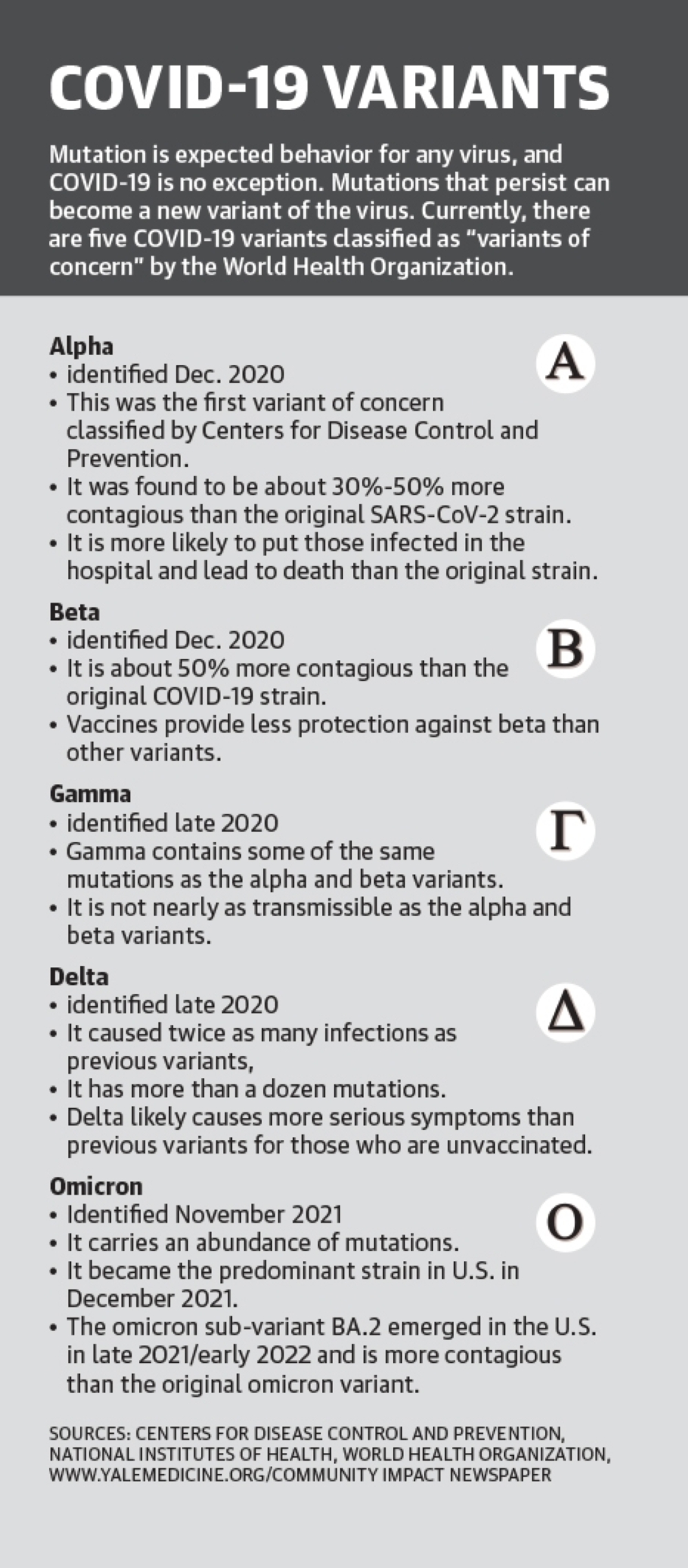 Major health care entities, including the Centers for Disease Control and Prevention and the World Health Organization, continue to warn about guarding against new COVID-19 variants, and hospital occupancy rates are still high in many parts of the U.S.
In contending with those high occupancy rates, local health care entities have developed new ways of offering care, said Dr. Ashis Barad, medical director of virtual care services for the Baylor Scott & White network.
Barad said in the early days of the pandemic, Baylor Scott & White Health used telemedicine out of necessity, but in the last two years the practice has evolved and is likely here to stay.
"Before COVID[-19], video visits like doing a Zoom call with your doctor was just kind of a neat thing to do ... and then March of 2020 comes, and the whole world has to be [on] video," Barad said.
A report from the CDC indicates in March 2020, the number of telehealth visits conducted nationwide was up 154% over the previous March. Barad said in the last two years, telemedicine has shown that while it is not preferable for all types of care, it has some definite advantages for health care providers.
Among those advantages, Barad said, is the ability for patients and health care professionals to communicate more regularly rather than exclusively during yearly checkups. He said telemedicine has proven great for patients with minor ailments such as earaches.
"I think we're getting smarter and better about what really works well in a virtual world and what still needs to be seen in person," Barad said.
Local government
While COVID-19 has brought about some permanent advancements in the health care industry, those who work in local government and education are largely more focused on moving away from requirements necessitated by the pandemic.
The city of Pflugerville still requires visitors to city facilities to wear masks, but Mayor Victor Gonzales said he is hoping to do away with that policy some time this year. It is just a matter of making sure a return to normalcy is safe, he said.
"Hopefully we won't have another [COVID-19] variant coming across the radar here in the near future that will cause us to have to ramp up again," Gonzales said.
In Round Rock, Mayor Craig Morgan said the city has in many ways already moved away from many COVID-19 restrictions, leaving individuals and businesses to decide what safety measures to take.
Morgan said one advantage the pandemic created was it allowed the city to focus on developing outdoor space like Yonders Point, an outdoor recreation area at Old Settlers Park that opened in June.
"I think what we've learned is people really enjoy the outdoors, and [the pandemic] has driven more people to the outdoors," Morgan said.
Morgan added the city has also encouraged outdoor recreation through its Music on Main program and the addition of expanded pedestrian spaces downtown.
Local education officials also say they are looking forward to an end to the pandemic and its safety requirements but have also taken notice of some beneficial protocols.
At Pflugerville ISD, Superintendent Doug Killian said he hopes some health and safety practices will continue after the pandemic has passed.
"What I've seen now is parents are more apt to keep a kid home when they don't feel well, and that's helped us quite a bit, and I think it would go on helping us if that became a regular practice going forward," Killian said.
However, while telemedicine had a mainly positive impact on the health care field, Killian said the effect of virtual learning on education has been more dubious.
Killian said while virtual learning has its applications, it is not necessarily preferable overall as an educational tool. Particularly with regard to younger students, Killian said he hopes they continue to remain safely in the classroom.
Prior to the pandemic, students were able to make up or accelerate their courses through virtual learning options, but Killian questions if it can be done effectively at the lower grades.
According to a study by the behavioral and social science research nonprofit American Institutes for Research, during the 2020-21 school year, schools conducting their classes not primarily in person reported lower academic performance and attendance rates than schools that conducted classes primarily in person.
For example, 44% of schools nationwide conducting classes that were mostly virtual reported a "substantial decrease in academic performance" in grades 9-12, compared to 19% of schools holding classes primarily in person.
"The challenge seems to be the relationships, the socialization, and all the things that go along with being a person that you want to build in the younger kids, and just the intensity of teaching reading at lower grades," Killian said. "I think that's very difficult to do in a virtual environment."
The business community
Area business owners have been hit hard by the pandemic in numerous ways, from forced closures to modified operations to troubles filling staff.
Hutto bakery and coffee shop Baked 'n Sconed closed its dining room in March 2020 and has been operating exclusively as a drive-thru ever since.
Owner Tiffany Anders said she originally made the change because of COVID-19 safety concerns and more recently has not been able to return to normal operations because of a lack of staff.
"I think right now it's just kind of staying fluid with everything," Anders said. "We're always being handed some kind of new challenge, and we're just trying to stay as fluid as we can and keep up."
Anders said she is unsure w•hen she will be able to fully open again, but added she will need to replenish her staff again before she can consider it. Ultimately, Anders said there is not any new protocol from the pandemic that she is likely to hold on to, and she is looking forward to returning to normal operations.
Baked 'n Sconed is not the only business in the area facing staffing shortages. Amber Warne, director of upskilling and advancement for Workforce Solutions Capital Area, said ongoing hiring shortages exacerbated by the pandemic are likely to continue.
She said the hiring issues associated with COVID-19 should fade with the pandemic, but until then, many affected business owners are not likely to find relief.
Warne said a major reason for the labor shortage is the ongoing fear around the pandemic and requirements and changes around COVID-19.
"So that will probably ease up as things start to become normal," she said.
Also looking forward to relief from pandemic struggles is Alissa Born, owner of Pflugerville preschool Firefly Community School.
For the last two years, Born said the preschool has followed strict safety guidelines including mask wearing.
With the recent approval of vaccines for children ages 5-12, Born said she hopes she can begin running her day care as she did prior to the pandemic. Masks can be a barrier to nonverbal communication, which Born said is a valuable tool when working with children.
"As vaccines start becoming readily available for the younger friends, that's kind of the light at the end of the tunnel for us," Born said. "We're really hopeful that with the rollout of the vaccines, we can kind of say goodbye to masks."