In Round Rock, Winter Storm Mara resulted in more than 1 million cubic yards of loose brush and debris from Jan. 31-Feb. 3, according to estimates from city staff.
During a normal year, the city collects around 30,000.
Round Rock City Council had to approve several million dollars toward a massive debris removal effort, and officials and staff said they cannot yet estimate the total cost to the city but continue to emphasize the event is unprecedented.
"We are now undergoing what is easily the largest cleanup effort our community has ever seen, and from our experience so far in the neighborhoods, we believe this operation will [last at least through March]," Round Rock City Manager Laurie Hadley said in a Feb. 16 statement.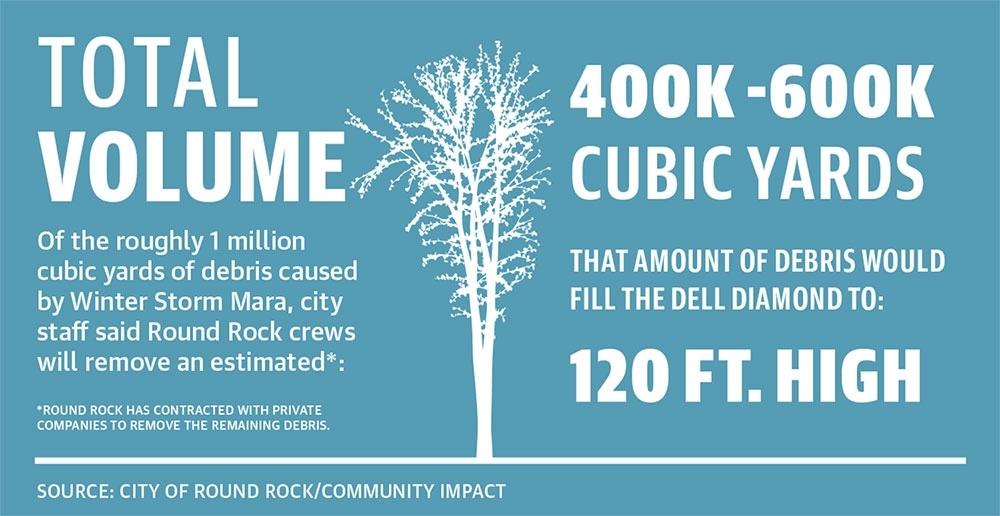 Continued cleanup
Hadley said the city has deployed a vast amount of its own resources toward the cleanup effort in addition to employing outside contractors, including TFR Enterprises and Austin Wood Recycling.
David Buzzell, assistant director for the Round Rock Parks and Recreation Department, is overseeing the ongoing debris removal campaign.
Buzzell said as of late February, more than 60 employees from various city departments were still working alongside contracted workers to consolidate debris to the main repository sites in Round Rock: the Brush Recycling Center on Deep Wood Drive and the East Brushy Creek Regional Wastewater Treatment Plant by the Dell Diamond on Palm Valley Boulevard.
Because the volume of brush is about 30 times more than what the city handles in an average year, Buzzell said the facilities are filling up fast. However, crews have recently begun turning the brush into mulch, and Austin Wood Recycling is removing it.
Buzzell said the city received about 3,000 resident requests to remove debris during Winter Storm Uri, and crews were able to handle most of those in five weeks.
By comparison, the city's ice storm recovery dashboard, which has been tracking the cleanup effort since Jan. 31, shows 10,529 Round Rock residents had requested brush pickups as of March 7.
Tons of debris
Round Rock resident Joseph Vogas said several branches from his two oak trees cracked, but did not fall to the ground. He hired a contractor to trim the trees and put the branches on his curb.
He put in a request to the city for brush removal, but he said the branches were still on his curb more than two weeks later.
As of March 5, Vogas said the city had removed the brush from his curb.
The Round Rock storm recovery dashboard went live about a week after the storm with the goal of providing more clarity on the cleanup status, city staff said. The dashboard also includes a map detailing where crews are working in real time.
As of March 7, when the dashboard was last updated as of press time, crews had cleaned up about 98% of the city's neighborhoods, according to the dashboard.
Whittlesey Landscape Supplies co-owner Blake Whittlesey said his company's Austin and Round Rock facilities take in green waste from landscapers, arborists and homeowners to manufacture and distribute mulch and compost throughout Central Texas.
Whittlesey said immediately following Winter Storm Mara, his company's Round Rock location began receiving an average of 300 brush drop-offs per day. A normal day for that location sees about 150 drop-offs, he said.
The Round Rock location is situated along the northeast corner of the I-35 frontage road and Greenlawn Boulevard intersection. Since the ice storm, he said there were some days when the line of drivers needing to drop off brush at Whittlesey reached more than a mile south to Grand Avenue Parkway.
Whittlesey said due to the sheer volume, he had to temporarily stop doing pickups on Sundays.
"We've taken in a week what we normally take in a month," Whittlesey said. "I'm not really sure why, but the Round Rock location is significantly busier [than the Austin location]."