For restaurant owner Rob Snow, it has become common for him to see empty shelves at local grocery stores.
Snow owns two locally sourced restaurants called Greenhouse Craft Food with locations in Round Rock and Taylor. He said finding food and supplies for his two eateries is getting more and more difficult.
"I've never walked down the grocery aisles and there'll be a whole section that's just totally empty," Snow said. "It's weird to see that. Whatever it is today, chicken broth, or whatever it is, that whole section is totally empty at the grocery store, and I see it every time I go."
Snow's is just one example of how consumers and business owners are struggling to find what they need.
In local communities, recent supply chain bottlenecks driven by inflation and labor shortages are putting business owners, suppliers and consumers in increasingly difficult positions during the busiest shopping season of the year.
Experts say at its core, the issue is a simple mismatch between supply and demand that has been greatly exacerbated by the COVID-19 pandemic.
Sam Tenenbaum, director of analytics and Central Texas economist for commercial real estate information company CoStar Group, said when pandemic restrictions were first put in place last year, both the demand for and the supply of most goods decreased dramatically.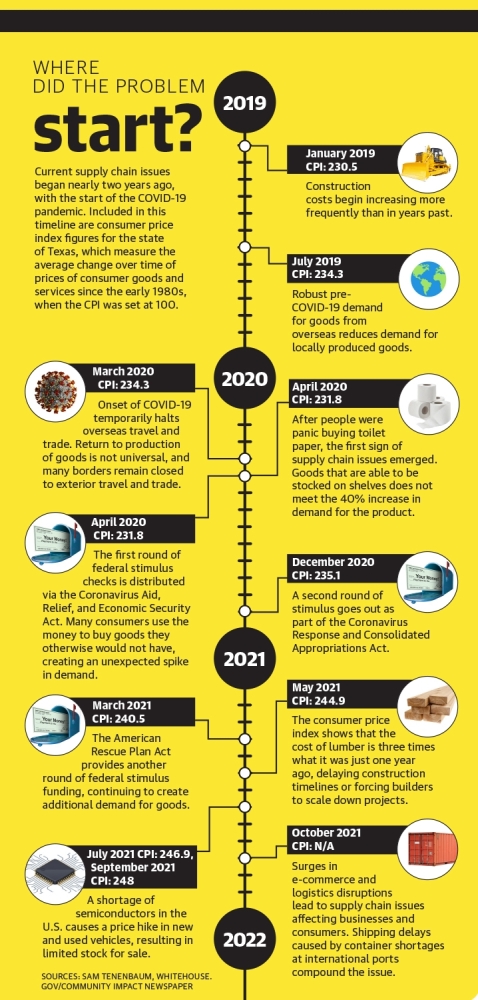 However, as restrictions continue to lift and federal stimulus measures amplify demand for goods faster than expected, suppliers are having trouble keeping up, according to Tenenbaum.
"We all kind of expected the economy to weaken considerably [because of COVID-19 and] consumer spending to go down ... but that didn't really happen," Tenenbaum said. "A lot of the big factory operations can't stop on a dime and then turn around and restart operations at full capacity in a few weeks. That's not really how everything works."
Dealing with inflation
Another local business affected by supply chain disruptions is Starmark, a pet training center in Hutto that also manufactures pet products sold across the country and internationally.
Starmark President Keith Benson said supply chain disruptions have created challenges for the company primarily in the form of material shortages.
Paired with those shortages are spikes in material costs, he said.
Data from the U.S. Bureau of Labor Statistics show from April 2020 to September 2021, the consumer price index, which measures the price of consumer goods, increased in Texas from 231.8 to 248, or about 6.99%. The increase is more than double the state's average year over year jump in the five years prior.
Put into a real world circumstance, archives from the U.S. Department of Agriculture show the average retail price for a gallon of conventional whole milk in Dallas in April 2020 was $2.79. By October 2021, the average price was $3.29.
Prior to the pandemic, from April 2018 to October 2019, the average price of milk dropped from $2.79 to $2.32.
For Snow, that increasing cost of goods brought uncertainty to how he priced Thanksgiving catering, a service he offers each year.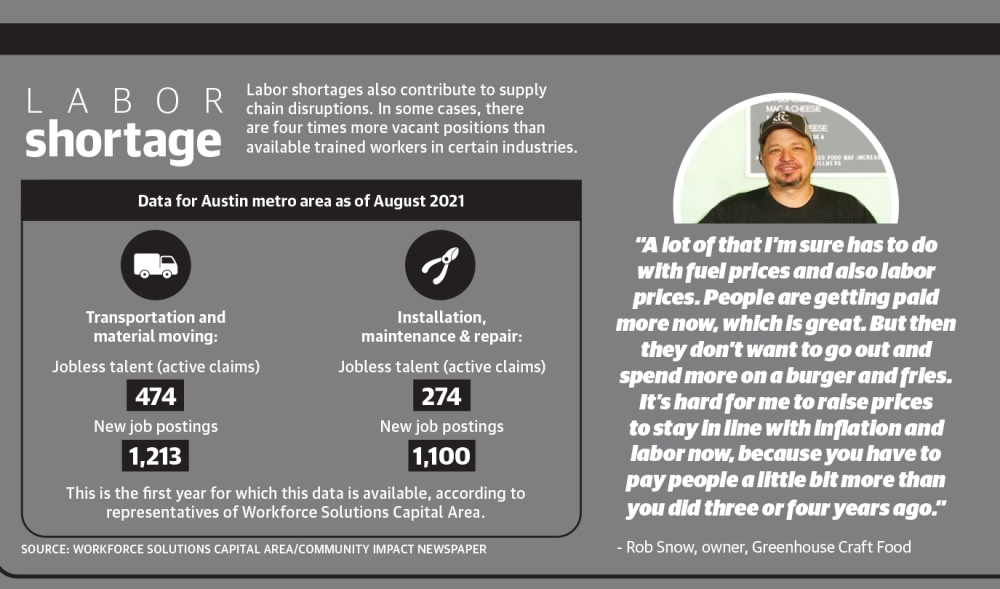 This year, he offered meals for $18 per person, and he said he was concerned about the cost of producing that meal exceeding $18 by Thanksgiving, as inflation "eats up the margins," while he eats up the cost.
"When I order my turkey next week, is it going to be twice as much as it was when I wrote the menu and prices?" Snow said prior to Thanksgiving. "Am I going to even be able to get it on the day that I want it?"
Tenenbaum said COVID-19 also changed the way consumers spend their money. Prior to the pandemic, services, not goods, accounted for the majority of consumer spending, but the pandemic changed that, he said.
"COVID[-19] sort of made those closer personal interactions that are much more service-oriented certainly more dangerous," Tenenbaum said.
He said that shift led to consumers spending more on goods than services almost overnight—an increase in demand that helped contribute to inflation.
Labor shortages
Widespread labor shortages are another factor contributing to supply chain disruptions, according to Jessica Garay, data and career awareness project coordinator for Workforce Solutions Capital Area.
Among many skilled trades vital to supply chain operations, including shipping and manufacturing, the number of vacant positions far outweighs the supply of trained workers, according to data from Workforce Solutions.
WFSCA data shows that of the 10 occupation categories most in need of workers, two are directly linked to the supply chain.
In transportation and material moving, WFSCA reported 1,213 new job postings in the Austin metro as of August and only 474 jobless trained individuals.
BLS data shows as of October, roughly 9,000 trucking industry jobs remained unfilled from pre-pandemic levels nationwide.
"Notably, there was already a shortage before COVID[-19]," Garay said. "We're not sure whether that is because talent is not skilled for these positions in transportation, warehouse and manufacturing, or if it's something else."
Starmark is feeling the effects of those shortages as trucks from retailers picking up goods from the company to ship to distribution centers are seeing delays between three and five days, or sometimes longer, Benson said.
"It's just another example of how a few days added on top of a few days all the way down the supply chain kind of creates this bottleneck that we're experiencing," he said.
While the labor shortage has a direct effect on certain entities, it has an indirect effect on others.
Round Rock Honey owner Konrad Bouffard said the main issue he has involves delivery of components of his final product.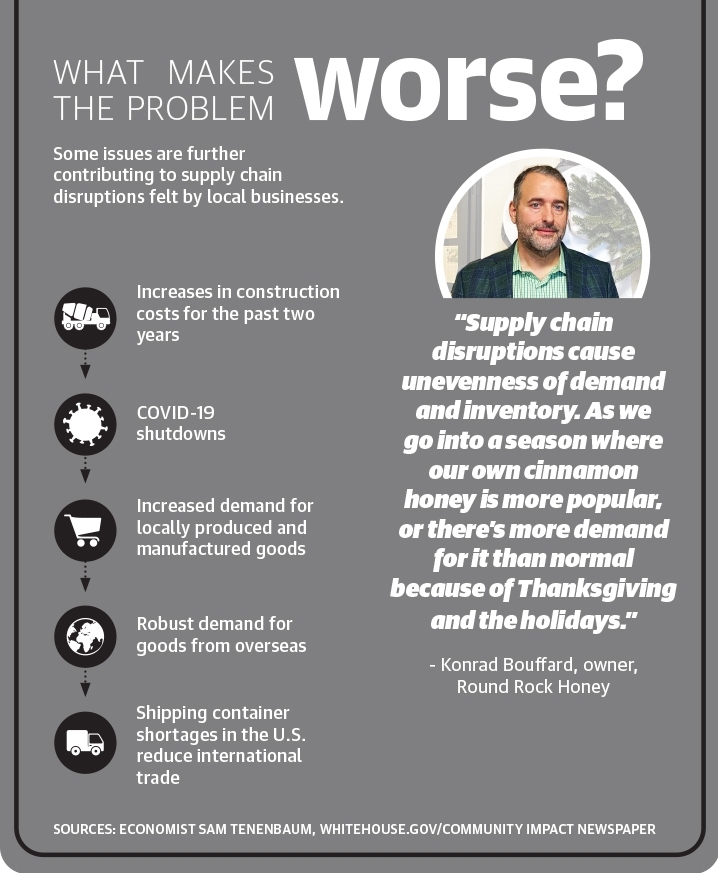 The honey bottles he sells use labels, bottles and lids that are in short supply.
This is further complicated by logistics challenges, he said, as some trucking companies simply cannot find drivers, a problem faced by many employers.
"Our label company ... one week, they'll call us and they'll say we're looking [about] three months out," Bouffard said. "Then the next week, they call us and they'll say it's only five days out. Then they call us back the week after that and they'll say no, we're back to three months. It's just erratic, up and down stuff."
Moving forward
Tenenbaum said he expects manufacturers to make a few changes in response to global supply chain issues so they are more prepared to deal with future disruptions.
The most notable change Tenenbaum predicts is the reduction of overseas manufacturing in favor of local manufacturing to reduce reliance on the global supply chain.
"Now that we sort of understand the struggles of a global supply chain, I think what we'll see is onshoring or nearshoring, where we either bring the manufacturing process back to the United States or we keep more inventory of that item," Tenenbaum said.
Benson said Starmark is adjusting to supply chain issues by finding alternate suppliers, purchasing materials in larger quantities and planning ahead nine to 12 months in advance, rather than six.
Benson said materials shortages and delays in receiving them, as well as cost increases, have probably had the greatest effect on Starmark's domestic manufacturing operations.••"Instead of pallets, we're purchasing containers of raw materials now, not only to try and minimize our cost as much as possible, but also just to secure that inventory so that we're not running out of the ingredients that we need to make our products," he said.••Similarly, clothing store owner Ashley Kriegel said she can envision more consumers shopping locally in the future.
As owner of Round Rock boutique Rhae, Kriegel said she opened her store in late 2020, and only knows an unpredictable market marred by an unsteady economy.
Because of this, Kriegel said she has stayed ahead of the supply chain issue by ordering well in advance.
"I feel like at some point, I'm going to be super excited about [the situation improving]," Kriegel said. "Because right now, all I know is it's hard to get stuff."