A new transit plan will be considered within Pflugerville's proposed fiscal year 2020-21 budget. Pflugerville City Council voted in favor of city staff pursuing further conversations with Capital Metro regarding the effort, with services anticipated to begin around Jan. 1.
The yearlong pilot program includes curb-to-curb pickup services, with destinations such as H-E-B, Tech Ridge Park & Ride and Cove Senior Apartments, among others. A city public transportation plan has been in the works for Pflugerville
since 2015
, with a transit development plan
approved
in August 2018.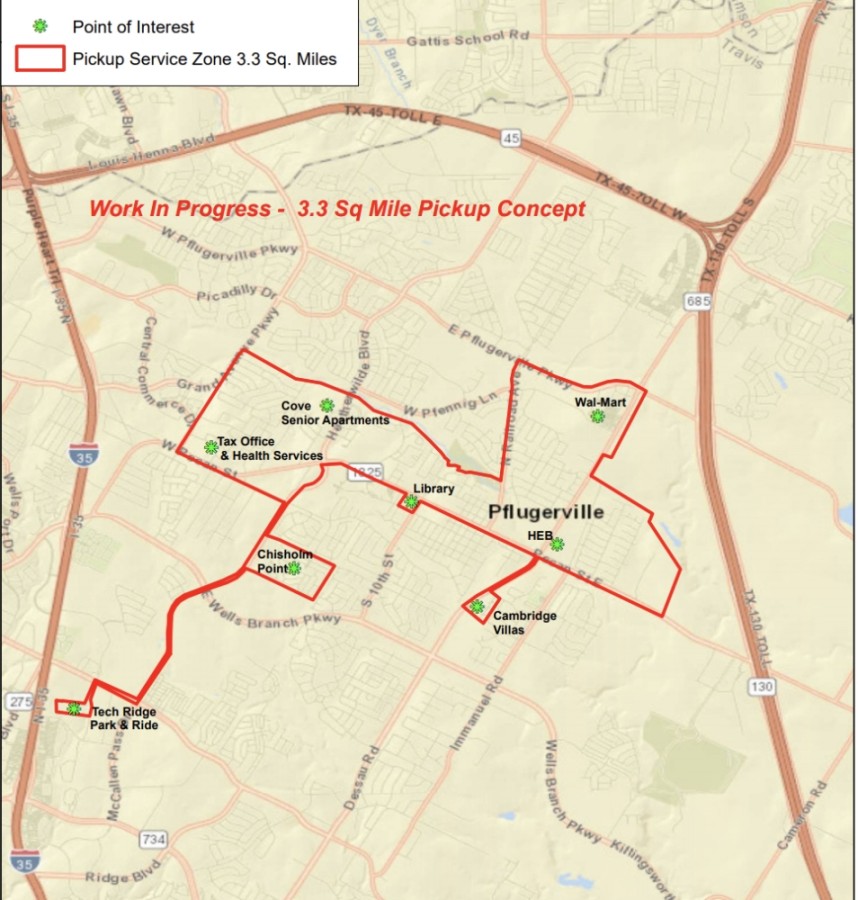 The aim with this pilot is to provide on-demand transportation services to senior residents, those with disabilities and individuals without ready access to a car or other form of transportation.
City documents outline a tentative 3.3-square-mile service area that is mainly concentrated along the Pecan Street corridor. The proposed map depicts a service zone and not a specific transportation route.
City staff has designated $391,000 in transit funding as part of the budget proposal. Approximately $300,000 is allocated to the transit plan's operational services with additional funding included for city marketing and outreach efforts as well as annual contributions to Senior Access and to the Capital Metro Transit Authority.
The total project cost is estimated at more than $500,000, with $200,000 coming from federal funding. The city identified $177,000 in its fiscal year 2019-20 budget that has not been spent, which could be transferred to help cover the cost.
City staff has worked with Capital Metro regarding the pilot program but are not "obligated to engage CMTA in this pilot," per city documents. Following council approval, Assistant City Manager Trey Fletcher said he and staff can work with Capital Metro on its formal implementation, which can take four to six months to complete.
As part of council's July 14 vote, staff will also compile metrics to gauge the success of the 12-month pilot to inform council on whether to discontinue, expand or maintain the program following fiscal year 2020-21.