Construction is underway on a $3.6 million effort to ease congestion on four Round Rock roads frequently traveled by local drivers.
As part of the city's ongoing streets management, portions of University Boulevard, Old Settlers Boulevard, Sunrise Road and Red Bud Lane are slated for improvement between April and July.
Round Rock City Council approved a contract with Texas Materials for the project at a Feb. 13 meeting. Improvements will include repairs to curbs, curb ramps, gutters, sidewalks, driveways and pavement, according to a city news release.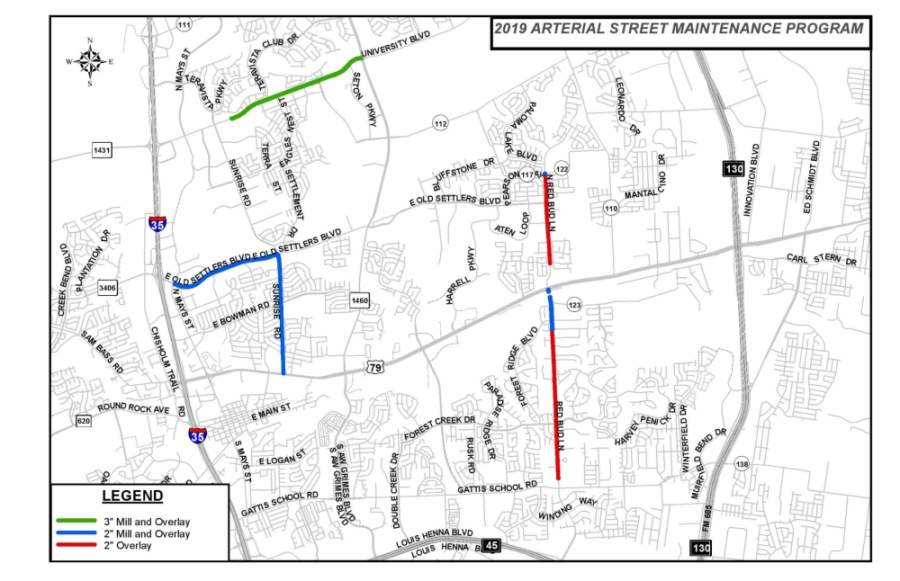 Construction is expected to happen in phases throughout the spring and summer, per the release. The improvements began with day work on University Boulevard from April 13-17.
The tentative schedule for city construction is as follows.


University Boulevard

April 19-May 13 (night work)


Old Settlers Boulevard

April 20-24 (day work)

May 14-27 (night work)


Sunrise Road

April 27-May 15 (day work)

May 28-June 11 (night work)


Redbud Lane

June 14-July 5 (night work)


Status
: Work has begun on portions of University Boulevard and Old Settlers Boulevard.
Timeline
: April 13-July 5, with work to be completed in phases on different roadways throughout
Cost
: $3.6 million
Funding source
: Type B funds