Editor's note: This story has been updated to provide a statement from 24 Hour Fitness and to clarify the status of the closure.
Updated 3:55 p.m. May 20
Gym 24 Hour Fitness is working with its landlord in an effort to reopen its Pflugerville location, according to a May 20 statement issued to
Community Impact Newspaper
.
"Having just reopened our first five clubs in Dallas/Ft. Worth, we are excited to continue reopening our clubs when we are operationally prepared to do so in a careful, phased approach, following the guidance of local and state governments and public health agencies," the fitness chain wrote in the statement. "This has been a challenging few months for 24 Hour Fitness and many other businesses. We are engaged in active discussions with our landlords, but have not informed any landlord we will be closing our club."
Gyms were among several businesses that had to close in March throughout Texas because of the coronavirus pandemic. An eviction notice dated May 12 reported 24 Hour Fitness had not paid its rent in April or May for the Pflugerville location.
Original story
24 Hour Fitness has closed its Pflugerville location as of May 19, according to eviction signage posted to the front entrance.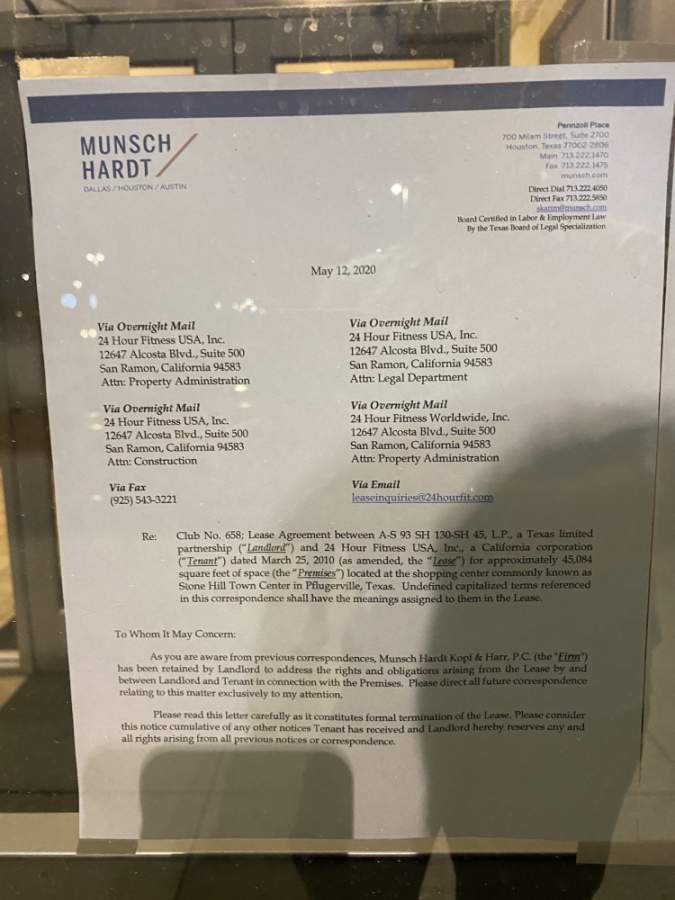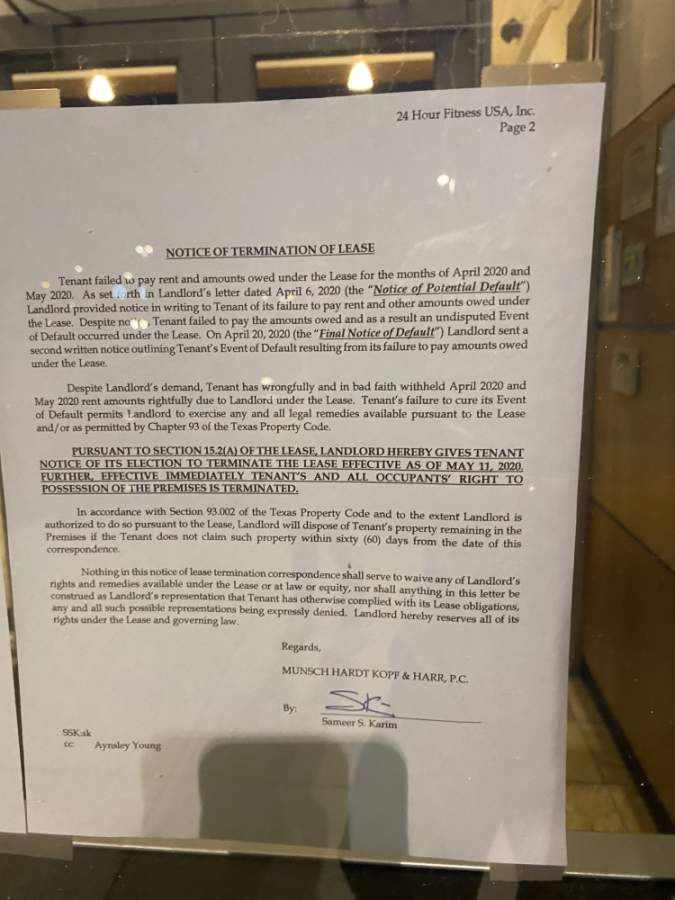 Located at 1401 Town Center Drive, Pflugerville, calls to the location result in an automated company message detailing how to cancel memberships online.
"First and foremost, everyone at 24 Hour Fitness hopes you and you family are remaining safe and healthy through these very challenging times. Our goal has and will continue to be focused on surviving this crisis so that we can hopefully emerge and welcome our team and club members back when it is safe to do so. It appears our clubs may need to be closed for an extended period. As such, we will suspend all membership billings, including billings for any additional services and fees, effective April 16, if we are unable to reopen clubs by that time in your area. For the membership billings that were charged from March 17 through April 15, members will receive additional days of access equal to the number of days paid from while the clubs were closed in your area. That extension will apply at the end of the membership. If you have a prepaid membership, your end date will be extended to cover the amount of time the clubs are closed in your area. Due to unprecedented call demand, we have temporarily closed our call center, but you can send us an email by visiting the contact us page on our website. Select 'my membership,' the topic, fill out the form and submit. If you are calling to cancel your membership, please know that our hope is to keep you as a valued member. However, if you decide to cancel your membership with us, we have provided an option to expedite your request by visiting our website at 24hourfitness.com. Click on the link and follow the instructions. While our doors remain closed, we look forward to seeing you on 24Go and on 24Go Live, our new 24/7 workout experience being broadcast on the 24 Hour Fitness YouTube channel and other virtual fitness solutions. Thank you. We appreciate your patience and understanding, and truly hope to see you back in our club soon. Stay safe."
512-354-3101.
www.24hourfitness.com/gyms/pflugerville-tx/pflugerville-supersport