Round Rock resident Edward Monk will vote by mail for the first time in the 2020 presidential election. He qualifies to do so because he is over the age of 65.
For voters like Monk, nervousness over risks posed by the coronavirus pandemic is contributing to a higher number of voters choosing to cast their ballots by mail for the first time.
"These days, I don't get out much," Monk said. "But I've also always voted. That's important to me."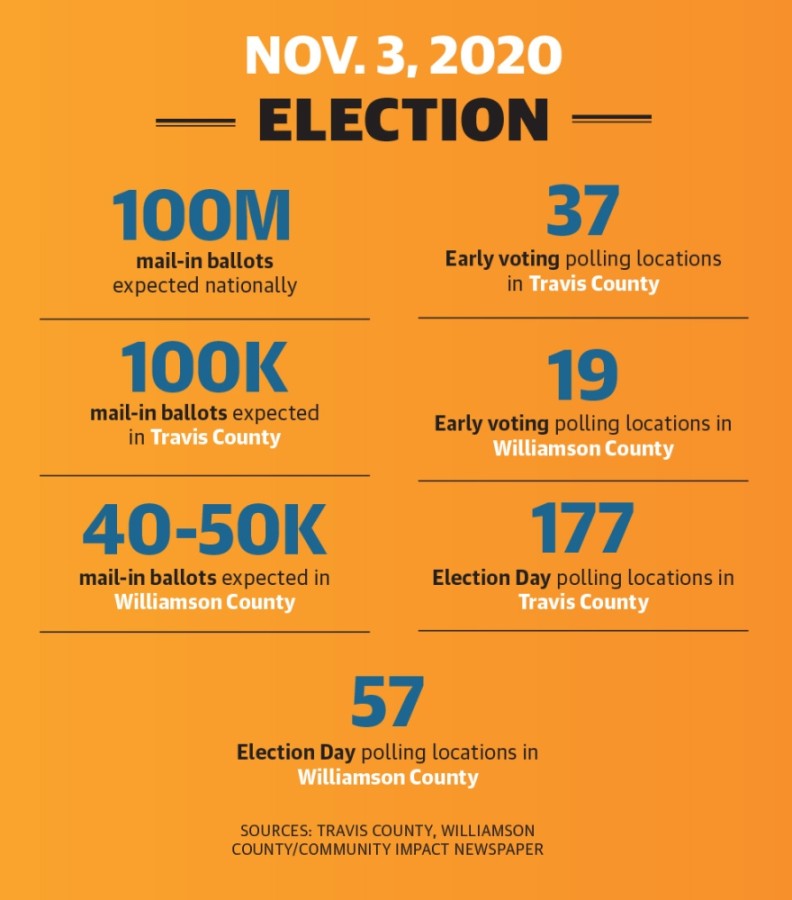 In fact, both Williamson County and Travis County election officials are preparing for record-setting numbers of ballots by mail in the upcoming election.
Williamson County Election Administrator Chris Davis said as of Sept. 15 the county had processed 23,709 applications for ballot by mail—more than double the previous record-setting amount in November 2018.
With several weeks remaining before the Oct. 23 deadline to request a ballot, Davis said he anticipates a total of 40,000-50,000 applications. That represents 11-14% of the county's approximately 358,000 registered voters as of the July midterm elections.
"We are certainly seeing the highest number of applications for ballot by mail that the county has ever seen in a given election," Davis said.
Travis County Clerk Dana DeBeauvoir said 100 million mail-in ballots are expected nationally, 100,000 of them from Travis County voters. That is around 12% of the county's 828,644 registered voters as of the July 2020 midterm elections.
In order to prepare for this influx and in person voters' health and safety, Davis and DeBeauvoir are expanding voting options through lesser-known angles of Texas' legal code, including options like drive-thru drop offs, curbside voting and mail-in ballot tracking.
"We really are trying to make sure that voters feel safe enough that they will not discount any of those methods of voting that are available to them," DeBeauvoir said.
New paths to the ballot box
Round Rock resident Karen West has voted by mail for nearly a decade. At 74 years old, West said she finds voting by mail efficient and less physically burdensome.
"I love it because it is convenient, and I have trouble standing in lines because I have arthritic knees that make it painful and difficult," West said.
In Texas, only certain voters can receive and cast ballots via mail: those who are over the age of 65, confined to jail, expecting to be out of the county or who have a disability. While Texas Democrats have petitioned the U.S. Supreme Court to allow all registered voters access to mail-in ballots during the ongoing coronavirus pandemic, Texas' rules will likely be unchanged come November, according to a local elections expert, professor Brian Smith of the St. Edward's University Political Science Department.
"Texas has very restrictive mail-in voting requirements. Don't assume that they're going to be really relaxed anytime before Election Day," said Smith. "Right now, being afraid of catching a virus isn't enough for an absentee ballot."

The Texas Supreme Court determined in May that a voter's lack of immunity from COVID-19 or concern about contracting the virus does not qualify as a disability under Texas' election statute. However, Chief Justice Nathan Hecht wrote in the court's decision that voters were not and would not be required to specify what disability they had when applying for a mail-in ballot.
"The voter is not instructed to declare the nature of the underlying disability. The elected officials have placed in the hands of the voter the determination of whether in-person voting will cause a likelihood of injury due to a physical condition," he wrote.
While many states, including Texas, examined mail-in voting regulations this year, the U.S. Postal Service came under scrutiny for budget cuts that some politicians said would threaten the office's ability to process mail-in ballots. In August, U.S. Postmaster General Louis DeJoy testified to Congress about the cuts.
DeBeauvoir called his decision to remove some high-volume mail-sorting machines "deliberate sabotage." In a tweet, the Postal Service expressed confidence in smoothly handling election mail, saying "delivering America's election mail is our number one priority between now and Election Day."
Hutto resident Mike Adams qualifies to vote by mail in the upcoming election. However, due to concerns about the post office, he said he will forgo the option to mail in a ballot.
"Both my wife and myself qualify to vote by mail," Adams said. "However, we will vote early at the polls instead. Neither one of us trust the mail in ballots."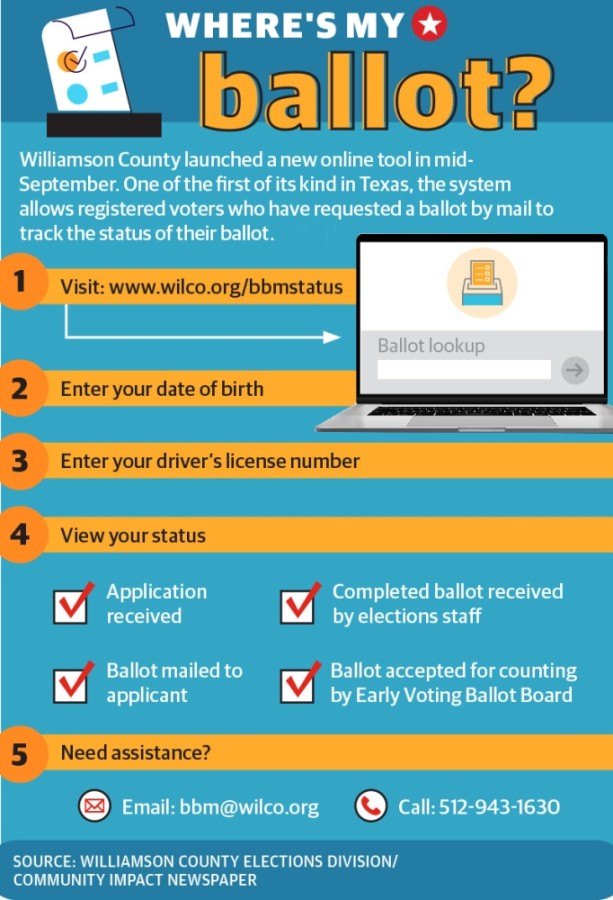 To help boost confidence in the ballot-by-mail system, Williamson County launched a new online tracking system in mid-September. One of the first of its kind in Texas, the system allows registered voters who have requested a ballot by mail to track the status of their ballot: application processing, ballot en route to the voter, completed ballot received by the county and completed ballot accepted for counting by the Early Voting Ballot Board.
"We've never really concerned ourselves with putting a self-service application on the website before, because the volume of inquiries and correspondence was manageable," Davis said. "With so many folks applying for ballot by mail for the first time we're well past the manageable point now."
If Travis County mail-in voters are concerned about the Postal Service's ability to handle an influx of ballots, DeBeauvoir said the county has provided additional options.
DeBeauvoir and staff are taking advantage of a Texas law that allows voters who have received a ballot by mail to deliver it by hand to the office of the county clerk at 5501 Airport Blvd., Austin. The couunty had planned two other drive-thru options, but Gov. Greg Abbott's Oct. 1 order limited counties to only one drop-off location for mail-in ballots.
"This is a deliberate attempt to manipulate the election," DeBeauvoir said.
Early bird casts the vote
Round Rock voter Gail Hassell qualifies to vote by mail due to age. However, she will instead opt to vote in person, stating that she perceives the risks as similar to activities she currently undertakes.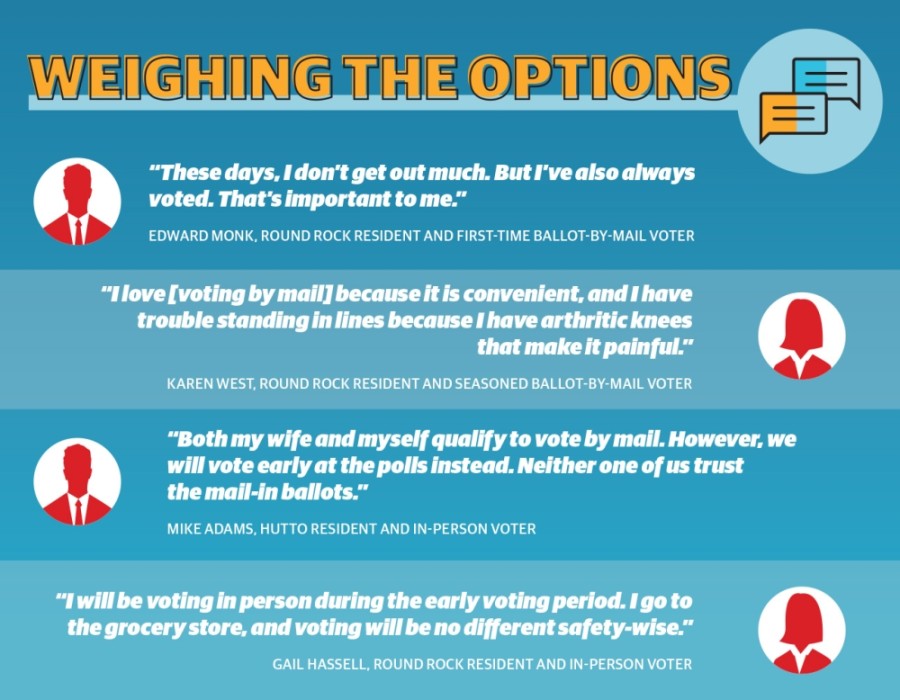 "I will be voting in person during the early voting period," Hassell said. "I go to the grocery and voting will be no different safety-wise."
Even during a pandemic, past election trends suggest a majority of voters will visit the polls in person, either on Election Day or during the early voting period from Oct. 13-30. Abbott expanded the early voting period this year to 18 days in light of the pandemic.
However, a group of prominent Texas Republicans, including the state party chairman Allen West, embarked on a legal effort in late September to undo the governor's executive order that extended early voting. As of press time, it remained unclear. when the court might weigh in on the lawsuit.
Regardless of the specific start date for early voting, DeBeauvoir and Davis agree that voting early is the best way for voters to ensure they make it to the voting booth with the expectation of long lines on Election Day.
While voting lines can be unwieldy in any election year, 6-foot social distancing requirements at the polls are likely to lengthen them in November, Smith said.
"If you don't take advantage of early voting, you'll show up on Election Day and the lines might be long, or longer than you expected, and you're worried about your health, and then what you're going to do is because of those factors, give up that sacred right," Smith said. "Just wanting to vote is the same as not voting at all."
Travis County will operate 37 early voting and 177 Election Day polling locations. Williamson County will operate 19 early voting and 57 Election Day polling locations.
During the voting period, residents can use their county's website to check wait times at nearby polls and choose one with a short wait at a date and time convenient to them.
Health and safety
Social distancing is just one aspect of the health and sanitation requirements planned for area polling places. Many of these precautions, including plastic barriers, finger cots for signatures, popsicle sticks for voting screens and personal protective equipment for poll workers and voters, were already put in place during July's primary run-off elections.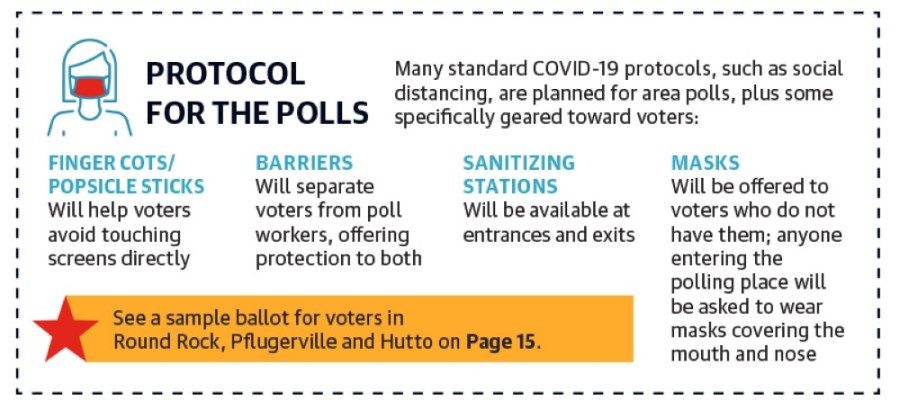 Nathan Ryan, a local business executive who volunteered at the polls in July, said he felt satisfied by the precautions taken at that time.
"We took safety measures extremely seriously. We would listen to any concerns that any voter had, and make sure that [if] they felt like they needed PPE, or if there were things like that that we could be helpful with, then we would make sure that they have what they needed," he said.
Ryan volunteered for the first time in July after learning that most of the Travis County's poll workers were over the age of 65 and considered at-risk for coronavirus. Many of those long-time volunteers sat out the July election or helped with processing mail-in ballots, away from the crowds. In November, again, the county is seeking volunteers, and he plans again to be one of them.
"You could literally be saving a life for somebody who is in one of those more greatly affected demographics. I think there's some real patriotism to showing up and working the polls in order to keep somebody else safe," Ryan said.
Neither Travis County nor Williamson County experienced a significant increase in positive coronavirus tests following the July election, something local health experts have attributed to good health practices at the polls.
Assuming the current statewide and local mask mandates remain in place through Nov. 3, voters will be asked to wear masks to the polls. However, DeBeauvoir and Davis said voters who refuse to wear a mask will still be allowed to vote.
"We really want all of our voters to wear a mask," Davis said. "But we cannot require them to do so. We cannot turn them away from voting."
One way Davis hopes to alleviate potential conflicts over mask wearing is through providing an option to vote in one's vehicle curbside. Whether a voter is physically unable or uncomfortable going inside to vote, or as an alternative for a voter who is not wearing a mask, curbside voting is a legally permitted option in Texas.
The most important mission of the clerk's office for this election, DeBeauvoir said, is to make voters feel safe and confident to vote.
"They've been frightened by coming inside the polling place, and they've been frightened about putting ballots in the mail. What else is left to voters?" she said. "Don't let them take those your options away from you. You can vote by mail and you can vote in person—safely."