As Pflugerville ISD prepares to
resume optional in-person learning
Sept. 14, district leaders have proposed a hybrid learning model for high school students.
On Aug. 27, the PfISD board of trustees approved submitting a waiver to the Texas Education Agency for a 40% hybrid learning model. The hybrid on-campus model would require students to receive in-person learning for at least 40% of instructional days during the grading period, per
TEA guidelines
.
There are two hybrid models under consideration: a two-day option and a three-day version.
Two-day offering
Under the two-day model, students would be divided into two groups and would alternate receiving two days of on-campus instruction along with three days of virtual learning. Both groups would receive virtual learning on Wednesdays, per the model.
TEA guidelines require daily on-campus attendance for at least 40% of school days in the grading period, which equates to 18 days of in-person learning during a nine-week cycle.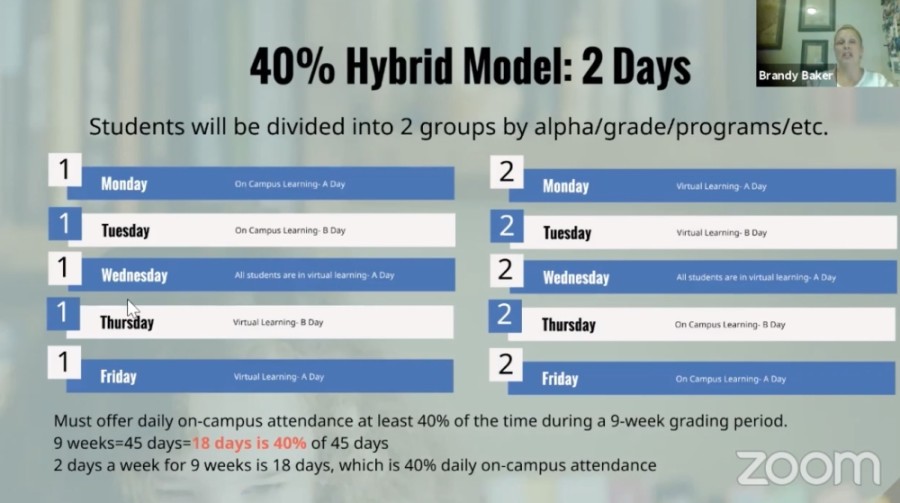 Three-day offering
This version would again divide students into two groups with three days of in-person instruction and two days of virtual learning per group. It would include on-campus classes for both groups on Wednesdays, which would be staggered through a morning and afternoon model. With this a.m./p.m. plan, groups of students would come to campus for classes in the morning, and a separate group would receive in-person instruction in the afternoon.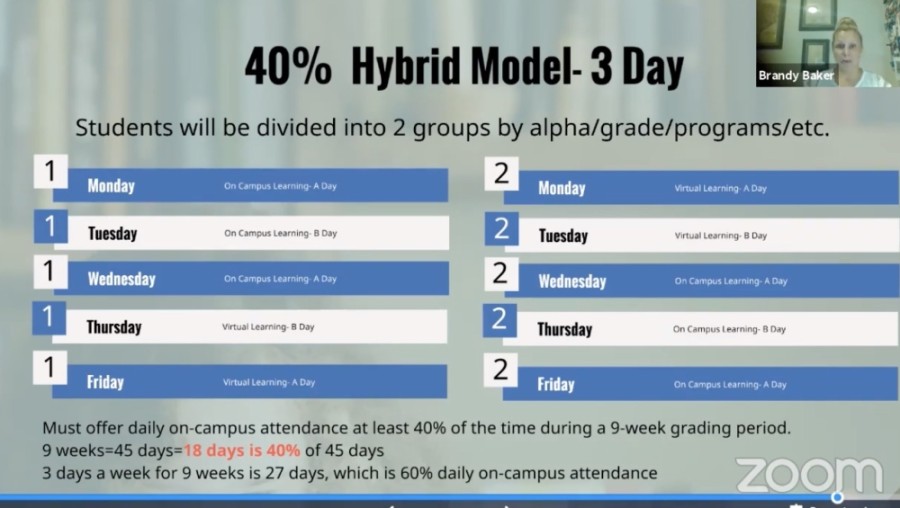 The hybrid model, if approved by the TEA, would begin in Phase 3 of PfISD's return-to-learning plan, Oct. 13. The hybrid model would apply to grades 9-12 and would offer on-campus learning to students lacking internet access or to those whose families opted into the instructional choice. Virtual learning would continue to be offered to students who selected that form of instruction, per district documents presented Aug. 27.
As confirmed by trustees Aug. 27, approving the submission of the waiver does not constitute approval of a specific hybrid plan for the district to use.
Several trustees outlined support for the two-day version and said that model would help reduce the number of students to which teachers are exposed as compared to the three-day version's a.m./p.m. model.