Ahead of online learning sessions set to begin April 6, Round Rock ISD provided resources to parents on how to promote enrichment while students are learning from home. Here are several ways the district suggests keeping children engaged while schools remain
closed until at least May 4
.
Exercise your mind and body
Sheltering in place does not mean children cannot still get some fresh air and exercise. In between learning sessions, take a sweat break and check out two-minute videos provided by RRISD physical education and wellness teachers to keep your bodies strong and your mind energized.
Class in session
With classes expected to go online April 6, prep for success and familiarize yourself with Google Classroom, an online resource that will be utilized by the district. Some lower grade levels may use SeeSaw, according to information provided by the district.
Teachers will design and post assignments for an online curriculum that students will complete at their own pace. Teachers will provide feedback and comments on submitted assignments, they and will also have set office hours to assist students with additional help and tutoring, as needed.
For those with limited internet access to online resources, printed materials for assignments are available for pickup at RRISD's
breakfast and lunch distribution sites
.
Recreational enrichment
Learning does not need to end with classroom hours: Fuel your child's curiosity and creativity with RRISD's featured home lessons, broken down by grade level. Special education and dyslexia services are also available, along with fine arts and digital resources.
Here is a list of ideas, from tracking moon phases to learning a new language.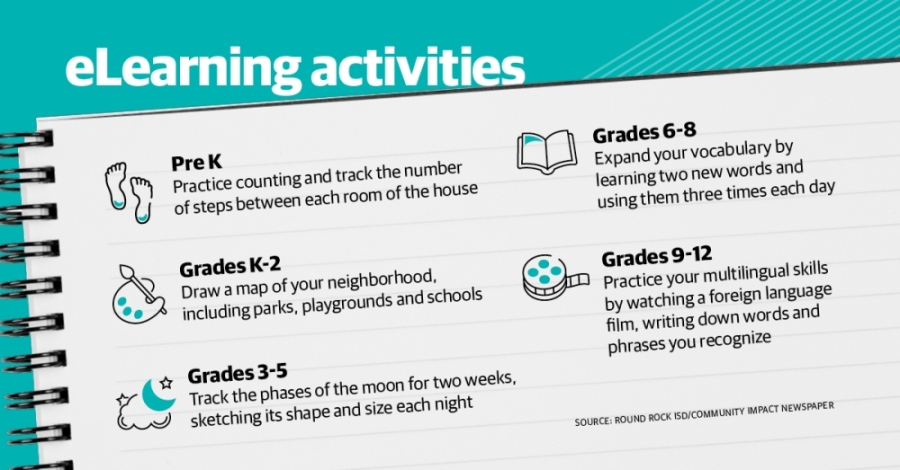 Did someone say dinosaurs? For those itching for a field trip, the Smithsonian National Museum of Natural History in Washington, D.C., has
virtual, self-guided tours
for students to explore, with exhibits ranging from dinosaurs to ancient civilizations.
Expand your digital library
There is no better time than a shelter-in-place order to dive into a new book. RRISD's library services offer free e-books for students to access 24/7, with more than 2,000 titles available and research resources available in English and Spanish. Students can access the library services database with their student ID as both their username and password.
In addition to RRISD's library offerings, Audible has more than 300 free audiobooks available in six different languages: English, Spanish, French, German, Italian and Chinese Mandarin. To explore titles, click
here
.