During her 37 years in the hairstyling industry, Anna Gonzales said she only had to temporarily shut down services once—to give birth to her child.
When the coronavirus pandemic hit in the spring, Gonzales—co-owner of The Studio in Hutto—was forced to close her salon for eight weeks. The process was devastating, she said.
"I took it so hard because I was worried about my team and their income, their health," Gonzales said. "We were like big mama birds to our young little staff, making sure they were taking [the coronavirus] seriously so that we could reopen."
Across industry sectors, the coronavirus pandemic has led to unprecedented unemployment numbers and business closures throughout the region. For service industry businesses—such as salons, fitness studios and massage therapy centers—limited physical contact has posed heightened challenges, with personal connections at the forefront of their work.
Personal connections
For the past seven years, Pflugerville native Randi Field has operated Pflugerville Massage Associates out of an historic home off West Pecan Street. She said establishing a practice in her hometown was a way to give back to the community that raised her.
"This has been my dream forever," she said. "I can't believe I've manifested this. If I were to ever lose these things ... I don't ever want to do that."
Field reopened Pflugerville Massage Associates in mid-June, following a temporary three-month closure in the spring. The intimacy of massage therapy is a connection people are craving now, Field said, as the coronavirus pandemic has limited interpersonal, face-to-face interactions.
"It's very personal when you let someone work on your body, whether you love your body or you don't love your body," Field said. "I have a real personal connection with people when they come in."
At Pilates 512 in Round Rock, owner Brittany Harpole said the studio has always maintained smaller class sizes, now a proven strength. Harpole said the studio is more than just a place to break a sweat.
"It was just kind of like a little sanctuary of normalcy, you know?" Harpole said. "Getting to come back to class, and we're a pretty tight-knit family here."
Innovative operations
Julie Afsahi, co-owner of Soul Strong Yoga in Round Rock, said her team began preparing for online classes when the pandemic landed on the West Coast in early 2020, prior to hitting Texas. Now the studio offers a combination of virtual practices, outdoor flows and limited in-person options with masks required during studio classes.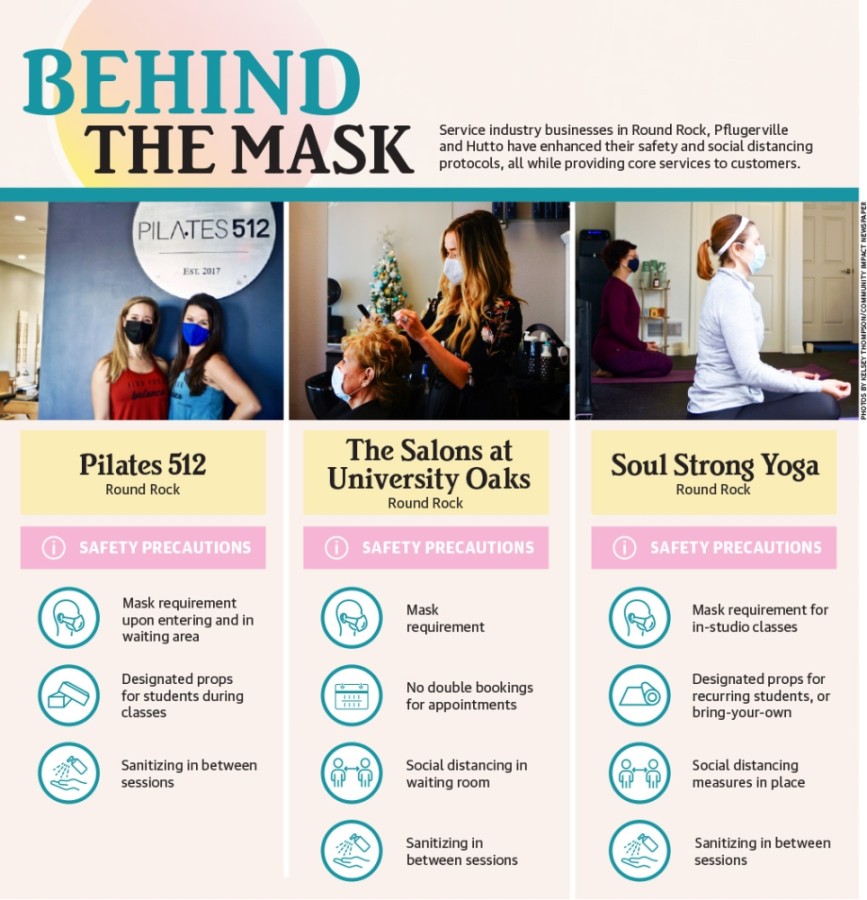 From an enrollment standpoint, some members have not renewed memberships due to personal or familial employment loss, Afsahi said. Others have maintained memberships while not attending classes—a means of donating to the studio to help keep it afloat, Afsahi said.
The pandemic has also revealed emerging trends in class preferences. Soul Strong Yoga's meditation classes previously showed low turnout. Now virtual, Afsahi said they are the studio's most popular offering.
"We used to have to basically beg people to come to our meditation class," she said, laughing. "People don't necessarily want a hard workout right now. Sometimes they need a really peaceful, guided meditation because they need to just chill."
Financial shortcomings
The Studio experienced an approximate 8% revenue loss due to the pandemic, Gonzales said. She is grateful the salon has maintained monthly financial reports, but she said many industry peers have not been as lucky.
"We know where we're growing, where we're lacking, so we can adjust our game plan for all that," she said. "But we also know a lot of salons that have closed down."
The Round Rock Repertory Dance Centre has been an area institution for 46 years, with current owner Maggie Cantoran taking the helm in 2015. RRRDC saw an immediate 60% decline in enrollment in the spring, Cantoran said.
Beginning this academic year with no revenue, the center is organizing an online auction for donated items, gift cards and certificates to raise funds for an outdoor spring recital, Cantoran said.
"I am the third owner of this business," Cantoran said. "And so to think, if we were forced to close it on my call, after 46 years? It would break my heart, absolutely break my heart."
Community camaraderie
At The Salons at University Oaks, stylist Kristin DeMotta said her relationships with clients continually remind her why she pursued this career. On a recent Friday afternoon, she reconnected with one of her clients, Sue, who moved from Utah to Round Rock three years ago.
She knows details about Sue's life before Round Rock, her children and her hobbies. That is not an anomaly, but a reality of the work she does daily, she said.
When clients first returned to The Studio, Gonzales said it was a more emotional reunion than anyone could have anticipated. The simple act of shampooing someone's hair has become an intimate moment people did not realize they had been lacking, she said.
"We miss our people," Gonzales said. "We are invited into their personal space like nobody else can be. And we don't take that lightly."