More than 150 new jobs will be available to Pflugerville's workforce following the opening of Curative Inc. in early October. The coronavirus testing facility—one of a number of companies that is launching or restructuring operations in the area to meet the needs of the pandemic—is ramping up to test more than 10,000 COVID-19 samples daily.
Curative is not the only biomedical facility choosing the Greater Austin area to set up shop. More than 260 health technology companies employing over 15,000 people call the region home, according to 2019 data, the latest available, from the Greater Austin Chamber of Commerce.
Biomanufacturers are choosing Austin, and suburbs including Pflugerville and Hutto, for a number of reasons. The pandemic quickened a need for the mass production of medical supplies by a trained workforce situated in laboratories with plenty of room for growth and easy access to distribution routes, said Arthur Jackson, senior director of economic development for the Greater Austin Chamber of Commerce.
"It's definitely going to be a trend that's going to continue upwards," Jackson said. "I think [the coronavirus pandemic] was an accelerator, but the trend will definitely continue."
Meeting the demand
In the midst of a recession, where unemployment rates peaked at 12.2% in the Austin metro during April, manufacturing jobs are trending in a different direction. Between January and August, local employment in this sector increased more than 6%. This stands in stark contrast to the first year of the 2008 recession, when Austin-based manufacturing jobs decreased by 13%.

In Hutto, Fingerprint Ideas is a graphic design, digital marketing and print shop that expanded operations in response to the pandemic. The now medical manufacturing company employed six people in March and 40 by the end of April, an example of expanding opportunities.
Shocked by images of doctors in the United States lacking protective equipment due to an international shortage of items including masks, gloves and gowns, owner Drew Hargrove decided to act.
"I was on Facebook and saw a friend of mine going into procedures with what looked like a transparency sheet duct-taped around his head," Hargrove said. "A world-renowned surgeon that was going into surgery as if he was in a Third World country."
Hargrove manufactured an initial 200 face shields for his friend, using materials on hand in his print shop. The process quickly gained traction, leading to collaborative partnerships with more than a dozen printing companies across the country.

Through the production network, approximately 2 million face shields have been manufactured to date with an estimated 50,000-100,000 face shields produced monthly.
"It's pivoting; it's being innovative. It's what Texas is as a state," Hargrove said. "We're full of dreamers and creators, and that's the kind of people we want to surround ourselves with."
Innovating operations
For Lloyd Armbrust, founder of Pflugerville-based mask manufacturing company Armbrust American, early reports of the coronavirus abroad spurred him to launch a new company in January.
Armbrust said a ready-to-use facility on SH 130 prompted him to choose Pflugerville for his company. Further, the strategic location alleviates strain on the supply chain in order to produce essential medical supplies, all while employing a local workforce.
"I've made Texas my home," Armbrust said. "I always felt this deep bond here. It is really personally exciting to build this business here. I hope that this is the start of something big, something long-lasting, a cornerstone of the area."

When companies consider relocating or expanding operations, factors such as educational opportunities, workforce development, regional connectivity and land accessibility are central, said Ed Larson, executive director of the Austin Regional Manufacturers Association.
"Biopharmaceutical companies are attracted to Central Texas because there is already a strong cluster of companies succeeding here," Larson said. "Costs are reasonable compared to other traditional sites. The talent pool is deep. And the region is close to premier academic institutions."
More than 7,200 students enrolled in science, technology, math and engineering programs graduate in the Austin metropolitan area each year, per Austin chamber data. Similarly, research and innovation hubs in the region include The Dell Medical School at the University of Texas, the Austin Community College Bioscience Incubator and the Texas State University STAR Park as well as area medical institutions such as St. David's HealthCare and Seton HealthCare Family.
Regional connectivity through roadways such as SH 130, SH 45 and I-35 paired with the abundance of land in Pflugerville and Hutto make them attractive candidates for prospective employers looking to set up operations in the region, Jackson said.
A 2020 report conducted by the Boyd Co. noted Austin as one of the most affordable areas for biomanufacturing companies, with annual operating costs listed at $39.4 million. The study scaled operational costs to mirror a 300-employee, 300,000 square-foot facility. Comparatively, coastal cities such as San Francisco and New York reported operational expenditures at $49.1 million and $55.5 million, respectively.
"You're talking almost $16 million less in operating expenses to relocate or expand with a production facility here in Austin versus doing it somewhere on the coast," Jackson said.
Expanding the workforce
Curative operates laboratories in Washington, D.C., and San Dimas, California. When researching a location for its third national laboratory, Pflugerville became a prime candidate due to the local workforce, said Miranda Gottlieb, Curative's vice president of marketing.
"We needed to staff our laboratory in a way that was both quick for us to scale up and meet the needs for COVID-19 testing while also having the right type of workforce and population to support us," Gottlieb said.

In choosing Texas, Gottlieb said Curative aims to enhance the accessibility of COVID-19 testing while also instilling trust in its clients through faster result turnarounds. Prior to opening a Pflugerville location, results from Curative's oral tests are typically returned between 24 and 48 hours, Gottlieb said. Once operational, Curative's Pflugerville laboratory anticipates testing 10,000 kits daily, with the goal to decrease test result turnaround times to 24 hours or less.
"I think something that's so important is the turnaround time for Texas: getting that health information quickly and reliably is going to be really critical for people to be able to make decisions about when to reopen and how to reopen," she said.
Establishing a blueprint
The trend of biomedical manufacturing companies selecting the Austin metro for their operations is not a "flash in the pan," Jackson said. Beyond the early stages of the pandemic, biomanufacturers are looking to continue to innovate and remain rooted locally.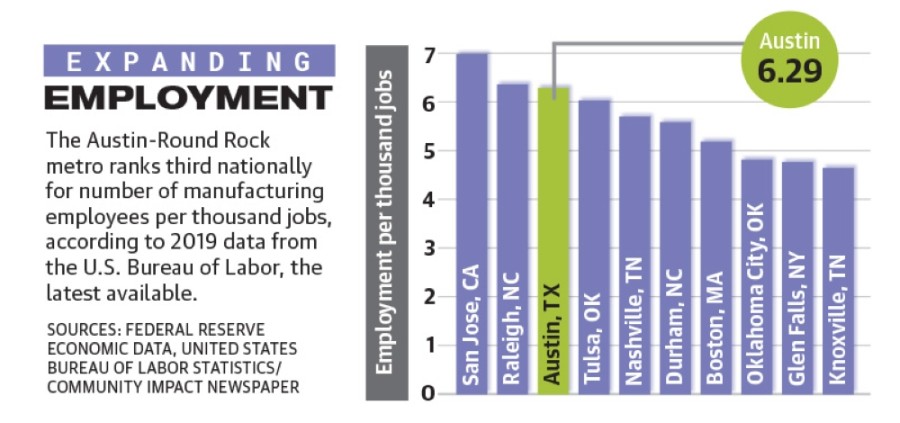 Gottlieb said Curative will develop testing for a variety of respiratory illnesses and is poised to expand operations to include influenza testing and vaccine dissemination in the near future.
"We have the ability to reimagine the bottlenecks and barriers to [testing] access," Gottlieb said.
Beyond the immediate health emergency, Armbrust stressed the importance of long-term access to medical supplies and protective equipment for both medical professionals and everyday citizens.
Armbrust's surgical masks feature 99% bacterial and particulate filtration, according to data from third-party testing facility Nelson Labs. Bacterial and particulate filtration is a medical standard used to test the blocking of airborne particles.
Armbrust also created prototypes for N95 masks—face masks that filter out airborne particles—and is awaiting formal approval by the National Institute for Occupational Safety and Health to sell and distribute them.
"While this crisis was our launching point, I think demand will continue to grow," he said.