Against the backdrop of the coronavirus, the 2020-21 school year is presenting a new set of challenges for parents, teachers and students. For starters: Round Rock, Pflugerville and Hutto ISDs began the school year with 100% virtual instruction.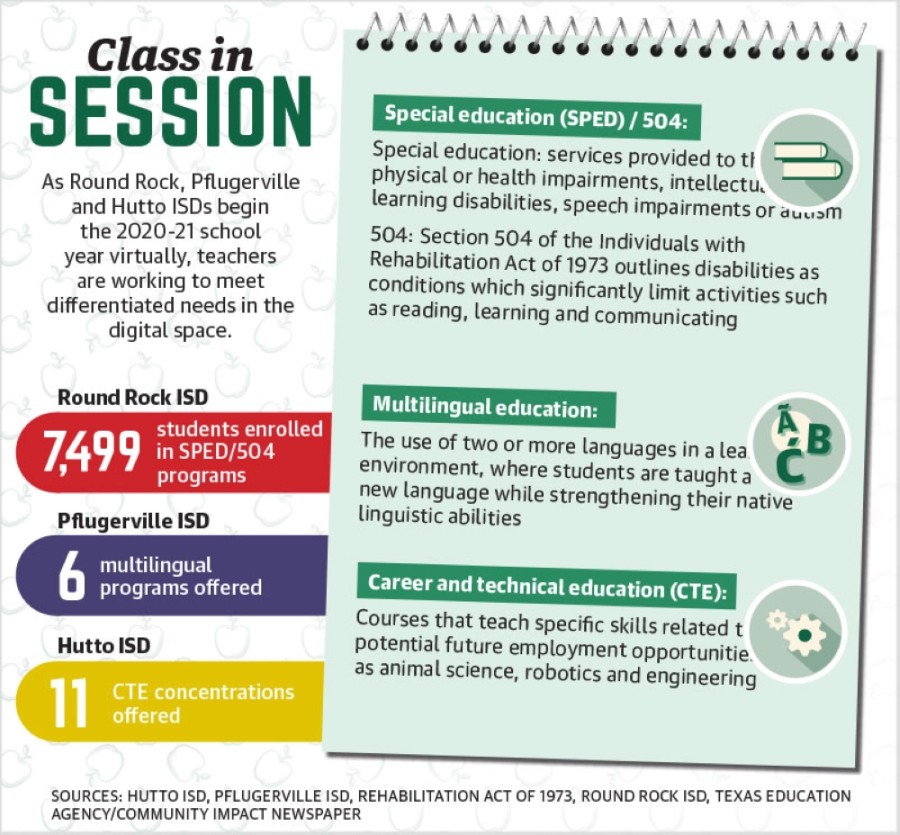 Educators are tweaking curriculums to accommodate new digital learning platforms. As part of this process, teachers have had to rethink a host of learning formats—such as special education, which supports students with physical, health or intellectual impairments; multilingual education, which relies on interacting in several languages; and career and technical programs, which teach job-related skills—all of which typically require more personalized, hands-on approaches.
With the academic year underway, area districts are navigating how to meet students' individual educational needs within the digital space.
Round Rock ISD navigates special education's virtual transition
Nearly 7,500 RRISD students received special education or dyslexia services during the 2019-20 academic year. This fall, the district has implemented real-time learning for special education students who opt to remain in a virtual learning environment and allowed those who opted for in-person instruction to return to campus Sept. 10, before all other students, to learn the new routines and adjust to a new schedule.
Pflugerville ISD tailors digital lessons for language learners
The necessity of multilingual education is especially strong at PfISD. Within the district, 43% of students are classified as English language learners, English as a second language students or are enrolled in bilingual education, per 2019-20 Texas Education Agency data.
Hutto ISD adapts career and technical courses for remote start
In a typical automotive technology class, students take a hands-on approach to tasks such as engine repairs. In the era of COVID-19, HISD's automotive technology students are tinkering with repairs on a screen. The transition to virtual learning following spring break was particularly challenging for experience-based classes, such as the automotive technology course.