Michael Bonner, therapist and owner of Riverstone Counseling in Round Rock, said during the initial onset of COVID-19, his practice received fewer calls. However, in early to mid-May, his client load began picking up, and by June, he was seeing more clients than usual. Many are presenting with anxiety, depression and substance abuse, he said.
"When isolation becomes a factor, we begin to see more addictive behaviors," Bonner said.
As weeks of adjusting to life during a pandemic stretch into months, stressors are compounding for many. Thousands in Round Rock, Pflugerville and Hutto have filed for unemployment since March. Schools shuttered after spring break, necessitating a parental juggling act of overseeing education at home.
Local mental health professionals say these issues and more are impacting the number of requests for help and the severity of those calls.
"We suspect that some people are delaying help because of the current environment," said Tiffany Gonzalez, director of behavioral health with Bluebonnet Trails Community Services. "They may not know until they call that we have greatly expanded virtual access."
Spike in severity
Bluebonnet Trails is a Round Rock-based mental health service provider. Despite the added stress of COVID-19, data from the nonprofit showed calls seeking help were down 28% year over year between March and June. At the same time, the severity of the calls has spiked.
"We're seeing a lot more serious suicide attempts and an increase in substance use," Gonzalez said.
Bluebonnet Trails coordinates with two psychiatric hospitals in Williamson County—Rock Springs and Georgetown Behavioral Health Institute—to care for individuals who are at a high risk of harming themselves or others, Gonzalez said.
Between March and June, the nonprofit coordinated 85 hospitalizations for individuals without insurance, up 554% from the same period last year.
"Sometimes it feels easier to get ahold of substances than to access mental health care," she said. "People often self-medicate for a little while, but that can lead to more problems than it solves."
Gonzalez stressed that every case is unique. However, she said the increase in severity of requests for help is correlated with the overall decrease in call volume during the first four months of the pandemic.
"People are waiting longer to reach out for mental health care," Gonzalez said. "We've seen this contribute to symptoms becoming overwhelming by the time we get the call."
Delaying care
While individual circumstances differ, Gonzalez outlined several themes evident throughout the pandemic that help explain why some individuals are delaying care.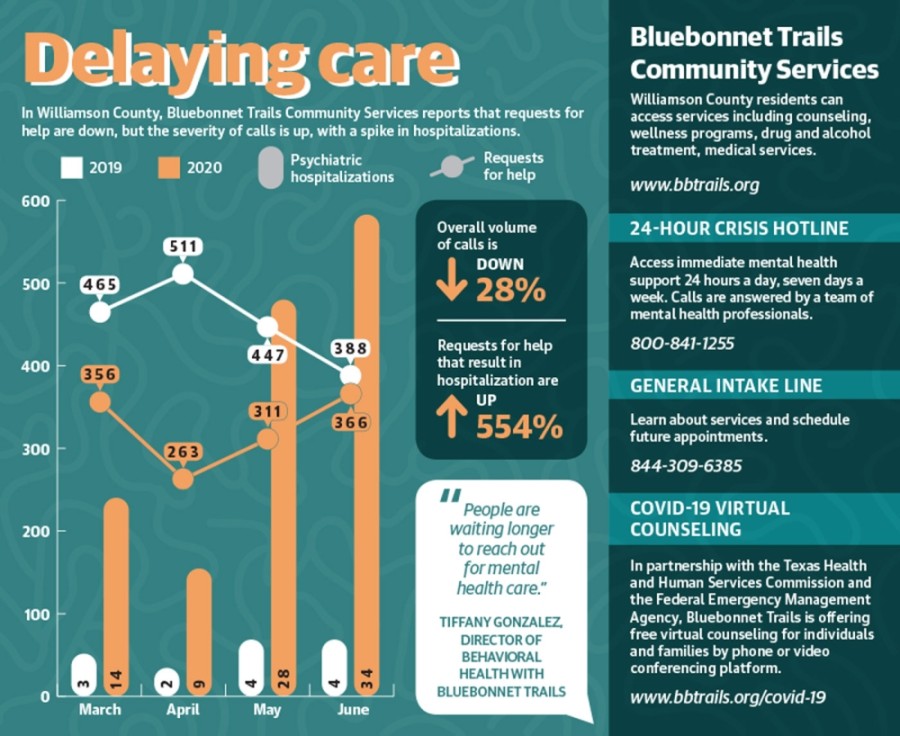 For some, an effort to limit exposure to the virus spurs hesitancy about going into a clinic. She said people are not always aware that virtual options exist at Bluebonnet Trails or other local counseling centers.
In addition, as a result of COVID-19, life is tumultuous. Many clients are caring for children, working from home, experiencing difficulty making ends meet and worrying about the health of family members.•"Sometimes mental health gets put on the back burner," she said.
Further, as the local community has been hard hit by job loss, individuals and families are losing access to health insurance.
"People are also delaying psychiatric care due to the actual or perceived cost and a lack of health insurance," Gonzalez said. "This mentally becomes a barrier for people who may not know that many free resources are available in our community."
Rise in requests for help
In other parts of the community, some mental health professionals have seen an increase in the overall number of people reaching out for help during the pandemic.
Integral Care, the mental health authority for Travis County, operates a 24-hour helpline, provides counseling, and offers drug and alcohol treatment. From March through June, Integral Care data shows an 8% increase in crisis calls compared to the same period last year.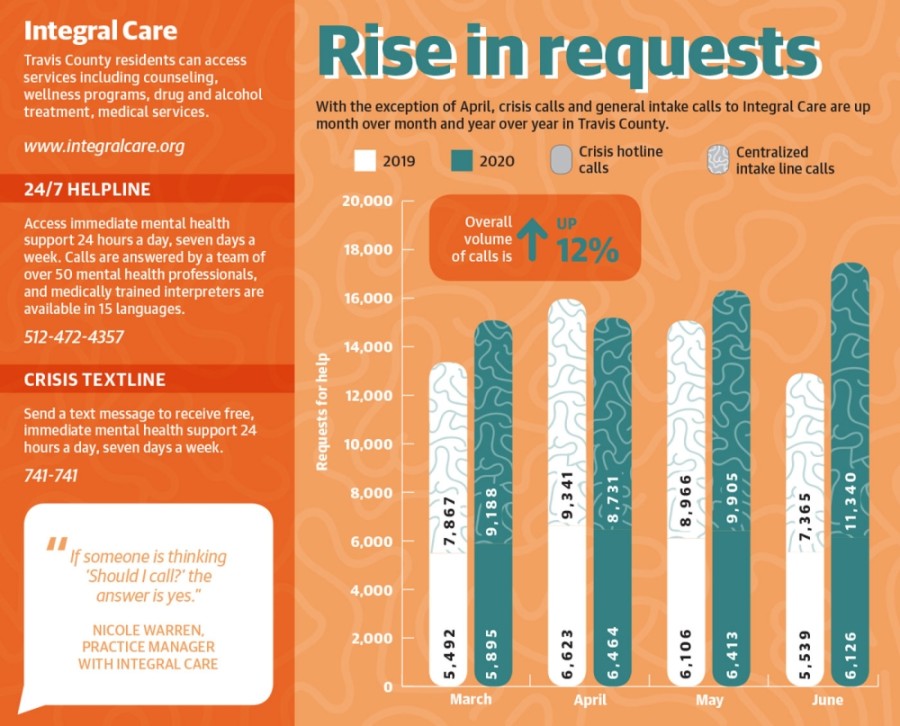 "People are calling about a variety of concerns," said Nicole Warren, practice manager for Integral Care's crisis helpline. "They feel overwhelmed, isolated, stressed and anxious. They are feeling distant and scared for themselves and the people they care about."
As the pandemic progresses, Warren said the helpline is experiencing an uptick in calls. During March, the crisis line received 5,895 calls. In June, Integral Care logged 6,126 crisis calls, up 35% from the number of crisis calls in June 2019.
The rise in requests for help could be attributed to an initial shock at the onset of the public health crisis and a hope that circumstances would return to pre-COVID-19 conditions, she said.
"With the possibility that life may be different for longer than expected, it is an important time to get additional support while we navigate this uncertain time," she said.
Adjusting to online therapy
Cristy Ragland, a therapist and owner of Pflugerville Counseling Center, transitioned her entire practice to an online platform in mid-March. At this time, she plans to continue virtual therapy for the foreseeable future.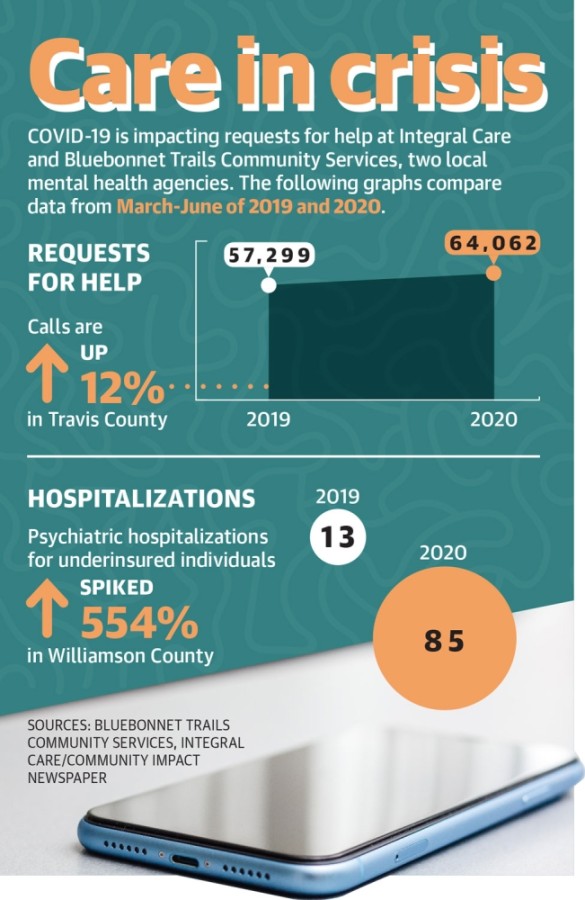 While she said it has been an adjustment for practitioners and clients alike, the benefits of online counseling outweigh the challenges.
"[Online therapy] certainly works," Ragland said. "But I'll be honest and say it's hard. It's more exhausting. It's certainly a different energy than sitting in the room with a client."
Bonner, too, shifted his delivery model amid the pandemic to continue to meet the needs of clients—from both mental and physical health perspectives. From mid-March to early May, Bonner said he offered virtual sessions only. Starting mid-May, he gave his clients a choice of virtual or in-person. He estimates that approximately 70% of his clients opted for in-person.
He said he does what he can to make clients feel at ease with either option—virtual or online.
"I'm taking people's temperature when they come into the waiting area," he said. "We're asking people to stay in their cars instead of coming in and sitting. We sanitize and clean high-touch areas to keep it safe."
Reaching out
From immediate support via a crisis hotline to recurring group therapy to virtual one-on-one counseling sessions—many resources are available locally.
For those facing financial difficulties, reduced rates are often available, Bonner said. Local organizations such as Bluebonnet Trails have received grants to offer free COVID-19-related counseling.
"If someone is thinking 'Should I call?' the answer is yes," Warren said. "Please listen to that internal voice. If you're feeling lonely, afraid, hopeless or just need to talk, give us a call. We're here for you. No problem is too big or too small."
As people stay home and limit social gatherings, community and connection can feel strained, Ragland said.
"We are really designed to be in connection," Ragland said. "That's how our bodies and brains and emotions work best. Therapy can be a really great place to get that connection and to help unfold more connections in other areas of your life."
The benefits of reaching out are not limited to the individual, Bonner said. By checking on loved ones and colleagues, many report that feelings of isolation diminish, he said.
"Take the step and call someone," Bonner said. "Text a friend you haven't heard from in a while. Check in on a family member that maybe you don't talk to very often. Reach out even if you don't know if you—or they—need it."