On a Sunday afternoon in late July, Pflugerville ISD teacher Brian Boman and his son took a day trip to Oak Hill to visit Boman's grandparents. As the fall semester looms, Boman is bracing himself for the possibility that this could be the last opportunity his 90-year-old grandparents have to spend time with his 2-year-old son.
"They might not see my son for months or years," Boman said. "[They] might die before things are safe again. And that was really rough for me as a parent to deal with."
Boman's wife is a nurse practitioner; he has been a teacher at PfISD for 10 years. With the 2020-21 academic year approaching and with it uncertainty over in-person teaching, Boman said he feels at a higher risk than his wife for potentially contracting COVID-19 and spreading it to his family and loved ones.
Boman is one of thousands of teachers concerned about contracting the coronavirus once in-person learning resumes. School districts are at a crossroads, with administrators aiming to balance effective learning and ensure safety of students and staff.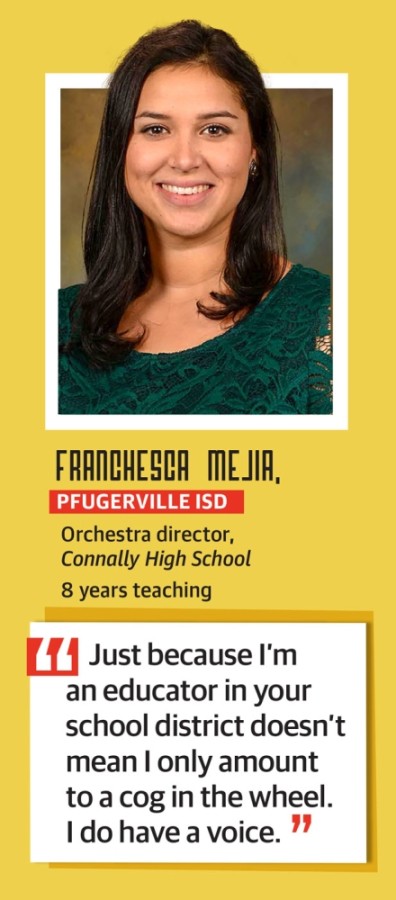 For some area teachers, the typical back-to-school jitters of late summer have been replaced by anxiety over in-person learning in the midst of a global pandemic.
"We want to feel protected," said Lauren Lansford, an English instructor at Cedar Ridge High School in Round Rock. "This isn't about us wanting to stay home. This is about us wanting to reach students in a safe way."
Mandy Estes, chief of teaching and learning at Round Rock ISD, said safety is a central driver in establishing plans for the upcoming school year. The district's
Reimagining Education
plan outlines a number of safety measures, including frequent use of hand sanitizer, face coverings and social distancing provisions.
"Our campuses will look and feel very different," Estes said. "The challenge for us is that, while we are a very caring, supportive community [....] the physical environment, the spacing out of students is going to make it a more sterile environment than what any of us would want, just by necessity of keeping everyone safe."
Under RRISD's Reimagining Education plan released July 17, the first three weeks of the semester will be held 100% virtually, beginning Aug. 20. The district is tentatively planning to resume in-person learning Sept. 10, with e-learning continuing for those who opt into the digital program.
Estes added the district is working with staff who have requested the ability to instruct from a virtual learning platform based on their health situation. The need for in-person staff is largely dependent on how many students opt for in-person learning, she said.
Class in session
In Pflugerville,
tentative plans
state that school will resume Aug. 13 for three weeks of 100% virtual learning before transitioning to the choice of in-person or digital instruction Sept. 8.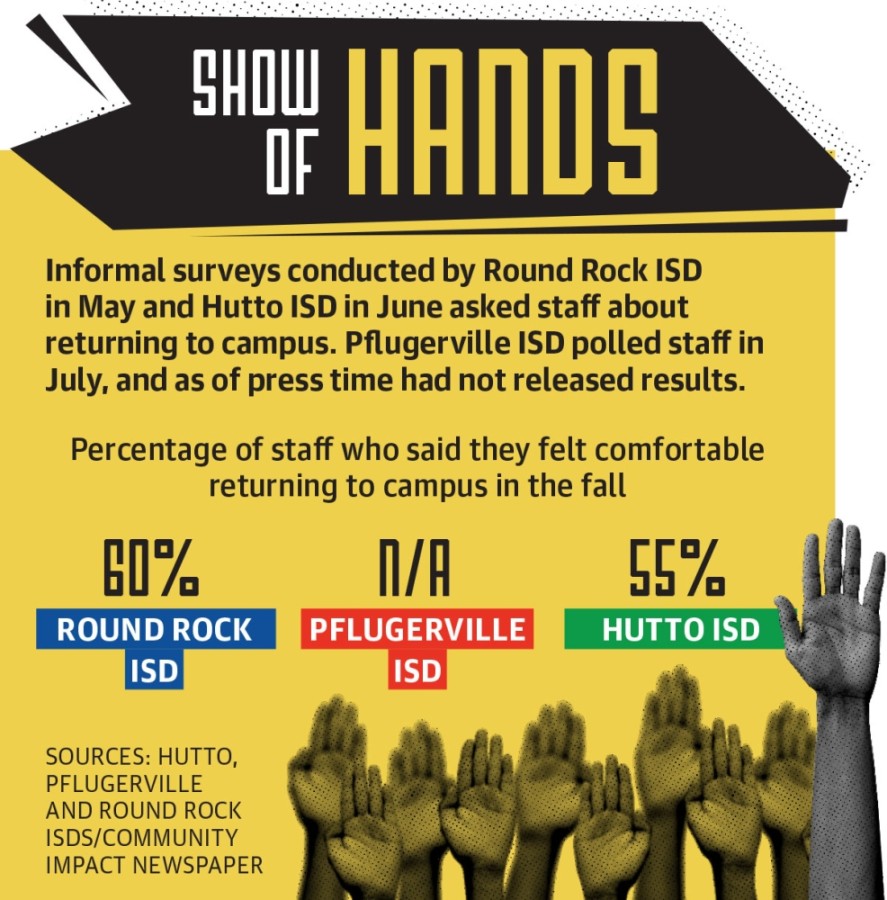 PfISD teacher Kimberly Carroll said she has a son with autism and does not want to jeopardize his safety at the expense of teaching in-person.
"I want to see safety protocols in place and know that they're actually going to be enforced before I feel safe and it's safe for the kids," Carroll said.
Safety protocols under consideration include enhanced sanitation, temporarily suspending nonessential visitors and staggering arrival and departure times, PfISD spokesperson Tamra Spence said. Alongside enhanced safety provisions, the district is currently finalizing teacher training, specific to COVID-19.
Generating feedback
RRISD, PfISD and Hutto ISD conducted staff surveys over the summer to gauge teachers' thoughts about the upcoming semester.
A RRISD survey conducted in May reported 60% of district-based staff would be comfortable returning to campus. In response to an HISD survey conducted in June, 54.9% of staff said they would be comfortable with face-to-face interaction in the classroom. Findings from a PfISD staff survey conducted this summer had not been published as of press time July 30.
Since completing the survey, some teachers have said recent COVID-19 case spikes have altered their previous thoughts on returning to an in-person curriculum.
"Our circumstances have changed drastically, and that changes our opinions," said Nicole Muray, a Hutto ISD pre-K teacher, during the district's July 23 board meeting.
HISD's academic year
begins Aug. 18 with three weeks of 100% virtual learning before an optional in-person curriculum resumes Sept. 8.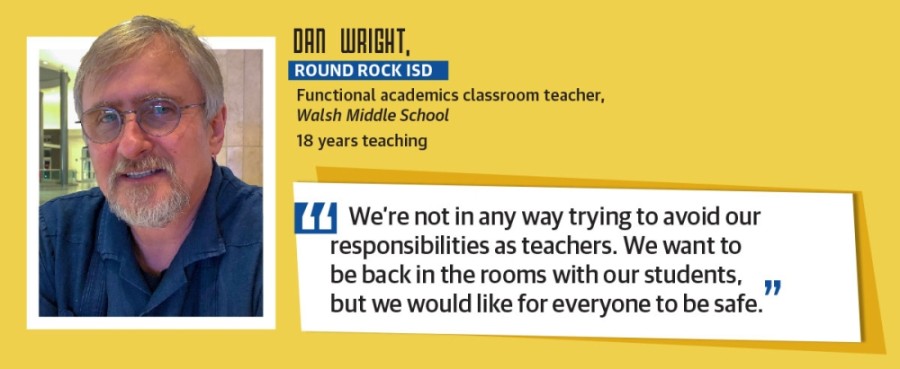 Estes, Spence and HISD spokesperson Todd Robison each said the districts continue to seek teacher feedback while planning for the fall.
In response to a RRISD human resources survey, 5.4% of district personnel requested accommodations for their return. As part of the survey, 94.3% said they would be returning for the upcoming semester, out of a total of 4,587 responses.
HISD Superintendent Celina Estrada Thomas said the district has received 25 accommodation requests from staff for virtual learning as of July 23.
"It's a constantly changing situation, but we are always trying to put our staff and our students' health and safety first," Spence said. "We know that everybody wants answers right now and we wish that we had every answer right now, but we are working on them around the clock and as fast as possible."
Several area districts, such as RRISD and PfISD, established re-entry task forces to assist in creating distanced learning plans.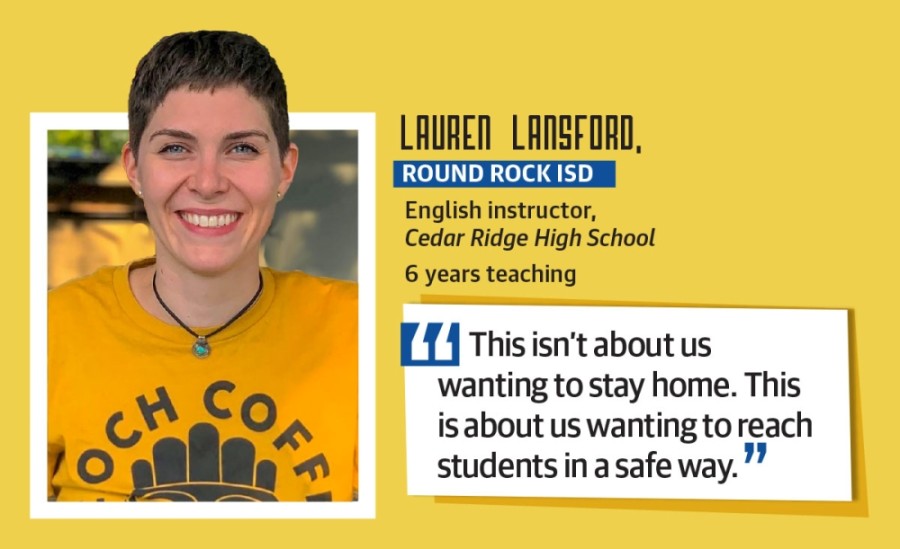 Franchesca Mejia, a teacher and the vice president of the Pflugerville Educators Association union, serves on the PfISD task force.
"Just because I'm an educator in your school district doesn't mean I only amount to a cog in the wheel," Mejia said. "I do have a voice."
Unanswered questions
Dan Wright serves as president of Education Round Rock—an affiliate of the American Federation of Teachers—and works as a RRISD teacher. He said he understands that district leaders are inundated with information coming from the Texas Education Agency, local health authorities and state organizations.
However, Wright said at the root of teachers' safety concerns is the ambiguity of how the fall will play out and potential consequences if the virus spreads.
"We're not in any way trying to avoid our responsibilities as teachers," he said. "We want to be back in the rooms with our students, but we would like for everyone to be safe."