The sounds of car horns and revved motorcycle engines reverberated across the parking lot of St. David's Round Rock Medical Center at 6:30 p.m. on a Thursday night, timed in sync with shift changes for hospital employees.
Crowds, gathered in separate vehicles, ranged from toddlers in cheerleading uniforms to motorcyclists clad in leather and Wrangler jeans. American flags and homemade signs were strung from car windows while dogs leaned their heads out windows to catch some final sun rays for the day and owners waved and beeped their horns.
Like clockwork, the car parade happens each evening at 6:30 p.m., event organizer Jen Henderson said.
"We do it every night," Henderson said. "And we do it every night because they don't get a night off. We're not going to take a night off until they can have visitors and have some more support inside the hospital."
During the coronavirus pandemic, heightened safety measures have been implemented by hospitals to protect both patients and medical staff from potential exposure to the virus. With the physical and emotional toll doctors and nurses are facing, Henderson said the parade is an opportunity to remind staff that they are not alone in this fight.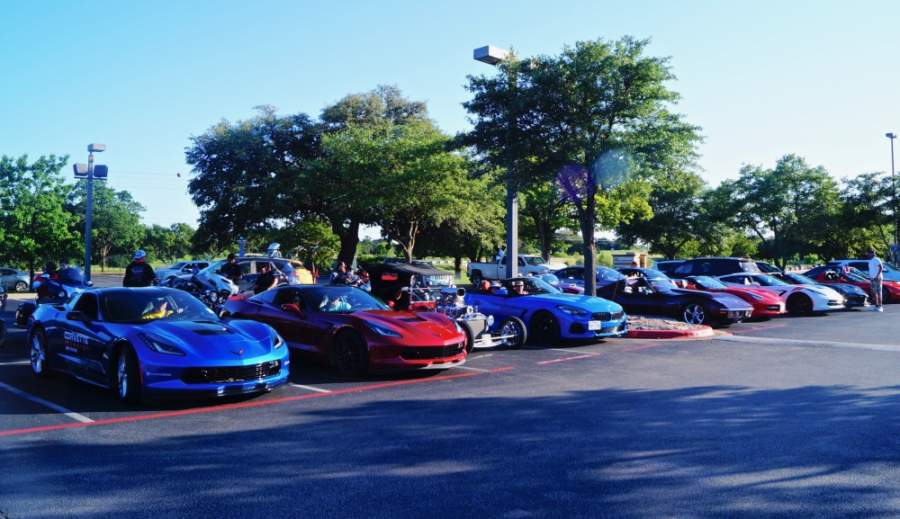 Henderson said she had been looking for a way to show support to Round Rock's essential workers without disrupting social distancing and safety protocols in place. She and Jeremy Barclay, CEO of St. David's Round Rock, collaborated in bringing this procession to life.
"They need to know that people are there for them, and that we're going to get through this together as a community," Henderson said. "We can't touch them; we can't get close to them; but we can sure show them we support them by being with them."
The parades have been held each night at St. David's since March 20, Henderson said. Vehicle-bound crowd sizes vary anywhere from five people to 70. But each person participating in the parade has his or her own motivations, she said.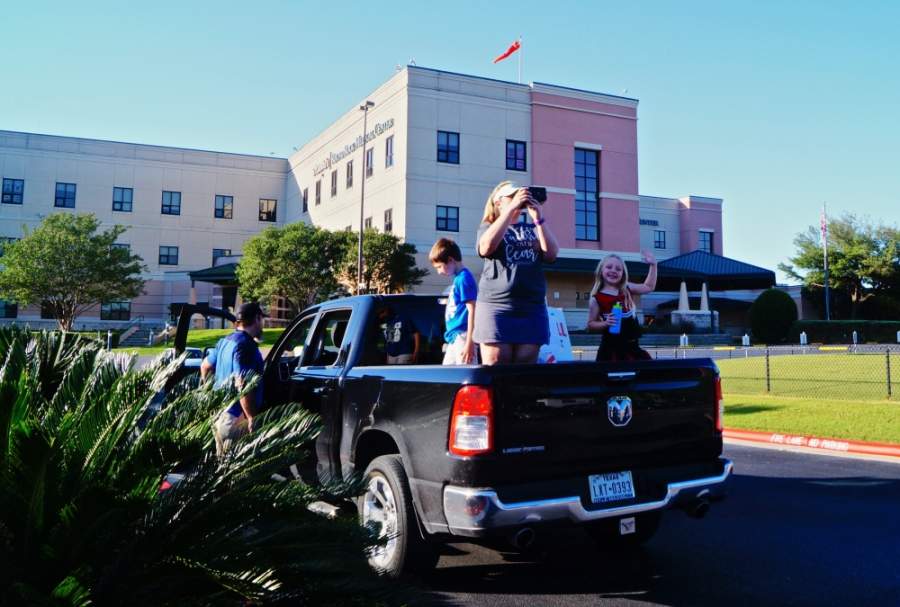 Some are family or friends of staff, looking to send love while still practicing social distancing. Others, Henderson said, might just be seeking something positive to do on a sunny evening.
Patients can be seen looking from their hospital rooms, faces pressed against the window panes.
"One night, we had an entire family come out. Some of them were standing in some parking spaces as we drove by," Henderson said. "The patient was standing in the window, and then after I found out that some of his family was in the parade. He just wanted to see them but couldn't come out to them."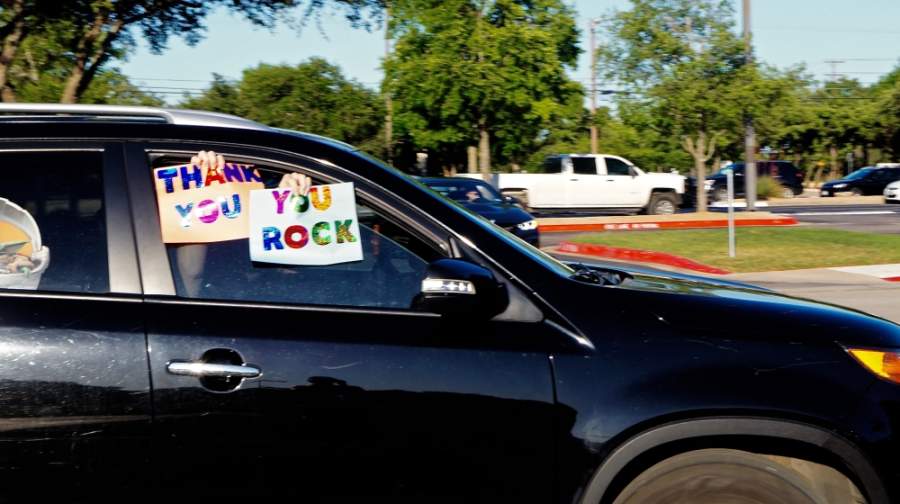 Children leaning out car windows, megaphones in hand, yelled thank you's up to the hospital, where sticky notes have been strategically placed to spell out "thanks!" in return. The car parade made two trips around the hospital, with car horns blaring and calls of gratitude shared the entire way.
As the procession made its final round around the campus, a hospital employee stood along the sidewalk, decked in scrubs and a face mask. Laughing and waving, she shouted her thanks over the sea of horns, sounding in her honor.
"I haven't seen that many tears in forever," Henderson said. "It's from people that were there to support; it's from people waving out the windows, the people in the parade, some of the nurses. It's been amazing."