Drive-in movie theaters usher in feelings of nostalgia—often thought of as a quaint, occasional pastime.
However, with indoor movie theaters shuttered throughout the spring, Brett Williams, owner of The Globe Drive-In in Pflugerville, said
demand for his business
has skyrocketed. In fact, The Globe has sold out nearly every weekend since April.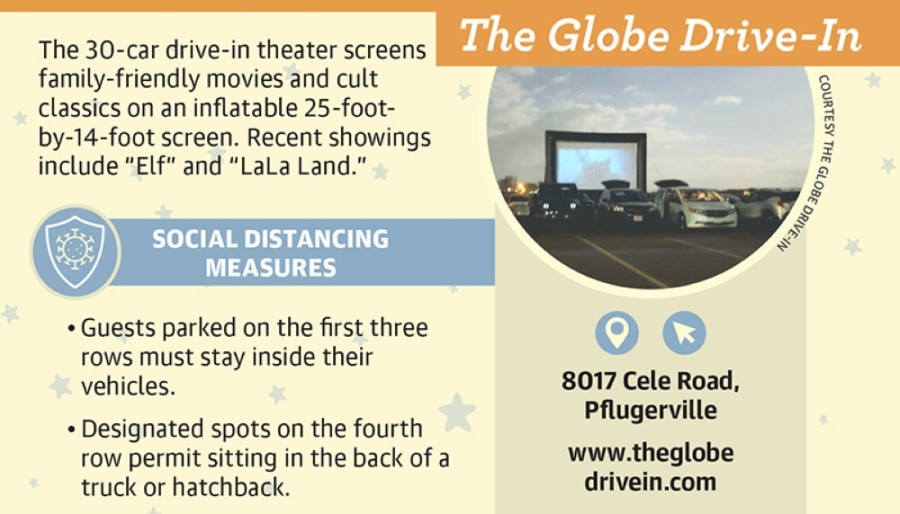 "People are so happy, so grateful to get out of the house and do something fun," he said.
Local businesses, including drive-in movie theaters, water parks and virtual gaming centers, are leveraging large venues, outdoor spaces and technology to provide socially distant entertainment for those who are eager to safely have fun outside of the house.
The great outdoors
Baseball fans would typically pack Dell Diamond to watch the Round Rock Express play ball on summer evenings. Following Minor League Baseball's decision to cancel the 2020 season, event staff at Dell Diamond have pivoted to provide
new entertainment options
—from movie nights in the outfield to drive-in concerts in the parking lot.
"We've had to get creative, to look at the venue and think about new ways to use our space," said J.J. Gottsch, chief operating officer of Ryan Sanders Sports & Entertainment.
Two of the strengths of the venue are its size—comprising 11 acres—and the fact that most of the facility is outdoors. This allows for a larger number of people to safely use the space. Capacity varies based on event type and venue setup but generally ranges between 1,500 to 4,000 at a 25% cap.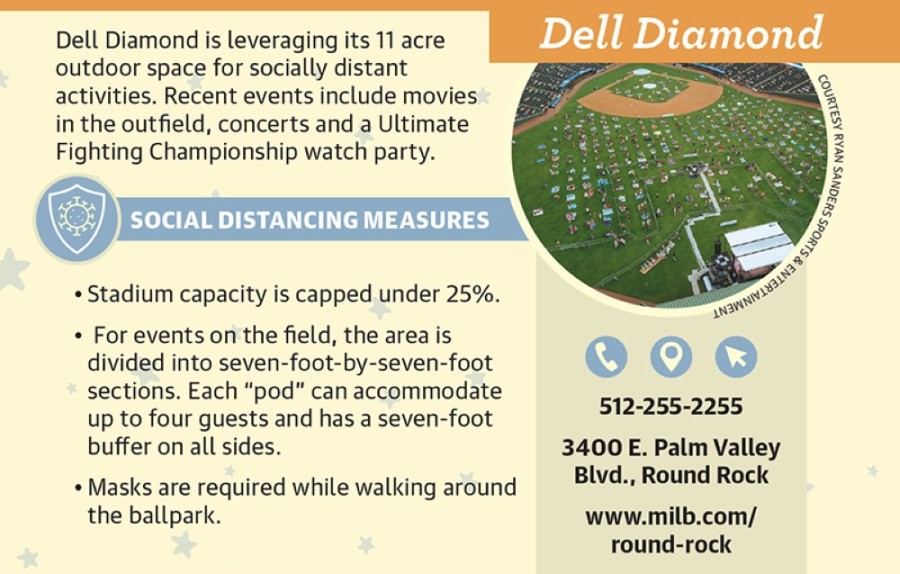 Among challenges Dell Diamond event organizers have faced is the fluidity of restrictions and health guidelines. In addition, following a slew of spring event cancellations nationwide, would-be participants are slower to purchase tickets than in years past, Gottsch said.
"We're at an interesting intersection right now," he said. "There's an incredibly high demand for live entertainment. But there's extremely low consumer confidence in terms of purchasing a ticket."
He pointed to recent events including a Granger Smith concert, saying that participants did not rush to buy tickets as soon as they were made available.
"I think people want to make sure the event is really going to happen and that it's not going to be canceled or postponed," Gottsch said.
Looking ahead to the fall, Gottsch said additional concerts—both live, in-stadium and also drive-in concerts in the parking lot—are in the works.
Other events, including baseball showcases and movie nights, are under consideration as well.
Futuristic thinking
With international travel largely on hold due to the pandemic,
a new Round Rock business
is offering adventures set in Egypt, Greece and even outer space. Powered by virtual reality, the escape room concept allows participants to solve puzzles in lifelike settings, said Patty Arredondo, owner of Virtropolis VR.
"Our technology gives you a sense of freedom in a time when you're being told to stay away from everything," she said. "You can be transported to a different time and place for an hour, virtually."
Arredondo did not specifically intend to create socially distant entertainment when she signed a lease for Virtropolis VR in January. A former escape room owner, she said she saw virtual reality—which allows participants to be located physically apart but work in teams on the screen—as the next evolution of a teambuilding industry.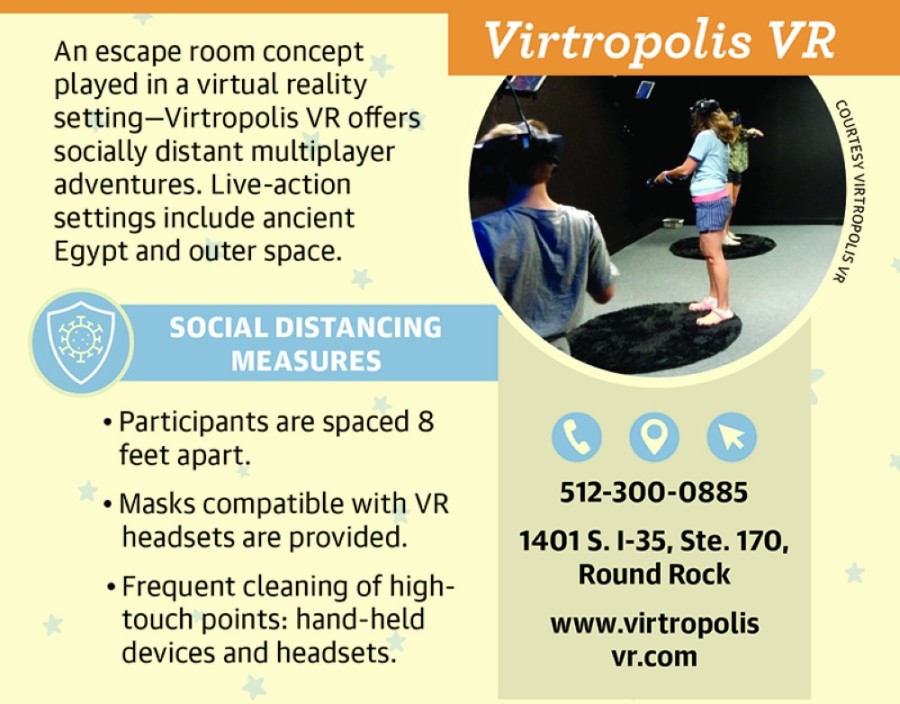 "Long before COVID hit, I was excited about the potential of this industry," she said. "Initially, I wasn't thinking about social distancing. But then everything just came together at the right time."
Virtropolis VR has faced a few setbacks due to COVID-19, too. The business was initially set to open April 1. However, when the pandemic hit Central Texas, contractors were delayed, and Arredondo had to push back her official opening to June 15.
Safety remains a top priority, Arredondo said. Participants are spaced 8 feet apart on their own mats. Masks compatible with virtual reality headsets are provided. Staff frequently cleans high-touch points, including hand-held devices and headsets, she said.
Ultimately, the ability to bring people together and to provide a sense of connection in an era of isolation fills Arredondo with pride for her work.
"People are looking for something to do with their families," she said. "They want to have some sense of social interaction, some sense of normalcy."
Blast from the past
Josh Frank, owner of Blue Starlite, opened his first drive-in movie theater in Austin 10 years ago. He opened
a Round Rock location
Feb. 28, just weeks before the onset of the pandemic. Over the past decade, he said he has seen business ebb and flow.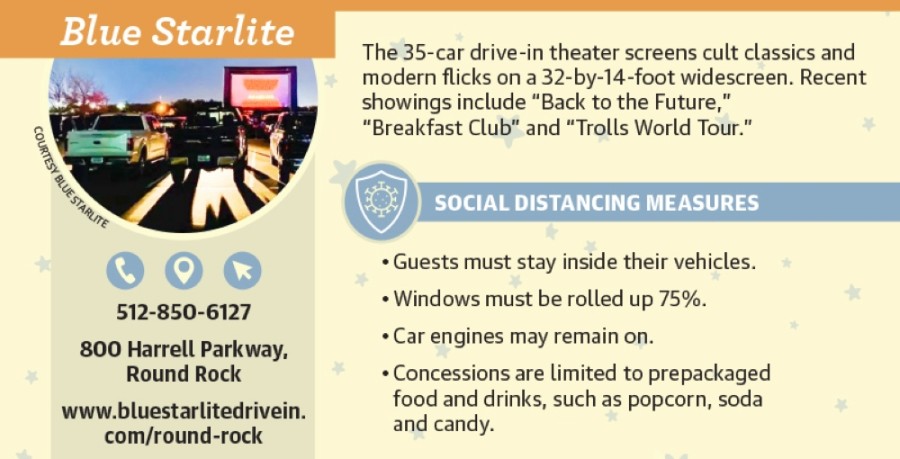 "The pandemic has made business incredibly consistent, which is really a first for me," Frank said.
Ticket sales are up, selling out most nights, he said. Demand is so high that he has added additional nights to the schedule in Round Rock.
"The community clearly was thrilled that there was this new type of entertainment," he said.
Frank said he believes the interest in drive-ins will have staying power even beyond the public health crisis.
"I think that when the pandemic ends, drive-ins are going to thrive in a way that they didn't before," he said. "Now there's new memories around them and hundreds of people who never went to one before and they get it now."
Staying afloat
For
Typhoon Texas
, the start of the summer was precarious. Unable to open as planned on Memorial Day weekend, the water park had to wait until state-issued restrictions were lifted.
Also at issue: customers' confidence in health and safety. Typhoon Texas implemented a range of safety measures—including a transition to a reservation system, capping park capacity at 25%, sanitizing inner tubes after each use, and eliminating standing in line for food or rides.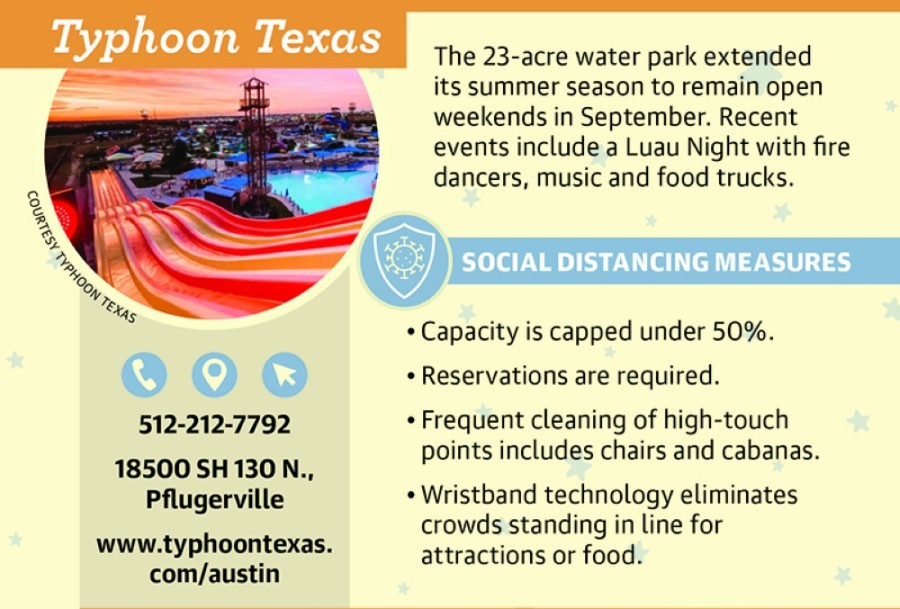 "Our main goal was to provide a safe, family-friendly environment for families who have been cooped up inside," said John Pham, director of brand management at Typhoon Texas. "And the demand has been very surprising, essentially the same as normal."
To meet demand, Typhoon Texas has extended its summer season to remain open weekends in September.
"A lot of indoor activities will continue to be closed," he said. "So we still want to continue to offer that family entertainment environment."
Typhoon Texas will also utilize the space to pilot an outdoor restaurant concept called The Patio in mid-September. Pham said the restaurant will combine a beer garden atmosphere with outdoor games and a stage for live music.