Round Rock small businesses negatively affected by
coronavirus-related restrictions
may soon be eligible for financial assistance from within the community.
Round Rock Cares, a charitable fund to support local businesses during the COVID-19 pandemic, was established this week with a combined $100,000 in donations from the city of Round Rock, the Round Rock Chamber, the Greater Round Rock Area Community Foundation and Dell Technologies.
Leaders of the local groups announced the new effort to assist small businesses in need during a
March 25 press conference
.
"Round Rock is a community where we pull together, and we all work together for the greater good," Round Rock Chamber Chair Scott Swindell said. "This is an example of that."
The city, community foundation, chamber and Dell Technologies each committed $25,000 to establish the Round Rock Cares fund, Round Rock Mayor Craig Morgan said.
"I know this seems like this may not be a lot," Morgan said. "But every bit that we can do to help these small businesses that have been impacted the most by the closures will help."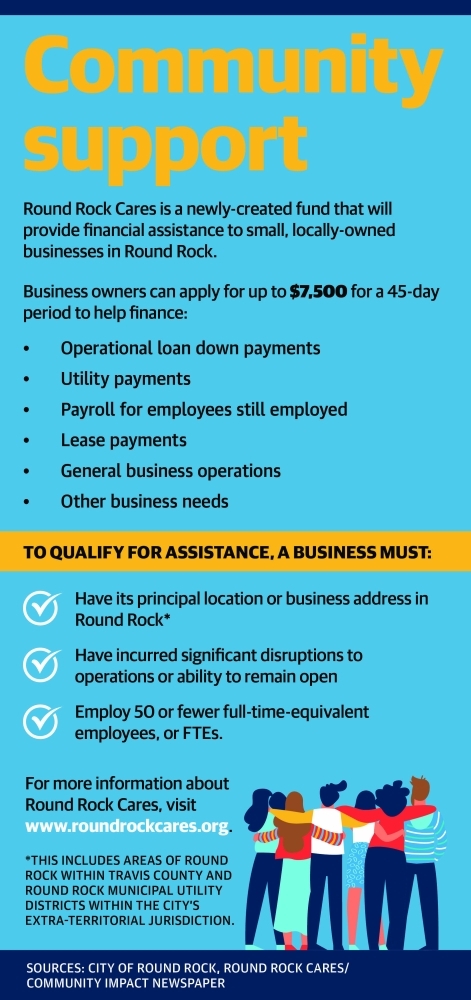 Round Rock Cares will provide financial assistance to small, locally owned businesses. Owners can seek assistance with operational loan down payments, utility payments, payroll for employees still employed and working for the business, lease payments, general business operations and other business needs, according to a March 25 news release.
Round Rock business owners can
apply online
for funding. To qualify, a business owner must have a principal location or business address in Round Rock, including areas of Round Rock within Travis County and Round Rock Municipal Utility Districts within the city's extraterritorial jurisdiction, according to the release. In addition, the business must employ 50 or fewer full-time-equivalent employees and "have incurred significant disruptions to operations or ability to remain open," the release states.
Morgan said resources will be provided to recipients as soon as applications are received and reviewed.
Round Rock Cares is managed by the Greater Round Rock Community Foundation and will be directed by a committee of representatives from the city, chamber and business community, per the release. The committee is being formed now, said Jason Ball, Round Rock Chamber president and CEO.
"We want to respond and deploy these resources as quickly as possible," Ball said. "We hope to begin those meetings next week."
Nyle Maxwell, chair of the Greater Round Rock Community Foundation, invited the public to make their own tax-deductible donations to area businesses in need.
"We need help from businesses, small and large that may not be as affected as some of the ones downtown," Maxwell said. "And we need help from private individuals, those who are looking for a place to donate. Please examine what you have at home or in your business, and please help us with this fantastic solution to keep some of these businesses open during these next few weeks when its so terribly important. Or we will lose some of these businesses long term."
Individuals and businesses can contribute to the charitable fund at
www.roundrockcares.org
.
"We anticipate that the need may outweigh the resources in this fund and relatively soon," Ball said. "That's why, with the help of the Community Foundation, we really are encouraging other businesses and individuals to contribute if they are able."