At nearly midnight on a recent school night, Hutto resident Tina Baudier is awake at the kitchen table, trying to help her kindergarten-aged daughter complete her school work for the day.
Meanwhile, in Round Rock, Courtney Williams relies on her 11-year-old son to act as a primary caretaker for her 17-year-old son, diagnosed with high-functioning autism, while she goes to work each day.
"It really, really affects special needs kids, because they depend on being at school to be around other people," Williams said.
At the same time, Leia Coker, a third-grader at Jubilee-Wells Branch near Pflugerville, is counting down the days until her next sleepover with friends—but when that will be, she said, she does not know.
The coronavirus pandemic has impacted everyday life for people around the world. Within the education sphere, teachers, parents and students are grappling with the uncharted
landscape of e-learning
, a transition that has posed its own set of challenges.
Learning curves
Following Gov. Greg Abbott's April 17 announcement that schools across Texas would remain closed for the remainder of the 2019-20 academic year, parents are now on the front lines of their children's education in unprecedented ways. Educators in
Round Rock
,
Pflugerville
and
Hutto
ISDs had to pivot to e-learning curriculums virtually overnight, in a process many district officials have said continues to evolve.
In March and April, RRISD, PfISD and HISD distributed thousands of Chromebooks to students with limited or no access to computers. Local districts continue to provide weekday breakfast and lunch to students, with some extending services into the weekends. Counseling resources are available for students and parents struggling to adapt to the pandemic.
HISD Superintendent Celina Estrada Thomas said in a video message that educators have been reaching out to students to ensure they are safe and have access to tools for continued education. Out of 8,158 students enrolled, Estrada Thomas said all but 20 have been contacted and provided for.
"Those have been amazing numbers because our teachers have been outreaching and making sure that they know where all of their kiddos are," Estrada Thomas said.
Technological transitions
Each district has implemented its own strategies for e-learning curriculums. PfISD is utilizing face-to-face class sessions through videoconferencing, while RRISD and HISD have implemented asynchronous teaching, or lessons that are not completed face-to-face over videoconferencing at a set time.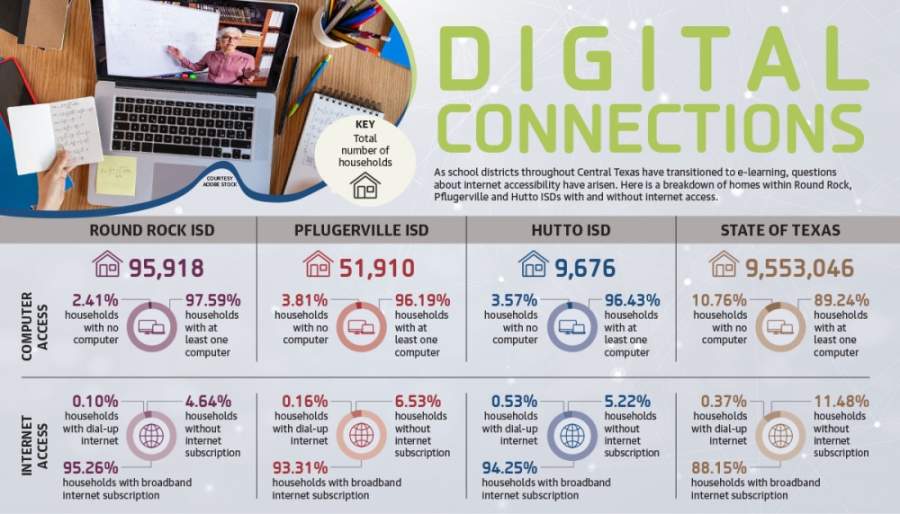 Brittany Tamez, a PfISD parent with a daughter in pre-K, said that while the digital transition has been difficult, she commended the work of PfISD officials in doing the best they can under unusual circumstances.
"I do appreciate the routine and the happiness the Zoom meetings bring my daughter," Tamez said. "It's a big adjustment in a short time, and [district officials] are really working very hard to meet the needs of all students."
But for some parents working full time, the added struggle of teaching on top of their professional workload can take its toll. Baudier, a first responder and classified essential worker, often works eight- to 12-hour shifts, only to come home to her daughter's e-learning lessons.
"I am trying my best, but it is not doable," Baudier said. "I mean, she's falling asleep at the tablet. And I can't blame her, because it's 11:30 [p.m.]. She's tired."
Funneling feedback
For district personnel, feedback from parents and students alike has been critical in continually adapting the digital learning environment to accommodate as many students as possible. With
special education
curriculums, the added challenge for some parents has been the adaptability of their child's coursework to an online setting.
"We always want to be reflective about feedback received, and we've made some changes in response to parent suggestions," RRISD Director of Special Education Marie Gonzales said in an email to
Community Impact Newspaper
. "We are also asking for grace, given we are creating something that has never been done before on this scale, with such a tight turnaround time, in the midst of a global crisis."
Jean Mayer, a PfISD parent, has a son who is diagnosed with autism and a severe speech delay, along with combined type attention deficit hyperactivity disorder. Mayer said that she and her husband have had to be proactive in looping together their son's private health care support team with his special education instructors to ensure this transition has been as smooth as possible.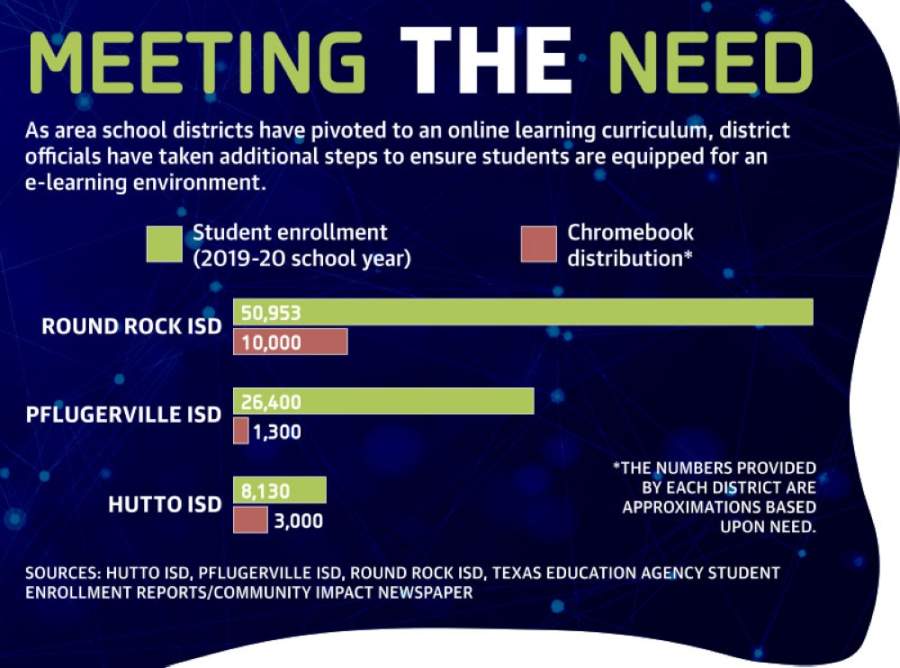 Special education is necessarily individualized, Mayer said, and she worries about the long-term implications e-learning could have on students enrolled in special education.
"Even with my understanding of what best supports my child, I'm still my child's parent. I'm not the therapist, and he doesn't like when I'm the therapist or the teacher," Mayer said. "I've had to find ways to do this more in an organic way and make meaningful opportunities to get my son to be productive towards some of his educational goals."
The road ahead
With stay-at-home orders in place, recent district measures have been taken to ensure student, staff and community health, specifically in regard to milestone events such as graduation and prom.
RRISD Superintendent Steve Flores announced April 20 that in-person graduation ceremonies were canceled in May and would be replaced with a virtual celebration. Discussions of an in-person event later in the summer are being held, Flores said. PfISD and HISD officials have said backup dates and reservations are in the works for possible in-person graduations at later dates as well.
"I just wanted to let our seniors and also our parents out there know that we are trying to have a number of plans in place in case this continues to extend out there," PfISD Superintendent Douglas Killian said at an April 16 board meeting. "We are in a quite new situation, and we just don't know what we're going to be facing at the end of May and the first part of June."
With the status of summer schooling and upcoming academic year unknown, district officials have begun preparations on how to best identify and arrange for digital summer schooling and e-learning curriculums to continue. RRISD will launch a virtual summer learning program to help close any learning gaps that may have occurred, RRISD Chief of Teaching and Learning Mandy Estes said.
For the 2020-21 school year, RRISD will restructure its curriculum to revisit key concepts and lessons discussed during the spring semester, Estes said.
"You know, it has been a struggle," Baudier said. "But I get it—this is uncharted territory for everyone."