While COVID-19 cases continually increase in Travis and Williamson counties, the Austin-metro region is reporting significantly lower cases of influenza compared to seasons prior.
The official 2020-21 flu season began Sept. 27. Decreased trends in the Austin-metro region match national figures reported by the Centers for Disease Control and Prevention.
Flu activity levels are classified as minimal in Travis County as of Jan. 20, according to the Austin Public Health influenza surveillance report. As of Jan. 30, Austin Public Health reported one adult influenza-associated death has been reported in Travis County in the season to date. As of Jan. 30, no influenza-associated pediatric deaths or affiliated outbreaks have been reported during the 2020-21 season.
Area health experts have attributed minimal influenza case numbers to increased numbers of vaccinated residents along with preventative health measures in place due to COVID-19.

"What we've learned is that all the measures we're taking to prevent the coronavirus helps prevent other respiratory illnesses," said Dr. Patricia Lopez-Gutierrez, a family medicine physician at Baylor Scott & White Clinic in Round Rock. "Things like social distancing; quarantining when sick; quarantining within the same household; and, of course, avoiding crowded places all help."
Influenza-like illnesses are cases where patients have a fever, cough and sore throat. Additionally, influenza-like illnesses include diagnoses for a viral infection, acute pharyngitis, an upper respiratory infection or influenza.
Within Williamson County, the majority of cases during the 2020-21 season have been reported to the WCCHD by area hospitals and school districts, compared to health clinics in the region. Twelve influenza-like illness cases were reported the week of Jan. 29, with seven reported by school districts, four from hospitals and three from clinics, respectively.
Statewide, a seasonal total of 679 confirmed influenza cases have been reported as of Jan. 30, with a weekly positivity rate of 0.30% and seasonal positivity rate of 1.58%.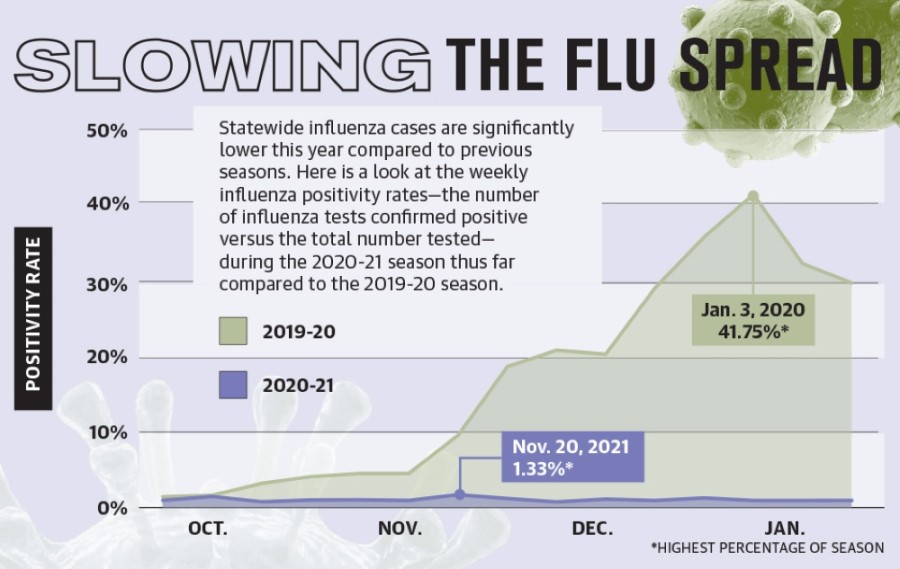 Comparatively, a weekly report from Jan. 26-Feb. 1, 2020 revealed 2,208 cases had been confirmed in one week, with a corresponding positivity rate of 32.76%. Influenza cases reached its highest peak of the 2019-20 season in early January 2020, when the positivity rate was documented at 41.75%.
While case counts remain minimal in the region, safety measures used against COVID-19 apply to the flu. Washing hands, staying at home while sick and disinfection practices all help minimize the spread, Lopez-Gutierrez said.
"We learned a lot from [COVID-19] how to prevent getting sick," she said. "I hope a lot of the things that we've learned, we still keep in mind for the future."