Pflugerville ISD
officials decided not to close any elementary schools but will instead adjust high school attendance boundaries, moving around 560 Weiss High School students to Pflugerville and Connally high schools.
The Feb. 23 decision came as PfISD is predicting a $7 million shortfall for next year, and Superintendent Doug Killian said it means the district must consider other options to
reduce its spending
. Decisions beyond new high school boundaries have yet to be made, but trustees said in the coming months they will examine options including staff reduction and smaller cost-cutting measures districtwide.
Killian said many factors have contributed to PfISD's fiscal
challenges
over the past several years, including rising fuel, supplies and labor costs. But ultimately, Killian said PfISD will continue to fight deficits until state leaders fix the mechanism by which Texas school districts are funded.
"The biggest issue is the funding formula and student enrollment," Killian said. "The combination of those two things along with the attendance since the pandemic has really hit us hard."
Hard decisions
In December, the district's attendance boundary committee presented proposals for boundary changes, several of which involved closing one or more schools.
The proposals were borne of a projected $7 million shortfall in the district's 2023-24 budget, and early on in the process, several proposals recommended closing two elementary schools—among the schools suggested as options were Pflugerville, River Oaks and Dessau elementary schools.
In the months following the committee's final recommendation, PfISD narrowed down the proposals to two options: one that would see Dessau Elementary School close and another that would realign attendance boundaries for some high schools.
Since December, a coalition of parents and teachers from Dessau Elementary has been attending district board meetings to voice opposition to the plan.
"If you take this elementary away, you take away the history, the culture [and] the belonging we all have and our children have to be proud to be from Dessau," said Emily Miranda, a fifth-grade teacher at Dessau Elementary.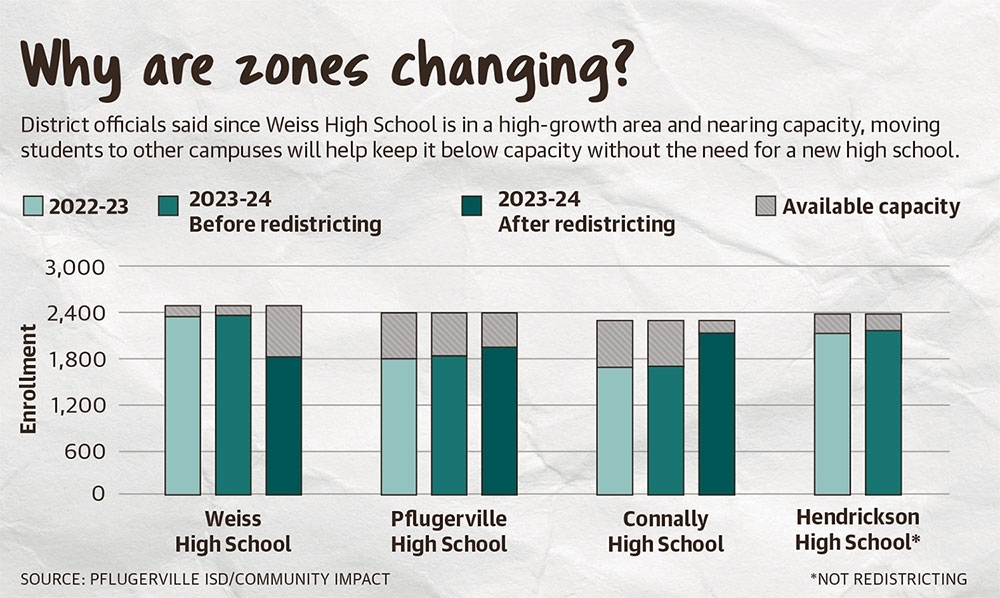 The latest action
At a Feb. 23 board meeting, trustees voted to move forward with only the high school portion of the plan, leaving Dessau Elementary open and its attendance boundaries unchanged.
PfISD Chief Financial Officer Jennifer Land said closing Dessau Elementary would have saved the district around $2.5 million.
The district previously delayed the opening of Hidden Lake Elementary School—a new campus in east Pflugerville—as a cost-saving measure, but the district plans to open the school in 2023-24 to address growth in the surrounding area.
Land said even if trustees voted to close Dessau Elementary, the 2023-24 budget shortfall would not diminish as district estimates show Hidden Lake Elementary will cost about $3 million to open and staff.
The changes to high school attendance boundaries will result in approximately 560 Weiss High School students being relocated to Pflugerville and Connally high schools. Hendrickson High School's attendance boundaries will not change.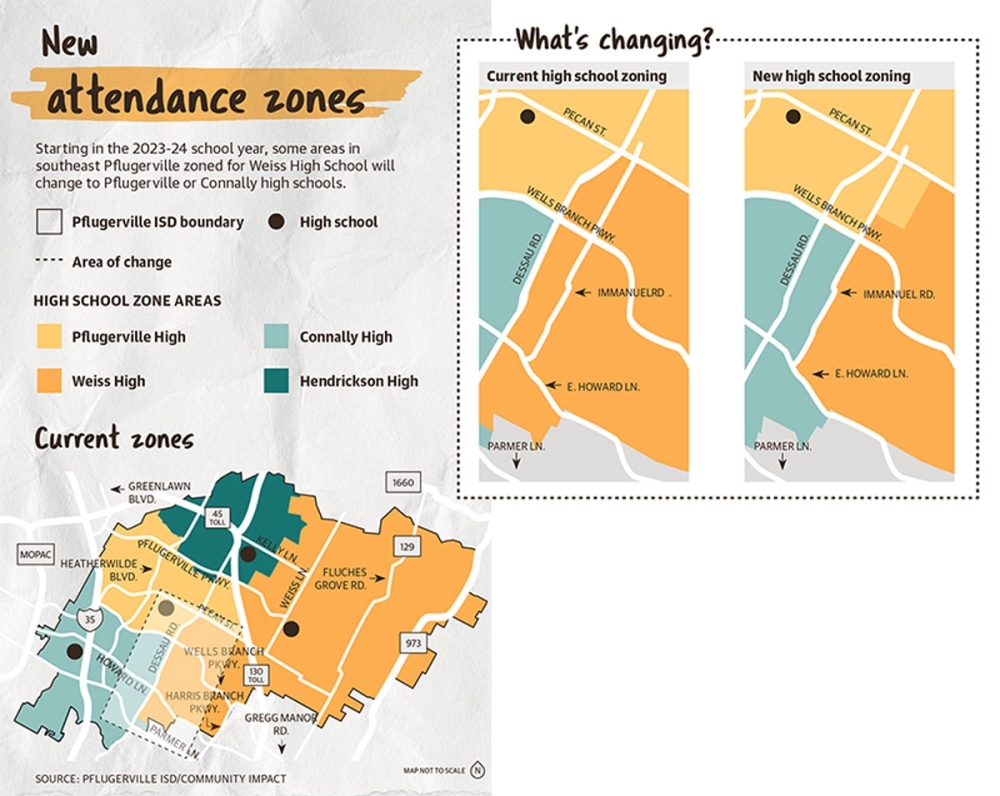 Chief of Staff Brandy Baker said the plan includes a grandfathering clause for students entering 11th and 12th grades during the 2023-24 school year at Weiss High. The district will also close transfers to Weiss and Hendrickson high schools.
The new attendance boundaries will go into effect in the 2023-24 school year.
Killian said the high school changes will have little direct impact on the district's budget but will prevent the need for building a new high school.
"Weiss is pretty much [at capacity] right now," Killian said. "We really can't afford to staff a new high school at the current rate."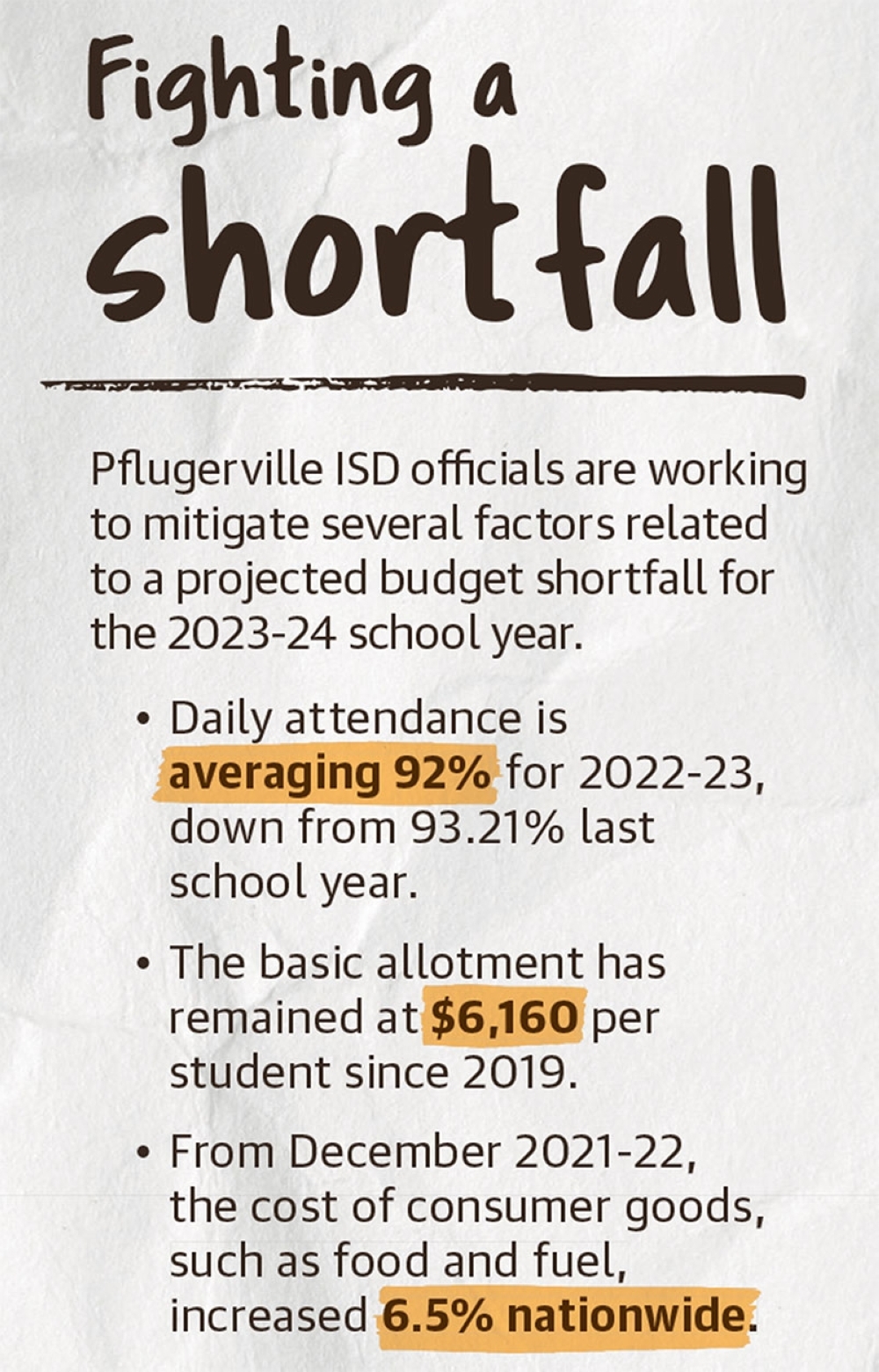 Finding savings elsewhere
Without the savings from closing Dessau Elementary, the district will have to consider other options for cutting costs. These include reducing staffing ratios for campuses with smaller student populations.
"We've got a lot of campuses that are sitting at [600, 700] or 800 students, and they have the same staffing," Killian said. "So we could staff them fractionally—like have a system principal share two campuses and [have the principal] go back and forth."
Killian said the district will likely cut smaller expenses, such as computer programs and districtwide surveys.
However, Killian said lasting financial relief for PfISD will have to come at the legislative level. He said the basic allotment—the amount of state funding and tax revenue a district is allowed per student who attends school—needs an increase.
"With just that basic allotment adjustment right now, ... we wouldn't have to do any of this," Killian said.
The basic allotment was last changed in 2019 to $6,160 per student, and Land said an increase of $900 per student would be necessary to bring the district back to financial stability.
House Bill 882—filed by state Rep. Donna Howard—proposes to raise the allotment by $915 for all districts, but Killian said he does not expect to see action on the item until later in the legislative session.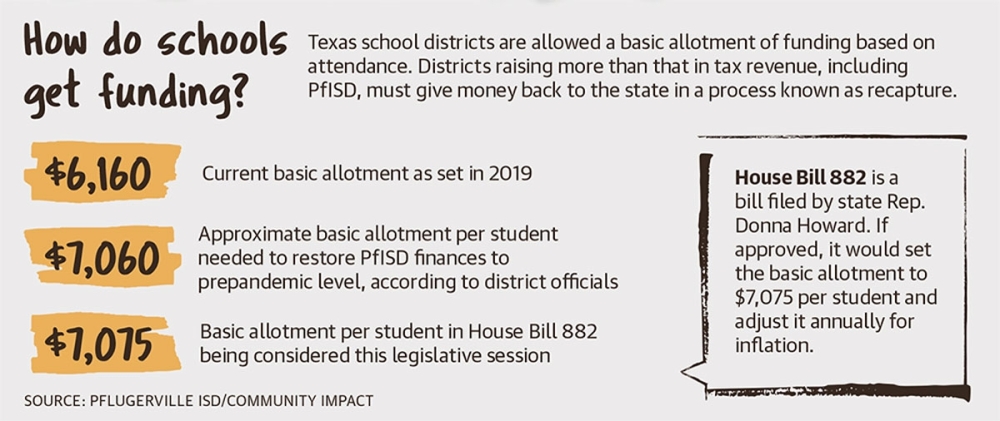 Killian urged community members to reach out to state legislators. He said without a higher basic allotment, school closures would likely be on the table next year.
"Going into next year and making whatever cuts we can will buy us some time," Killian said. "With that said, without any intervention and more state aid, we're going to be right back here in January 2024."