Local tourism and the travel industry are recovering from setbacks caused by the COVID-19 pandemic—a trend reflected through skyrocketing tax revenues to area cities.
In Round Rock and Pflugerville, business and tourism strategies are driving increases in hotel tax revenue and economic growth locally, although from slightly different sources.
Sports tourism and tourism geared toward families are driving growth for Round Rock, whereas business travel has spurred an increase in hotel stays for Pflugerville, according to local officials.
"Overall in the industry, we're definitely seeing improvement as the COVID[-19] restrictions are being lifted. More and more people want to get out and do things," said Nancy Yawn, Round Rock convention and visitors bureau director.
City officials attribute Round Rock's explosive recovery and growth in tourism revenue to the opening of Kalahari Texas Resorts in November 2020.
Located across from Dell Diamond on East Palm Valley Boulevard, Kalahari brought 975 additional hotel rooms, convention space and entertainment options to Round Rock.
With regard to Pflugerville, Amy Madison, executive director of the Pflugerville Community Development Corp., said increases in hotel stays largely come from business travel driven by the city's proximity to the Austin Executive Airport.
"It's not so much entertainment related as it is business related," Madison said. "That helps to buoy the numbers ... we had pre-COVID[-19] [hotel stays]—sooner, faster and quicker."
Defining hotel tax revenue
Hotel occupancy taxes are paid by a guest who stays in a hotel, bed and breakfast, or other lodging option. The taxes contain a city and state component, with state hotel taxes being collected on lodging that costs more than $15 per day and local hotel taxes being collected on lodging that costs more than $2 per day for less than 30 days, according to the Texas Comptroller's Office.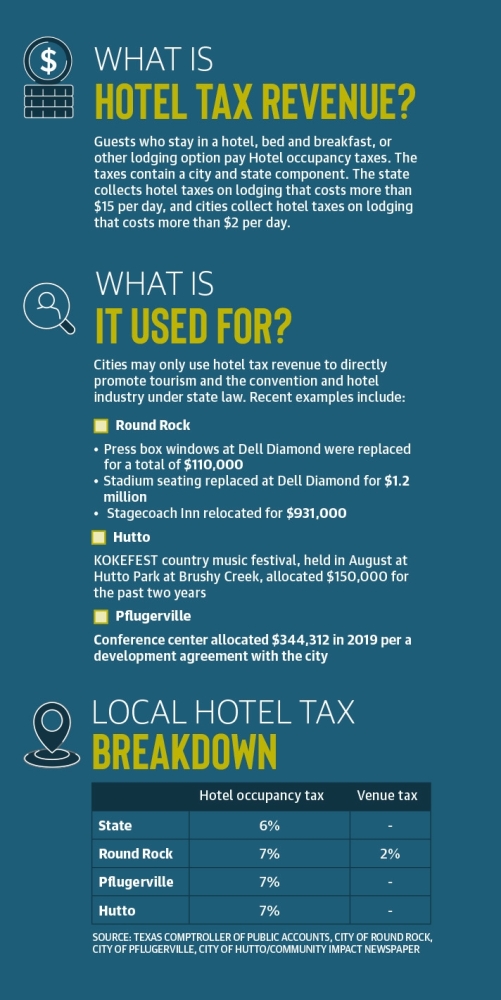 In Round Rock, city documents state the rate is combined with a venue tax that goes to the Round Rock Sports Center.
Revenue generated directly from hotel tax on the city's 4,542 hotel rooms is a less significant source of revenue on its own than sales tax, but it is used to fund programs and services that support tourism—but that does not stop residents from benefitting, as the facilities supported are commonly used by both.
City staff say when people stay in Round Rock, they spend money in the community, and sales and mixed beverage tax revenues stay local.
Hotel tax revenue may only be used to directly promote tourism and the convention and hotel industry under state law. In 2020, that revenue made up around 1% of the city's proposed budget, according to the city.
Texas state law mandates cities invest the revenue locally to promote tourism and encourage hotel stays. City documents state the maintenance of venues that are part of Round Rock's Sports Capital of Texas sports tourism initiative and a strategic goal to be the sports capital of Texas are designated for these funds.
Venues include Dell Diamond, the Round Rock Sports Center and the Round Rock Multipurpose Complex as well as the city's arts and culture division of the communications and marketing department.
A minimum of 5% of the city's hotel tax revenue funds the Round Rock Arts and Culture Department, according to the city.
"That helps with the infrastructure and [to] add services," Director of Sports Tourism Chad McKenzie said. "[It] keeps the property taxes low. That's a big push of what we're doing. It employs a lot of our citizens here and pays their salaries. We're really looking to continue in that and make it even better than it was before the pandemic hit."
Meanwhile, Pflugerville officials use hotel tax revenue to support events such as Deutschen Pfest and to pay off incentives to the Courtyard Austin Pflugerville and Pflugerville Conference Center under its Chapter 380 tax agreement, according to city documents.
Local trends
Before restrictions from the COVID-19 pandemic began in 2020, tourism revenue in Round Rock, Pflugerville and Hutto had been trending upward for at least the last five years. Hotel tax and venue tax revenues steadily increased between 1% and 5% annually from 2017-2020, data from all three cities show.
City data shows the impact of COVID-19 on travel and certain tourism-driven business is shown through a 31.47% decrease in hotel tax revenue in Round Rock—just under $2 million lower in 2020 than in 2019.
However, in 2021, hotel tax and venue tax revenue increased by 126.83% year over year, jumping from $4.1 million to $9.3 million—an increase city officials attributed in large part to Kalahari's opening.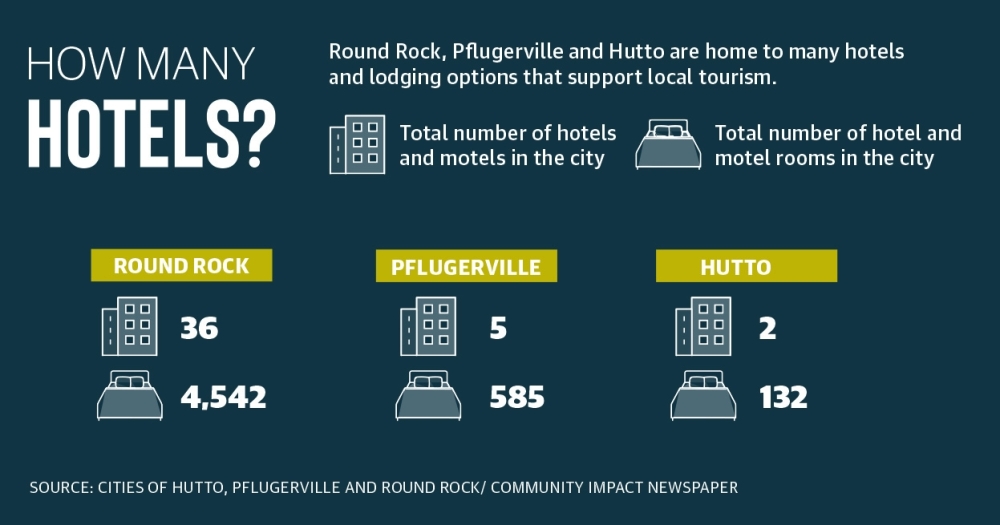 In Pflugerville, officials said 2016 was the first year the city began collecting hotel tax revenue, and since then it experienced consistent growth until the COVID-19 pandemic forced travel shutdowns in 2020.
The current estimate in Pflugerville for hotel tax collections in 2021 sits at $370,000, putting the city close to where it was pre-pandemic.
Pflugerville Mayor Victor Gonzales said SH 130 has helped the city develop as the need for hotels, dining, shopping and entertainment options increases.
"The tollways, both [SH] 45 and [SH] 130, [have] been the economic and growth boom for Pflugerville," Gonzales said. "We [have] become more of a regional community than anything else."
The city of Hutto also saw an 11.94% increase in hotel tax revenue from 2020-21.
Kristi Robich, community outreach and programs manager for the city of Hutto, said via email the return in 2021 of major local events that were canceled in 2020 due to COVID-19 have assisted in the recovery.
As one example, local event KOKEFEST brought 20,000 people to Hutto this summer, according to Robich.
"While hotel occupancy tax revenue in Hutto has increased in 2021 compared to 2020, it still has room to rebound from the pandemic, like most communities," Robich said.
The Sports Capital of Texas •and the Kalahari effect
In addition to traditional tourism in Round Rock, city data shows sports tourism saw increased activity from the previous year. The sports management and tourism department's main function is to program, schedule and maintain sports facilities and implement the city's long-term tourism plan, according to a city website.
McKenzie said event attendance is heading "back to normal" with large sporting events resuming at venues that include Dell Diamond, the Round Rock Sports Center and the Round Rock Multipurpose Complex.
A September release from the city's department of sports tourism states the industry has generated $110 million in economic activity for the city since 2014.
City data shows economic activity driven by sports tourism hit an all-time high in 2019 when Round Rock's strategic goal of supplying high-quality sports facilities in a conveniently located area resulted in a $23.6 million net gain. ••"We work with a consultant to look at what's the next thing we could bring to Round Rock in more of our sports tourism efforts," McKenzie said.
Beyond revenue created by sporting events, project leaders said Kalahari opened last year amid circumstances that were far from expectations when project planning began in 2015.
"Obviously, when we planned this project six years ago, we didn't expect to have a pandemic going on, but we are very pleased with how things have worked out," said Tim Arnold, Kalahari Resorts Texas general manager.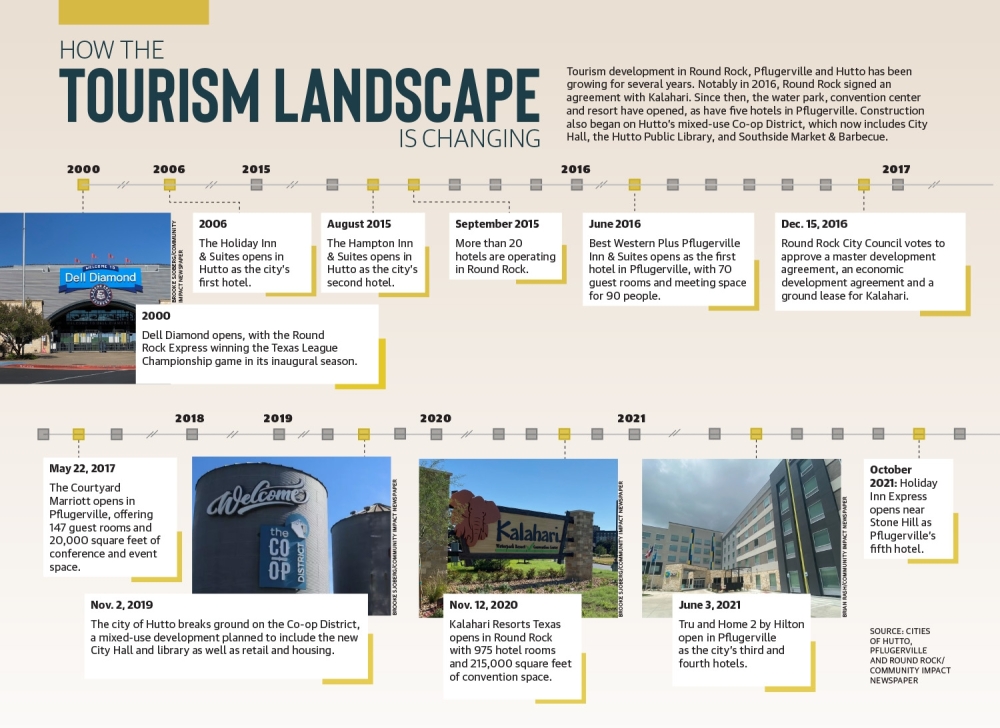 Arnold said Kalahari, through its 215,000 square feet of convention space, has appealed to various Texas associations that hold large conferences.
Yawn also emphasized the impact of hotel tax revenue from Kalahari on the city's local tourism economic recovery.
Among the city's myriad recreational options, Yawn pointed to outdoor activities that include a wide-ranging system of trails, creeks and parks.
With the pandemic raging last year and this year, she said outdoor activities became a go-to option for people.
On top of outdoor recreation activities, Yawn said Kalahari is a solid addition to recreational options in Round Rock.
In just its first 10 months of operation, according to hotel tax data available through the Texas Comptroller of Public Accounts, Kalahari Resorts Texas reported over $70 million in taxable receipts, with 9% of that going to the city.
Round Rock officials said most, if not all of the hotel tax revenue generated through the city's 7% tax rate would be used to pay debt and incentives under its agreement with Kalahari.
Growth in other areas
In the last year, Pflugerville's tourism industry has grown so quickly the city created its own convention and visitors bureau in June.
The new entity will be part of the city's chamber of commerce, and Gonzales said the bureau will boost local tourism by working toward making Pflugerville an area travel destination. Whereas local businesses have had the Pflugerville Chamber of Commerce and Pflugerville Community Development Corp., tourism has not had a dedicated department until now, he said.
"I think that through the convention and visitors bureau, we will have a better outlet for even more recruiting in terms of not just businesses, but groups—particularly convention-based groups, conferences, ... things of that nature," Gonzales said.
In Hutto, Robich said the city is also focusing on business development to bring in visitors.
Andy Perry, executive director of both the Austin Executive and Houston Executive Airports, said local business interests, such as the Tesla Gigafactory, are driving travel to East and Northeast Austin, and that many who come through his Pflugerville airport stay in the nearby hotels.
"Our travel's definitely been up with all the growth and development around the area," Perry said. "We've seen an uptick in traffic coming through the airport. [It's] very good for us, a very positive impact for sure."•