On Easter Sunday,
Lighter Loads ATX
co-founder and COO James Ritchie will haul the nonprofit's shower and laundry trailer down to one of the city's largest homeless tent sites in Southeast Austin.
Once there, Lighter Loads, a local nonprofit, will distribute hundreds of prepared meals to people experiencing homelessness, provide nearly 100 showers and supply laundry services for those in need.
It is a continuation of the nonprofit's mission, Ritchie said, that began in the fall of 2018. That mission still continues despite the looming threat of the coronavirus, which has infected 700 individuals in Travis and Williamson counties, according to the
latest
numbers
.
"We're not scared to go out and get our hands dirty," Ritchie said. "We're changing lives, one shower at a time."
Lighter Loads is now providing shower and laundry services on weekends at three different locations on a rotating basis across Austin—St. Andrew's Presbyterian Church and Mosaic Church in Northwest Austin and Texas Oaks Baptist Church in South Austin.
For Easter weekend, Ritchie said Lighter Loads is going down to Camp Responsible Adult Transition Town to distribute 150 meals, 60 pairs of jeans, 80 bras and 150 hygiene kits.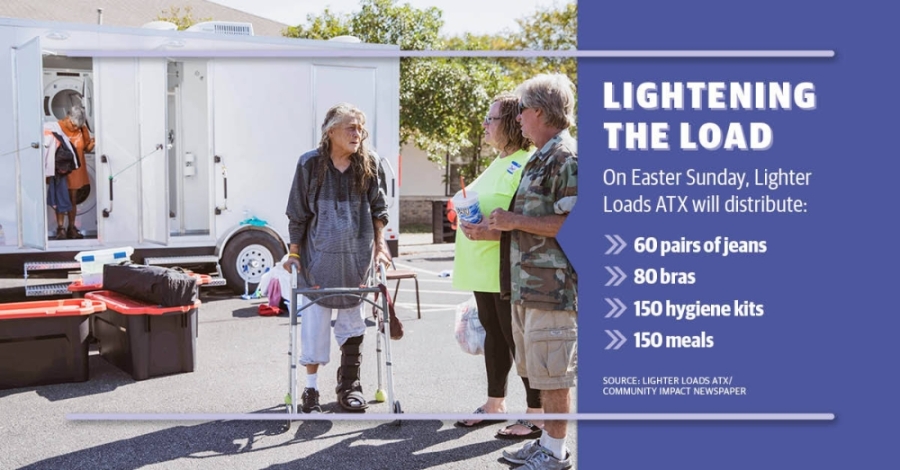 Ritchie said Lighter Loads has been able to do 30 loads of laundry on average every weekend. The organization's trailer has provided up to 80 showers in one weekend at a location, but Ritchie said the trailer can easily handle 100 showers for residents experiencing homelessness.
"We'll get in as many showers and loads of laundry as we can," Ritchie said.
SERVING DURING A PANDEMIC
Individuals experiencing homelessness are exempt from the city of Austin and Travis County's
stay-at-home order
, though the order still recommends that those individuals still practice social distancing guidelines to the greatest extent possible.
Ritchie said many churches that were previously able to provide showers and restrooms for Austin's homeless have had to close their doors to the public following the order. While many of these churches continue to feed the homeless, Ritchie said, the lack of showers at churches and gyms has left a gap in services typically provided to individuals experiencing homelessness.
"A lot of [the homeless population,] we found out, have gym memberships ... just to go in and get a shower," Ritchie said. "Basically, their needs are the same. The only thing that has changed is they can't get showers as regularly as they could."
Lighter Loads continues to serve the homeless population despite the impacts of the coronavirus pandemic. Ritchie said the nonprofit has taken appropriate steps to maintain social distancing and keep volunteers safe to the greatest extent possible while still being able to serve.
"We're taking more precautions. We're wearing masks and roping our area off," Ritchie said.
While Lighter Loads' shower and laundry trailer is built to allow multiple individuals to shower at the same time, the nonprofit's new guidelines mandate that only one person is allowed to shower at a time.
After each shower the trailer is cleaned and sanitized. Lighter Loads was able to procure sanitizing materials used by local hospitals, Ritchie said.
But to continue serving the city's homeless, Ritchie said Lighter Loads is in need of protective masks and hand sanitizer—two items that are in high demand.
Lighter Loads has also
put the call out for donations
of men's and women's clothing.
"Men's and women's underwear are a huge need," Ritchie said. "Money is always needed, as well, to keep us rolling."
CITY RESOURCES
On April 6, the city of Austin
released a memo
outlining plans to provide food relief in response to food insecurity emergencies due to the coronavirus pandemic.
According to the memo, city staff have received requests from several organizations that serve Austin's homeless for shelf-stable foods that last several weeks.
"Providing shelf-stable foods to people experiencing homelessness would reduce contact and potential exposure, allowing food recipients and food distributors to better adhere to public health guidelines," the April 6 memo states.
The city is further providing
shower, restroom and hygiene access
at a handful of locations across the city,
according to a March 27 memo
. That memo states the Other Ones Foundation is also providing mobile hygiene clinics at locations that rotate daily.
However, the farthest north those services reach is Rundberg Lane in North Austin.
With its shower and laundry trailer, Lighter Loads is able to reach individuals experiencing homelessness in Northwest Austin and the Wells Branch area.
"We can make a change in someone's life," Ritchie said. "It takes organizations like Lighter Loads and other organizations to come together to help the homeless in this situation right now."