Between the week ending March 14 and the week ending April 24, more than 1.6 million Texans filed for unemployment, according to the Texas Workforce Commission.
Many New Braunfels residents have found themselves needing help to put food on their tables, pay their rent or mortgage, pay for utilities, and find physical and mental health support.
"These are families who have had jobs and regular paychecks," said Alice Jewell, CEO of the McKenna Foundation, a leading local nonprofit. "[They] really haven't navigated the social services system before."
In response to the growing need for access to social services in Comal County, the McKenna Foundation—along with several other service organizations—created the Comal Emergency Relief Fund (CERF) and the Multi-Agency Resource Center (MARC).
The MARC serves as a single convenient point of contact for residents seeking help from the Comal County Habitat for Humanity, the New Braunfels Food Bank (NBFB), The Salvation Army, the Family Life Center, the Community Resource and Recreation Center, and Hill Country Mental Health & Developmental Disabilities Center.
"We wanted to come together around responding to people in crisis because while people feel alone right now, the community really is here to help," Jewell said. "We've got one group, one place for them to call and help them with what they need to weather the crisis."

McKenna contributed $50,000 in seed funding to create the CERF and over $220,000 has been donated. As of April 21, $80,000 has been used to help more than 180 local families, Jewell said.
Funds donated to the CERF are distributed through participating nonprofits to applicants based on their unique needs.
In order to apply for support, applicants can either download documents from the Comal County Cares website and email their completed forms to the center, or call the MERC for assistance.
Applicants are then screened over the phone to further determine their needs before either being given an in-person appointment or being directed to alternative steps to obtain support.
"I think people are getting more comfortable with the idea of having to utilize resources that they've never thought they would have to use before," said NBFB Executive Director Monica Borrego.
Since the beginning of the pandemic, the food bank has seen a 35% increase in families served in Comal and Guadalupe counties per month.
The facility typically serves approximately 2,500 families each month, but it served more than 3,375 in March, according to Borrego.
In addition to daily food distributions at its facilities in New Braunfels, the NBFB also partnered with the Family Life Center, Tree of Life Church and the Westside Community Center to host a larger distribution on April 16.
"[The MARC] makes it easier for that person who has never needed to utilize these kinds of services to maneuver through them," Borrego said. "It's helped them wrap their heads around the paperwork and all of the things associated with asking for assistance."
Caring for mind and body
In addition to financial and food assistance, the MARC also works to connect residents with mental health professionals.
"We're used to being connected to people on a regular basis, and we have all of a sudden—as a complete society—taken that away from people," said Dr. Heather Ingram from InMindOut Emotional Wellness Center in New Braunfels.
More than 40 people in Comal County have been connected to mental health services through the MARC, according to Jewell.
Experts are concerned that increasing financial and emotional stress could lead to decreases in mental health, and rising rates of unreported child and domestic abuse.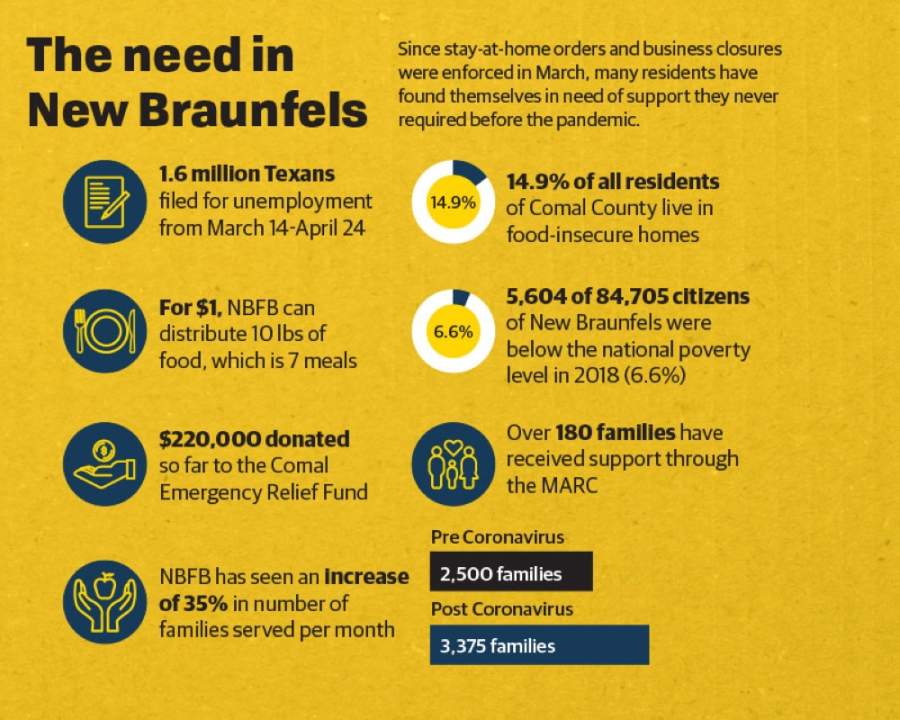 "While the stay-at-home recommendations from the CDC and from Gov. Abbott are essential and necessary to preserve life and safety, this also means that many children are locked into a home with the very people that might abuse them," said Trendy Sharp, executive director of the Children's Advocacy Center of Comal County (CAC).
In Texas, 175 children are the victims of abuse every day, and 1 in 3 Texans will be a victim of domestic violence in their lifetime, according to the Children's Advocacy Centers of Texas and the Texas Council on Family Violence.
However, local agencies expect a decrease in reports due to a lack of interaction between children and adults such as teachers and coaches, who are the primary reporters of child abuse, Sharp said.
According to Sharp, CAC received 102 reports of abuse in April 2020—a 41.38% decrease compared to April 2019, when 174 reports were made.
"Domestic abuse is expected to go up during this time as well," said Megan Dupree, outreach and marketing coordinator for Connections Individual and Family Services. "We've got to think about the adults that are stuck in homes with abusive partners."
Though many facilities have closed their doors, emergency hotlines are still operational and emergency shelters are still an option.
Those facing abuse—or who know someone who may be in a dangerous situation—are encouraged to reach out for help, Dupree said.
Nonprofit organizations such as CAC, Connections and River City Advocacy & Counseling Center have moved their counseling and prevention services to telehealth formats.
Clinics like InMindOut and Hill Country MHDD have also moved to telehealth counseling and other limited-contact services.
"Just having someone there that checks in with them every week ... I think that's really important for kids and for families," Sharp said.
As social distancing restrictions begin to loosen, Sharp encouraged community members to continue to reach out for help for themselves and those in their community.
"Keep your eyes open and be sure to check in with those kids who trust you and who have been waiting to see you again," Sharp said. "When it's time and people are listening, don't hesitate to make a [child abuse] report."
According to Ingram, it is just as vital for people to feel connected to a community and receive emotional support as it is to get the financial and nutritional support they also may need.
"Having a support network is incredibly important," Ingram said. "There really needs to be giving to self first—putting that oxygen mask on [yourself] first—in terms of mental and emotional care.
The community comes together
As nonprofits and other charitable organizations have come together through the MARC and other collaborative efforts, local business owners and residents have also come together to support those in need through donations of money and their time.
"There's so much good happening around this situation," Borrego said. "We've had restaurants donate all of the products that they couldn't sell anymore. We've had churches come together to do food drives."
The NBFB has also seen an increase in new volunteers and it recently received support from AmeriCorps members, as well as a team from the National Guard, Borrego said.
"It is wonderful to see the churches, nonprofits, businesses and civil organizations collaborating," said Kay Scott, Executive Director of the Family Life Center.
Connections has begun partnering with local restaurants to collect donations and provide takeout meals for children living in their shelter or transitional living program.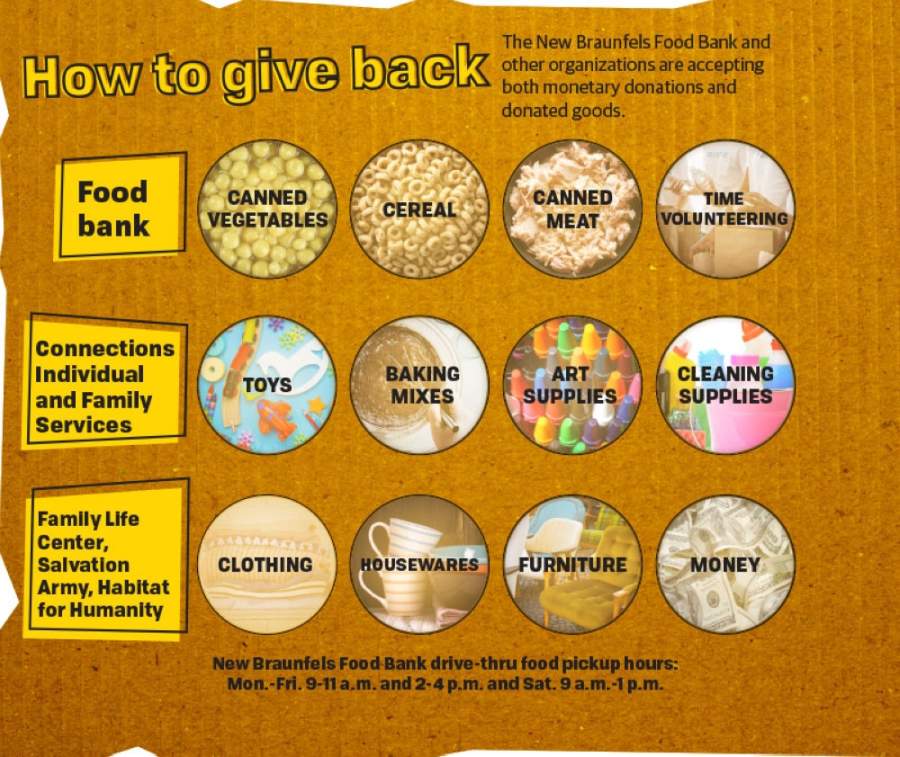 Donations through this program go directly to local restaurants, which then provide meals to community members in need.
"That helps the staff and it helps give the kids something to look forward to," Dupree said. "It helps our grocery budget, too."
For those in the community who wish to contribute, donations can be made to the CERF or they can be sent directly to any of the nonprofit organizations in the area.
Several organizations are also accepting donations of food, clothing, toiletries and more, while others are allowing residents to volunteer their time while adhering to social distancing and safety guidelines.
"I would encourage everyone to just keep looking out for one another like they have been, but also know that there will come a time where you will look up and realize that you're the one that needs help," Sharp said. "If you need help, reach out for help. We have a great community waiting."