With stay-at-home orders in place throughout the state and unemployment rising, many Texas residents find themselves in need of help to put food on the table.
According to the Texas Workforce Commission, 745,443 Texans filed for
unemployment
between March 23 and April 4. The number of unemployment claims made over the two-week period surpassed the approximately 700,000 claims made in all of 2019, according to the TWC.
Founded in 2010 as a branch facility of the San Antonio Food Bank, the New Braunfels Food Bank primarily serves residents of Comal and Guadalupe counties.
In Comal County, 14.9% of residents live in food insecure homes, according to
Feeding Texas
, a network of 21 food banks that serves all 254 Texas counties.
It is still unclear how many people are facing food insecurity as a result of the coronavirus pandemic, although the San Antonio Food Bank recently announced that it has seen the number of individuals it serves rise from 58,000 to about 120,000 per week.
The New Braunfels Food Bank has also seen significant increases in the number of families being served.
"We typically serve about 2,500 families a month and that number is up about 35%," said Monica Borrego, executive director of the New Braunfels Food Bank, in an email. "We anticipate we will see more need in the coming weeks as people exhaust their resources and are still going to be out of work for a while longer."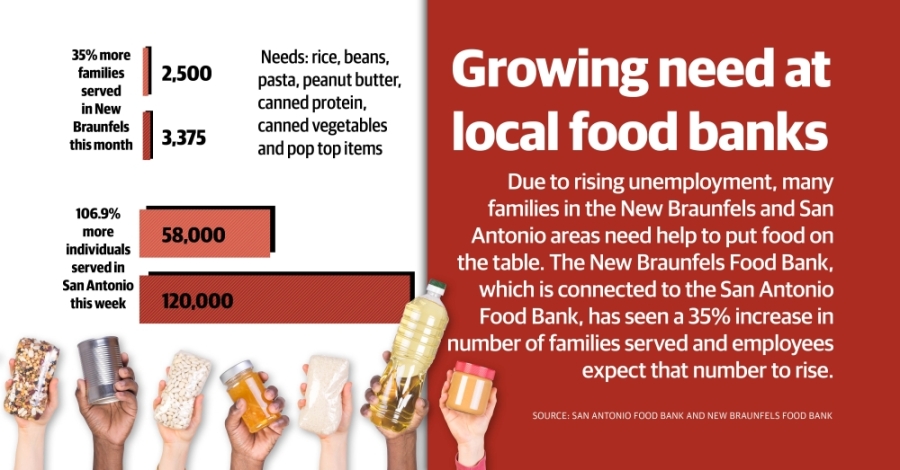 Food banks such as the New Braunfels Food Bank rely heavily on donations from food drives, retail partners, foundations and individuals to stock shelves and provide meals for those in need.
In a Texas Tribune
article
, Feeding Texas CEO Celia Cole explained that donations from grocery stores were declining due to increased customer demand and strain on supply chains.
According to Borrego, the food bank has received fewer donations of shelf-stable food such as rice, beans and pasta.
As part of their response to the coronavirus and growing need, the New Braunfels Food Bank has partnered with local nonprofits to form the
Multi-Agency Resource Center
in association with the McKenna Foundation.
The food bank is also
accepting
donations to purchase food and is in need of more volunteers to help with distribution.
"We need donations of food, time, money and voice," Borrego wrote. "Help us spread the word that we are here, and by all means, lift us up in prayer as we work hard to make sure families get fed during this difficult time."
Joining together to fight hunger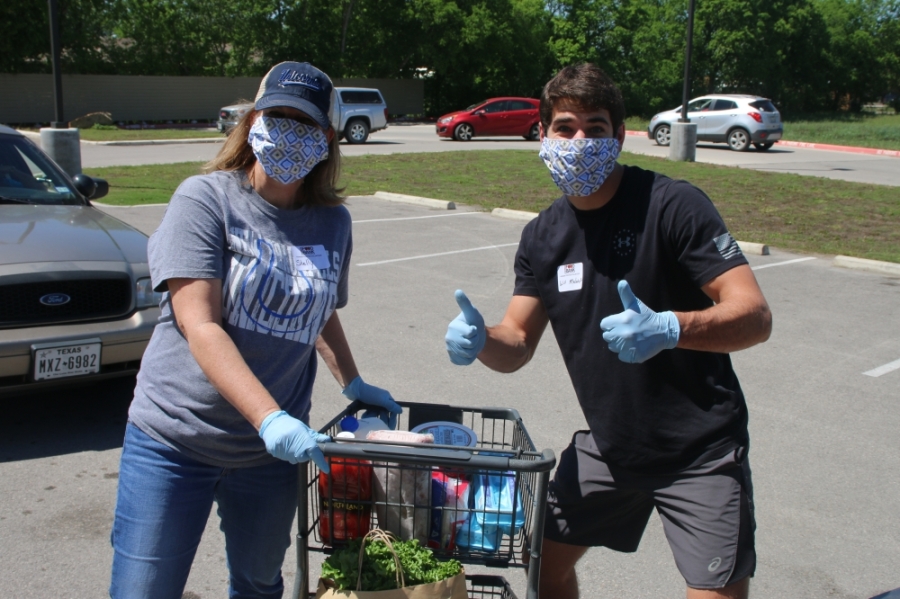 On April 10, the New Braunfels Food Bank will partner with the San Antonio Food Bank in "All Faiths Fasting Friday" to raise money for local food banks and food pantries.
During the campaign, which lasts through April 12, people of all faith backgrounds are asked to fast on Good Friday and donate money equal to the value of the meals they missed.
"This idea was created because we know this is typically a time of gathering and celebration in our normal climate," Borrego wrote. "But this year, that is not possible so we thought we could shift the energy to helping our neighbors in the community."
Participants are asked to donate either directly to the
event page
or to a local food pantry of their choosing.
Those interested in volunteering can register
online
and will be given a no-touch temperature check upon arrival and will be required to wash their hands frequently and wear gloves during their shift.
"We know that some of our neighbors who have never needed help before will be seeking our assistance, it is important that they know we are here and it is okay to ask for help," Borrego wrote. "We intend to be here throughout this crisis and it is our privilege to serve."
Distribution hours for the food bank are Mon.-Fri., 9-11 a.m. and 2-4 p.m. and Sat. 9 a.m.-1 p.m. at 1620 S. Seguin Ave., New Braunfels.