Efforts to bolster services for individuals experiencing homelessness or at risk of experiencing homelessness are growing in New Braunfels as the cost of living continues to rise locally.
Area nonprofit organizations are working to meet the needs of a community that is becoming increasingly unaffordable for many residents by developing short-term emergency housing, connecting individuals to long-term residential options and operating programs aimed at ending the cycle of homelessness through employment and financial planning assistance.
Representatives of several local groups have voiced concerns that the risk of local residents experiencing homelessness or struggling to afford housing has risen as housing costs surpass affordability, and additional services are needed to combat the issue.
Since 2010, the city's population grew 56.57%, according to 2020 census data. Housing prices have risen accordingly as demand outpaces supply.
"With growth comes the uptick of social services. ... This is not a new problem, it's just a growing challenge," said Mic Biesboer, program director of the Next Steps Program that connects individuals with area mental health services and housing options. "Every nonprofit agency in town is trying to catch up. I think all of us in some way or another are appreciative of the growth, but we're seeing it from even a completely different lens."
Getting priced out
The average monthly rent in New Braunfels was estimated to be $1,403 in 2021, according to data from Apartmenttrends.com, representing a 12.4% increase from 2020 when the average rent was $1,229 per month.
In February, the median home sale price in New Braunfels was $345,000, marking a 23.46% increase year over year, according to data released by the Four Rivers Association of Realtors.
"We have a lot of investors coming in, and buying up and fixing and selling [homes], which is really making it more difficult for your locals to be able to find a place to live nowadays," said Debbie Homeier, 2022 president of the FRAR. "Homes that were affordable before are now a lot higher."
During a Feb. 14 New Braunfels City Council meeting, Easton Smith, a real estate salesperson with Keller Williams Realty, said there were more homes on the market for lease than for sale under $500,000, many of which cost more than $2,000 per month.
Data from the 2020 American Community Survey conducted by the U.S. Census Bureau showed median gross rent prices have risen 23.8% between 2015 and 2020. Median household income rose 19.35% during the same period.
According to the National Coalition for Homelessness and the United States Interagency Council on Homelessness, the risk of residents experiencing homelessness rises when housing prices grow without a significant increase in housing inventory or a comparable rise in household income.
"Affordability in New Braunfels is getting challenging," Biesboer said. "Homelessness is vast; it's families and kids in our school systems here locally that might be living with another family because they can't afford to live by themselves. It's that woman or even that man who's fleeing domestic violence."
Building support systems
In February 2021, NB Housing Partners and other local nonprofit organizations joined to create the First Footing shelter program.
The program uses hotel space to house those experiencing homelessness in the New Braunfels area and connects individuals with local support resources, assists with job searches and ultimately works to find permanent housing.
Since beginning operations, the shelter served more than 240 people, said Kellie Stallings, the coordinated entry administrator for the First Footing program. While 82% of those served have lived in New Braunfels for at least six months, the average person served have lived in the community for an average of 11 years.
"These are our neighbors, these are not people coming in from Austin or San Antonio who have their own resources," Stallings said. "If we find out somebody is not from our community and they have support systems somewhere else, we are going to connect them to where they have the most supports."
Of those served, more than 95 have been connected to more permanent housing options, Stallings said.
The program primarily serves single men and couples, Stallings said, while youth are referred to Connections Individual and Family Services, and single women and woman-led families are referred to Family Promise of Greater New Braunfels or the Crisis Center of Comal County.
"One of the first things that we do when somebody comes to ask for help is we find out the circumstances that led to their homelessness," she said. "The goal, ultimately, is finding a home. If all we were doing is providing a place for someone to stay for the night, then we are enabling that homelessness."
Since the program began, Stallings and her team have been planning to purchase a larger facility where agencies could provide services and support individuals in the program.
One location that has been considered is the former Comal County Senior Citizens Center, located at 655 Landa St., New Braunfels, Stallings said, though nothing has been finalized.
The Comal County Senior Citizens Foundation still owns the original location as the group is in the process of transitioning its operations, according to the foundation. The 655 Landa St. building will eventually be sold.
Though no decisions have been made regarding the property, Stallings said the building's central location would be beneficial for the First Footing program.
"It is very close to recovery support services; it is very close to behavioral health services. ... It is right next to Section 8 public housing for [the] elderly and disabled," she said. "It is across the railroad tracks from the subsidized housing project run by Prospera Community Housing [Services], and it is a distance from any housing or school."
While the location is ideal, Stallings said it is outdated, and significant renovation work would need to be completed to ensure it was safe and could meet the needs of the program.
The McKenna Foundation has awarded a small grant for operating expenses and pledged to provide some funds to acquire or renovate a space, Stallings said, but her team is still evaluating other options and has considered the Howard Johnson Hotel, located at 201 Loop 337.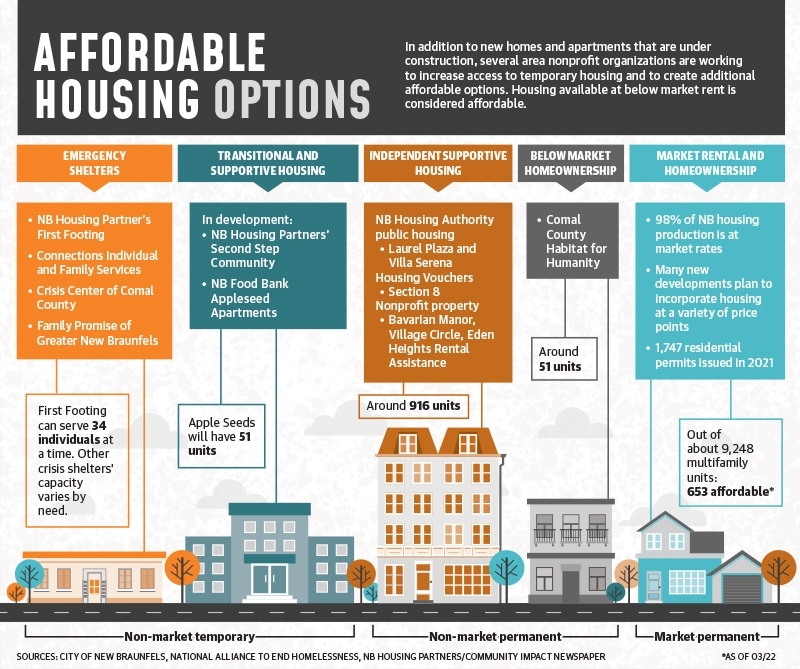 Connecting available resources
In September, a new partnership between three nonprofit organizations in Comal County received grant funding through the Texas Health and Human Services Commission that will be used to provide housing and mental health services for individuals experiencing homelessness.
The partnership, called the Next Step Program, brings together the Crisis Center of Comal County, NB Housing Partners, and the Comal County Mental Health and Developmental Disabilities Center, or MHDD.
The program was awarded approximately $1.7 million annually for the next seven years, Biesboer said. The group will be required to reapply periodically and could receive additional funding in the coming years.
Biesboer and his team hired a housing navigator who is working with local landlords and other affordable housing options to develop relationships and find stable homes for those who are ready to leave the shelter environment.
"The ultimate goal is to secure housing for them within the community and then, even once they secure housing, continue to walk beside them for a period of time to ensure that that housing is sustainable [and] they're doing well with work," he said.
For many experiencing homelessness, rehousing is just the first step to reintegrating into the community, and mental health services and counseling are often integral to finding stability, Biesboer said.
"We know that mental health plays a large role," said Ellie Truan, shelter director for the crisis center. "Having MHDD as part of the team has been incredibly beneficial because not only are they educating us on how to better serve our clients and our residents, but they're also available here to work with those residents."
Another key goal of the program is to gather data about the needs facing the community as it relates to homelessness so organizations and groups gain a better understanding of the services that are most needed, Truan said.
Access to services, such as public transportation, local rehabilitation programs and affordable housing is lacking throughout Comal County, Truan said.
Ultimately, Truan and Biesboer hope the collaboration will extend to include other local nonprofits, church groups and support organizations.
"The biggest goal is to end homelessness in Comal County," Biesboer said. "I think it can happen. I think we're a county that can do it."
Building innovative housing
As rising housing costs in Central Texas push many area workers to live outside the city in which they work, the New Braunfels Food Bank and area nonprofits are working to bring a more affordable option to the city.In June 2021, food bank staff and representatives of local organizations announced plans for the Apple Seeds Apartments, a $9 million apartment complex that will be located at 1530 S. Seguin Ave., New Braunfels.
NB Housing Partners donated the land to be used for the construction of the New Braunfels Food Bank and the apartments, and the McKenna Foundation, Habitat for Humanity and the San Antonio Food Bank have been involved in the project.After several permitting delays, Eric Cooper, the San Antonio Food Bank President and CEO, said the project is in the final phase that will pave the way for site work to begin this spring.The 51-unit property will provide housing at below-market-level rents for 24 to 36 months, Cooper said, and the project is one of the first food bank-backed housing efforts in the nation.
"It's not a shelter, it's not dealing with emergency situations. It's really dealing with individuals that are working in New Braunfels that are struggling with the affordability of rent and the inability to gain equity," Cooper said. "There is a real lack of inventory to meet the demand. Comal County, in its fast growth and increasing costs, has created an environment where many people can't afford to live and work in the same community."
While living in the apartments, a portion of each resident's rent will be put into a savings account that they will receive access to upon graduating from the program, Cooper said.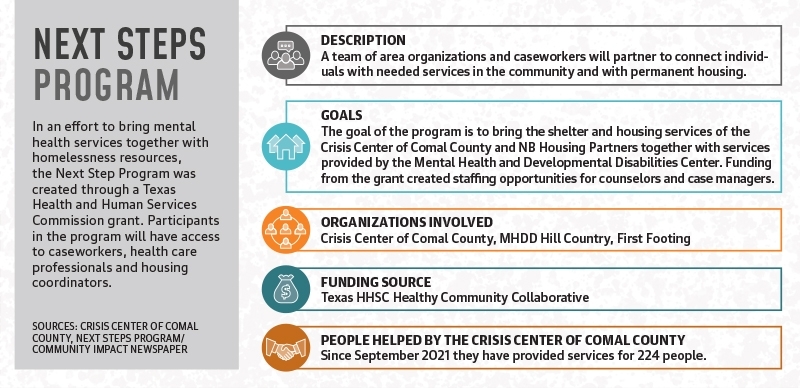 The goal of the community will be to provide residents with a stable place to live, access to healthy food, opportunities to learn about national and local assistance options, and financial and career training. "The framework in which we give aid is in a three-tiered strategy that we call food for today, food for tomorrow, and then food for a lifetime," he said.
Though the rent has not yet been determined, Cooper said his team has begun accepting applications and is working with local nonprofit organizations to find candidates.
"That opportunity to possibly live and work within a community is something that we desire for these participants, and that will be a reminder for the city of New Braunfels that we need to have more housing that's affordable," Cooper said. "It's a much bigger movement and work than just 51 apartments run by the food bank."
Amid the ongoing efforts to serve individuals experiencing homelessness, find stable housing options and increase access to other services, Stallings said it is important for the community to work together to find solutions for ending homelessness.
"Those who are experiencing homelessness are just like you and I, and sometimes we see them as threats, and we take away that human side of people who are experiencing social situations that are uncomfortable," she said. "This is a community problem, and we need a community solution."