New Braunfels' housing market saw a decrease in inventory and slowing sales as buyer and seller confidence wavered this spring, illustrated by data from the Four Rivers Association of Realtors.
In 2019, the average year-over-year growth in home sales for March through May was 18.73% in New Braunfels, but 2020 year-over-year home sales for March through May dropped by 28.2%.
Comal and Guadalupe counties saw decreases of 3.2% and 21.8%, respectively, during the same period.
However, FRAR data showed homes sold in May 2020 were on the market for an average of 63 days, down from 67 days in May 2019.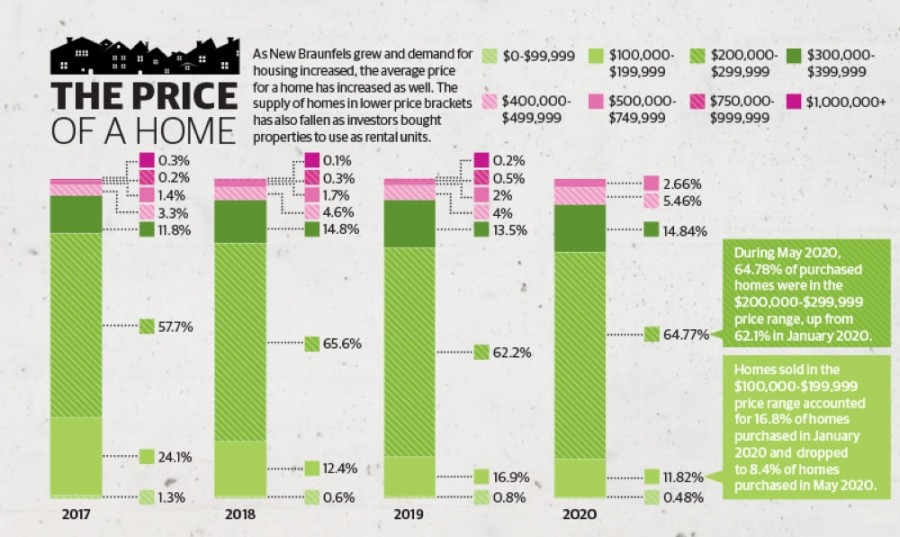 The local supply of single-family homes also dropped, from 4.2 months of inventory in March 2019 to 2.4 months of inventory in March 2020, a shift that FRAR board President Katie Clark says was directly impacted by the beginning of the coronavirus pandemic.
"We were already short on inventory [before the coronavirus pandemic]," Clark said. "And then people pulled their homes off the market because they didn't want people in their homes."
Despite a decrease in sales during the spring, local real estate agents said that they have seen the market pick up in June as the state reopens and demand grows in New Braunfels.
"Now we're seeing the people that would have been our spring seller and buyer starting to slowly come back to the markets," said Yvonne Hoffmann, a Realtor with Reliance Residential Realty in New Braunfels.
According to Hoffmann, returning to work has also made people more comfortable continuing the process of buying or selling a home.
As Texas began phased reopenings, weekly unemployment claims dropped in New Braunfels from 2,125 during the week ending on May 16 to 932 the week ending on June 13, according to the Texas Workforce Commission.
"People are now realizing what kind of state they are in financially, whether they know if they are going to lose their job [or] if they're going to keep their job," said Mandy Adams, a Realtor with Keller Williams Realty in New Braunfels. "People feel more confident in listing and buying."
According to Adams, New Braunfels' proximity to larger metropolitan areas and high quality of life make it a desirable housing market, though the long-term impacts of the coronavirus on the real estate market are yet to be seen.
"I don't think we're going to go back to complete normalcy like we had before, but I think we're going to get pretty close," Adams said. "Everybody's being more cautious just because we don't know what the future holds."
Restrictions required new processes
When the pandemic reached New Braunfels in March, the process of buying a home rapidly shifted from in-person tours and signings to virtual tours and digital closing documents.
"When COVID-19 hit, we closed our model homes and made them by appointment only and put in a number of safety protocols," said Bryan Havel, division president at Trendmaker Homes.
Challenged with social distancing regulations, real estate agents and homebuilders filmed walk-throughs and reworked their websites.
"People were spending tons of time on the website, and so we were able to put not only pictures but also virtual tours up so people could actually walk through the home in a 3-D environment," Havel said.
When restrictions began lifting, some agents returned to showing homes in person with new protocols for tours.
According to Mercy Boatright, Realtor and owner at House Hunters NB, buyers are not allowed to touch anything when seeing a home, and hand sanitizer and face masks are required.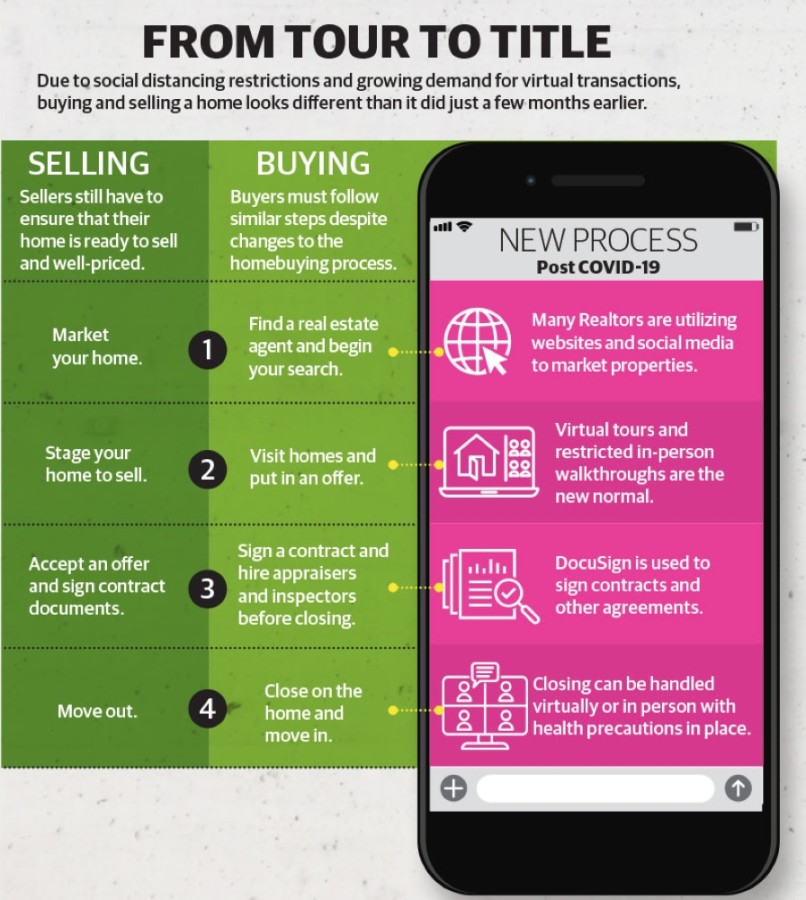 "It's supposed to be hands-free, so I'm allowed to open the doors and turn on lights and everything. ... If we go to a house when people are living there, we need to be in and out in 10 minutes," Boatright said.
Shopping online for a home and signing documents digitally will continue to grow in popularity, Boatright said.
"People shop online now just like with Amazon, clothes and everything else," Boatright said.
As closures forced people to spend more time at home, consumers' home preferences shifted to include more multipurpose and outdoor space.
"Whether it be working from home or schooling, they're looking for homes that can kind of serve that multifunction," Hoffmann said.
The commercial real estate market also shifted as businesses moved away from rental spaces to build offices that can offer more room and flexibility, according to Cory Elrod, principal at Legacy Commercial Real Estate.
"The [offices] we had in design were already planning for a larger waiting room than what they'd had previously; I think that [design] is just reinforced now," Elrod said.
According to Elrod, the commercial market has remained strong as businesses continued with their plans to build office spaces.
"I do know that we used our margin up. So the idea of another total shutdown would be catastrophic," Elrod said. "If we were to go through something like that again, people that made it through have exhausted a lot of resources to do that, and they need time to build that back up."
Affordable housing options at risk
Retail, hospitality, entertainment and food service industries employed more than 8,800 residents in New Braunfels, according to 2018 census data. These industries were among the hardest hit by COVID-19 layoffs and closures, according to the Bureau of Labor and Statistics.
"A lot of folks in New Braunfels work at restaurants. ... But when those places close down, there goes everything," said Kay Scott, Family Life Center's executive director. "If they were already living paycheck to paycheck to begin with and were struggling before COVID-19 ... now they're struggling even more."
The Family Life Center is one of several nonprofits in New Braunfels that offers rental and utility payment assistance to families impacted by the virus.
The New Braunfels Housing Authority operates 170 subsidized apartment and family units throughout the city, and families can apply for assistance with housing payments that are greater than 30% of their gross annual income, which the U.S. Department of Housing and Urban Development deemed as an acceptable average housing payment.
According to data from the U.S. Census Bureau, 36.6% of occupied housing units in New Braunfels were renter-occupied, and a 2018 study commissioned by the city's economic development corporation reported that affordable rental options were in short supply.
The study also stated New Braunfels lacks enough housing options under $200,000, and many of the homes in that price range are being bought by investors to become rentals.
According to Henry Alvarez, director of the NBHA, the need for housing assistance increased as residents lost income.
"Prior to COVID-19, we had a tremendous demand for housing," Alvarez said. "With COVID-19, that demand hasn't changed, but what has changed is the impact COVID-19 has had on our participant incomes."
Currently, the NBHA assists 247 families, but Alvarez estimates that it will be down to 240 by the end of the year as recipients struggle to find work.
"The average housing assistance payment generally determines how many units we can fund," Alvarez said. "If the housing assistance payments go up, the number of units that we can assist go down."
Alvarez hopes to receive additional funding from the government to help support residents who have lost jobs and he expects that the need for affordable housing in New Braunfels will continue to grow as the city expands.
"The most impactful way to address affordable housing is to create more opportunities for units," Alvarez said. "If we find a solution that actually increases the supply of affordable housing, that fits the community of New Braunfels, we're likely to move forward."