Experts are seeing fewer cases of child abuse reported during the coronavirus pandemic.
However, that does not indicate a decrease in domestic abuse, but only that there is a lack of interaction with the adults that report the abuse for children who cannot speak for themselves.
"We've lost our very best front-line responders and reporters of abuse: teachers," said Trendy Sharp, Executive Director of the Children's Advocacy Center of Comal County (CAC), in an email.

According to Sharp, CAC received 152 reports of abuse in March 2020, representing a decrease of 25% compared to March last year when 202 reports were made.
"While most schools have moved toward a virtual homeschool approach and teachers are certainly working hard and are involved in that process, they are not with children all day long, working with them and seeing them day in and day out as they usually are," Sharp said.
CAC aids children who have experienced physical or sexual abuse by providing counseling, forensic interviewing and coordination with local authorities. Prevention efforts are performed through a partnership with the organization Darkness to Light.
In Texas, 175 children are the victims of abuse every day and 1 in 10 children will be sexually abused before they turn 18, according to statistics from the Children's Advocacy Centers of Texas.
With 7.4 million children residing in Texas, this would amount to 740,000 victims of child abuse – without a global pandemic increasing risk factors.
"Whenever kids are not in school or with other adults outside the home, we see reports go down but we know that the abuse is still happening, if not increasing in incidence and severity," said Christina Green of the CAC of Texas.
According to Green, the impacts of the coronavirus are not just economic or physical, they take their toll on families and heighten stress.
This added stress, she said, can lead to more instances of abuse as parents and family members grapple with becoming teachers as well as caregivers amid potential financial instability.
In the case of sexual abuse, 98% of children know their abuser and 83% are abused by a relative, according to statistics from the CAC.
"While the stay at home recommendations from the CDC and from Governor Abbott are essential and necessary to preserve life and safety, this also means that many children are locked into a home with the very people that might abuse them," Sharp said.
Mental health support
One of the driving factors experts believe could contribute to increases in child abuse during the coronavirus pandemic is the mental and physical stress experienced by both adults and children.
"We're worried about the mental health side of [the pandemic] as well," said Ellie Truan, a prevention specialist with the Crisis Center of Comal County. "It's really important for [parents] to be having conversations with their kids and talking to them about how they're feeling."
The Crisis Center offers a 24/7 crisis hotline as well as a shelter, counseling, support groups and prevention education for the community and students.
Currently, the center's counseling services are being conducted through telehealth options. The shelter and emergency response team are still operating and have taken precautions that include extensive cleaning, and monitoring of each person that enters the facility.
Truan oversees the center's prevention program where she and trained specialists and therapists teach students and families about healthy emotional expression, coping skills, creating boundaries and how to maintain healthy relationships.
"The most important relationship we have is the one we have with ourselves," Truan said. "We have to start there as an individual because it reflects into our relationships and decision making."
Though in-person classes are currently on hold, Truan and her team are working to adapt their lessons to an online format through YouTube and Facebook.
Dr. Heather Ingram, PsyD, BCN from InMindOut Emotional Wellness Center in New Braunfels shared how social distancing, lack of structure and stressors like job loss or financial instability have already contributed to increased anxiety in many of her patients.
"We're used to being connected to people on a regular basis and we have all of a sudden, as a complete society, taken that away from people," Ingram said.
Ingram and her colleagues at InMindOut have transitioned to video and telephone sessions and have created a blog with suggestions and answers to frequently asked questions about life during social distancing.
According to Ingram, it is important for individuals and families to care for themselves emotionally, create a support network (albeit a remote one), build a schedule and communicate openly with each other.
"Having a support network is incredibly important," Ingram said. "There really needs to be giving to self first, putting that oxygen mask on [yourself] first in terms of mental and emotional care."
For parents and caregivers, taking care of yourself emotionally and physically allows you to better love and care for those around you, especially during seasons of high stress Ingram said.
"It's not if it gets tough, it's when it gets tough," Ingram said. "Take things minute-by-minute and just do the next right thing, that's all you can do."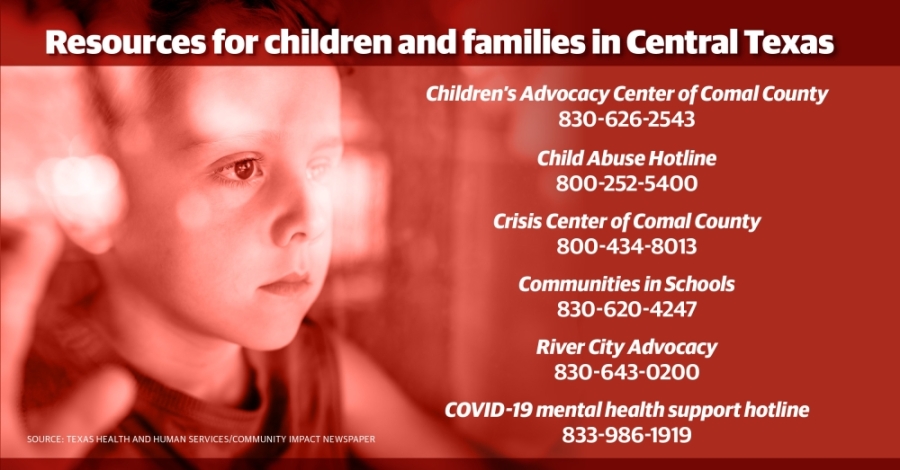 Helpful tips
With children not seeing teachers, sports coaches, medical professional or other trusted adults outside of their home, Green said she is asking teachers to utilize video conferencing to look for signs of abuse, and for neighbors and community members to pay close attention to children either in their homes or who they see from a distance.
Though schools and many public offices are closed, help lines are still available and community members are encouraged to continue to utilize these resources.
"Despite the fact that we have a global health crisis and pandemic happening right now—and child abuse feels a world away—it is always raging in the background," Green said.

Here are a few indicators of child abuse to keep in mind, provided by the

CAC of Texas

.



Unexplained injuries




Lack of personal care or hygiene




Fear of certain places or people




Risk taking behaviors



The local abuse reporting hotline is 800-252-5400.
More child abuse prevention and awareness resources can be found the websites of
CAC of Texas
, CASA, Connections Individual and Family Services, and
CAC of Comal County
.
For mental health support, contact River City Advocacy & Counseling Center, call the Texas Health and Human services COVID-19 support line at 833-986-1919 or visit the Texas Health and Human Services website.