Economic recovery was still a foggy concept at the end of May for New Braunfels' medical, business and government leaders. Thousands of unemployed residents and a large portion of New Braunfels businesses were still reeling from closure orders.
As the Texas economy began to reopen, the question became how to stifle the spread of the coronavirus as tourists flocked to town and pumped much-needed money into New Braunfels.
"It's [a question] that everybody is turning over in their head," said Dr. Judith Thompson, a local surgeon who helped establish the city's drive-thru coronavirus testing center.
A 2017 study published by the Greater New Braunfels Chamber of Commerce reported the tourism industry employed 10,873 direct and indirect workers, or 22.5% of all local jobs.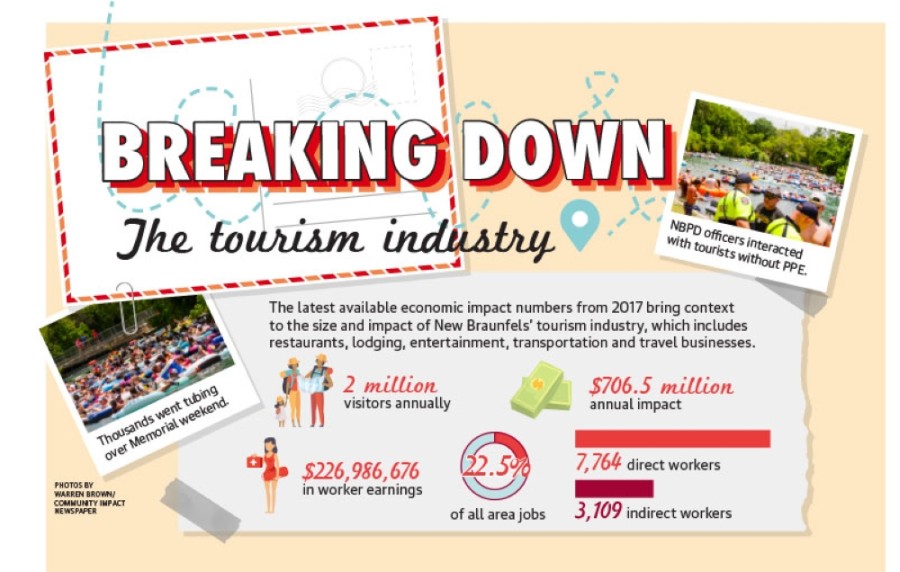 A report compiled by San Antonio Works documented 16,769 unemployment insurance, or UI, claims submitted by Comal County residents between Feb. 24 and April 27 this year, representing a 23.7% unemployment rate.
New Braunfels Chamber of Commerce President Michael Meek said in an interview May 22 that he believed that rate stood closer to 28%.
"One thing I think that's important to understand as part of public health is that people need food and shelter and health care and social services," said Dr. Dorothy Overman, Comal County's health authority. "People need to be able to work and earn a living and be able to afford those things."
Of the unemployment claims in the SAW report for the San Antonio metropolitan area, 26.1% were in accommodation and food services. Retail, arts, entertainment and recreation accounted for another 17.2%.
New Braunfels Chief Financial Officer Jared Werner said hotel occupancy taxes were down 68.5% in March, and year-over-year double digit slumps were projected throughout the summer months.
Jeff Jewell, New Braunfels' director of economic and community development, said in an email that hotel bookings declined by 80% or more in many instances across town.
Meek and Jewell were both optimistic that New Braunfels may see increased tourism activity compared to other cities due to its status as a "drive-in destination."
"The community may stand to benefit from increased regional or statewide travel as people opt to avoid getting on an airplane or deem other locations as too risky," Jewell said.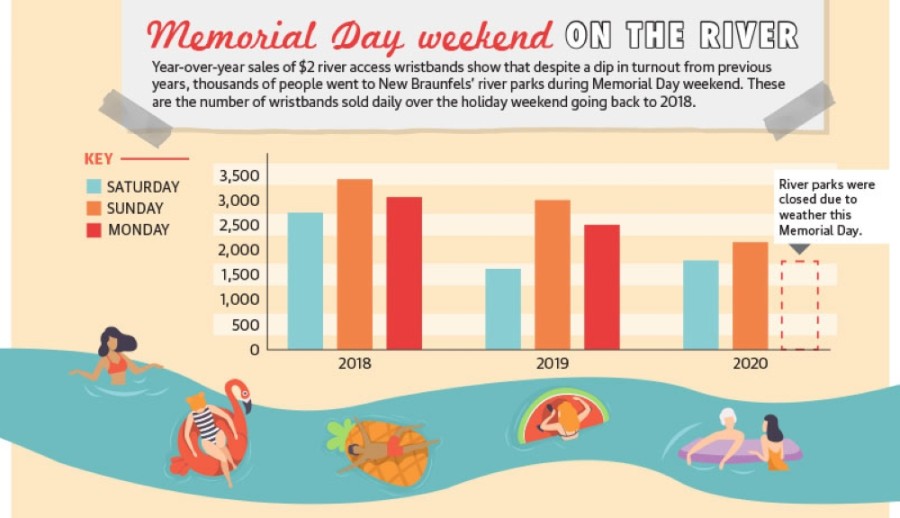 Thousands arrive for Memorial Day weekend

Memorial Day weekend gave residents a snapshot of what kind of tourism activity can be expected as Gov. Greg Abbott continues to loosen restrictions on the economy.

Thousands of visitors hit river parks and went to local businesses, but social distancing was conspicuously missing from many scenes around town, as well as personal protective equipment, or PPE.

The Centers for Disease Control and Prevention states that crowded parks should be avoided, but swimming pools are OK with social distancing.

New Braunfels' policies seem to be splitting the difference in theory, but river parks gained some notoriety over the weekend.

"Unfortunately, there's people there for different reasons than just to be down the river; they're there to party and socialize; and they really don't want to be distant from other people," Overman said. "They want to be close to other people, and then that's really where the problem is."

Thompson also expressed concern over the sudden influx of visitors and lack of social distancing.

"There's a real likelihood that we could see a [coronavirus] spike after this weekend in our community," Thompson said.

According to Thompson, the holiday weekend's river attendance was lower than previous years—4,066 day passes sold in 2020 compared to 7,062 in 2019—but river parks were closed on Memorial Day this year, skewing the numbers some.

Saturday attendance was actually higher in 2020 with roughly 1,758 river access wristbands sold compared to 1,638 in 2019.

On Sunday, 2,308 wristbands were sold this year compared to 2,982 the year before.

With large numbers of tourists interacting with locals, Thompson believes there is a level of social responsibility required to keep everyone safe.

"We each have an obligation to behave responsibly, to care for ourselves," Thompson said. "In my mind, that means our businesses, our employees and our customers."

At the Wurstfest grounds, dozens of customers stood shoulder to shoulder in line for access to the river. Employees did not enforce social distancing until approached by a reporter with a camera, at which point they also attempted to obstruct photos.

The Wurstfest Association did not respond to a request for comment.

In Gruene, upward of 100 customers gathered in front of Rockin R River Rides' tent May 23.

Owner Shane Wolf acknowledged there were difficulties with social distancing but said adjustments were made over the course of the weekend to improve the situation for both customers and employees.

Employees on golf carts began educating customers on arrival, and reminders to social distance were issued by a DJ every 10 minutes, instead of every 30, according to Wolf.

"People have come out, and social distancing was not top of mind for a lot of them," Wolf said. "We're doing everything we can, obviously to continue to encourage and promote the social distancing from that perspective, and most of them are abiding."

While river outfitters enjoyed a much-needed jolt over the holiday weekend, retail businesses saw a smaller impact.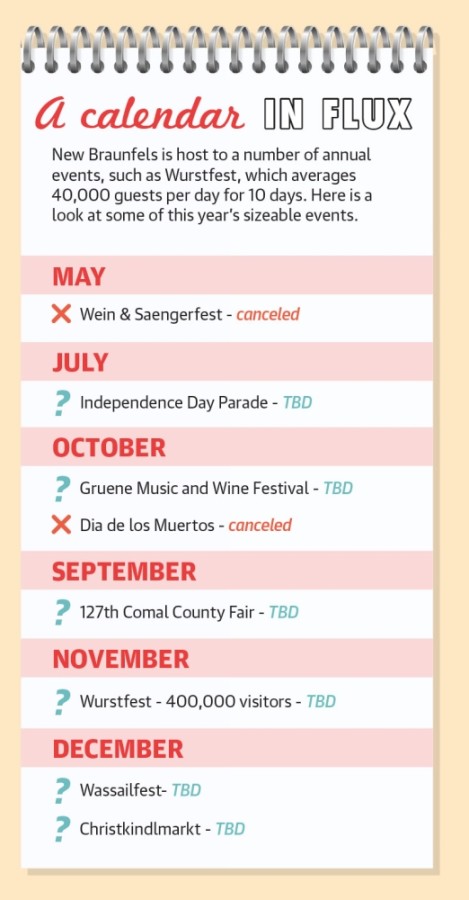 "[Business has] still been pretty minimal, but it is slowly picking up," said Kyle White, who co-owns The Barn in Gruene with his wife, Angie.
Despite masks not being required in public in New Braunfels, Angie White said The Barn's staff wears them for every customer interaction, and surfaces are cleaned as often as possible.
"I think things will start to pick up, but you know it's just a matter of how long will that take," Angie White said.
Enforcement through education
Social distancing measures could be vital not just to safety, but also consumer confidence, according to Jewell.
"It's going to take assurances from businesses that they're implementing safe practices as well as a more general sense that the virus is not spreading as prolifically as it once was before the tourism industry can begin a path to recovery," Jewell said.
Confidence could also be based on the enforcement of social distancing measures by authorities.
Since the beginning of May, the New Braunfels Police Department and the Comal County Sheriff's Office did not issue a citation or written warning for not following social distancing guidelines or recommendations.
City policy puts the impetus for maintaining public health on the individual rather than attempting to enforce punitive measures outlined in Abbott's executive orders.
"People have the personal responsibility to stay in small groups or with members of their own family, to wash their hands thoroughly and often, and to practice social distancing when out in public, as outlined by the health standards in the Governor's Report to Open Texas," City Manager Robert Camareno said in a statement.
City employees were not leading by example.
At Prince Solms Park, park rangers and NBPD officers answered questions from tourists within arms' reach and kept a watchful eye over hundreds of people but did not wear PPE.
NBPD Capt. Michael Penshorn said officers were provided with PPE and had access to additional supplies as needed, but it was up to officers to decide whether to wear a mask.
"If you'll have plenty of space between you and other people, you don't have to wear a mask, but if you're in a crowded area that you cannot avoid being in close proximity with other people, then you should be wearing a mask," Overman said.
As city policy stands, residents have to watch out for themselves and hope the thousands of visitors to New Braunfels act responsibly by their own accord.
"Until you've really stressed the system, you're probably not going to get public officials to take meaningful action to tell employers how to run their businesses," Thompson said. "So now we go back to the balance of human life on the health side or human life on the economic side, and economics are favoring the circumstances in our state right now."