New Braunfels City Council members during a Dec. 13 meeting approved the first reading of a proposed rezoning of approximately 28.868 acres located adjacent to Broadway Drive, Rusk Street, Porter Street and the Guadalupe River.
If approved during a second reading the property would be rezoned from M-2, heavy industrial district, to MU-B, high-intensity mixed-use district, allowing the proposed River Mill development to include a multifamily component in its plans.
In 2016, DRT-PMP LAND LLC purchased the 35-acre property on which a shuttered textile mill and several other properties sit. It is now part of the
River Mill Tax Increment Reinvestment Zone
.
The city of New Braunfels approved its second tax increment reinvestment zone in November 2019 for the 71.6-acre area in and around what isknown as the Milltown district. The TIRZ includes mill property and would contribute funding for the site's redevelopment.
A TIRZ allows a city to capture projected increases in sales and property tax revenue created by a development within a defined area and then reinvest those funds into public improvements and projects within that zone.
Projects funded through the TIRZ could include infrastructure improvements and maintenance costs.
Previously, the M-2 zoning allowed for multifamily housing uses, according to city documents, but the city's zoning ordinance was changed in 2019 to remove multifamily zoning from the M-2 district.
"[M-2] is our heaviest industrial manufacturing zoning district; obviously that was needed to accommodate the former mill," said Christopher Looney, planning and development services director for the city, during the Dec. 13 meeting.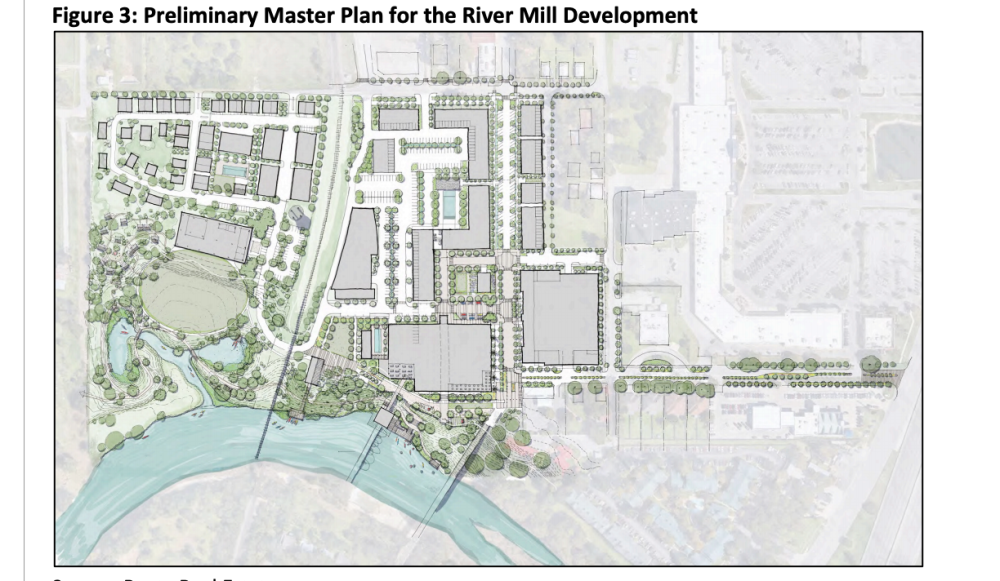 Looney said the River Mill TIRZ was created with the goal of incorporating multifamily housing, restaurants, retail space and outdoor space.
"Envision New Braunfels actually has a very specific action item that is to encourage and incentivize the thoughtful redevelopment of the river mill site, and this rezoning would allow for that to happen," Looney said, referencing the city's comprehensive plan that was created in 2018 to provide developers and officials with guidelines for future developments and revitalization efforts in downtown New Braunfels.
Plans for the project have not yet been finalized, property owner Don Thomas said, but he hopes to reuse some of the existing buildings in the development, and the design of the property was inspired by the Pearl Brewery redevelopment in San Antonio.
Thomas said he plans to incorporate a hotel, retail property, residential areas and an outdoor entertainment space. No date has been set for the development to begin construction.