During a May 13 public meeting, a local development company shared with New Braunfels residents plans for a proposed 1,880-acre mixed-use development located north of Kohlenberg Road and bisected by I-35.
The meeting was the first of two public forums, with a second meeting slated to be held
virtually
on May 17 from 6-7:30 p.m.
SouthStar Communities, a New Braunfels-based development company, has been in talks with the city of New Braunfels since early 2020 to negotiate a development agreement that would pave the way for work to begin on the proposed project.
The property is located in the extra-territorial jurisdiction of New Braunfels and is owned by the Texas General Land Office. SouthStar is anticipated to develop the land over the next 15 to 20 years and will incorporate both residential, commercial and public space into the community.
"It's really just been a partnership with the City of New Braunfels and working with them to understand not only their goals for the Envision [New Braunfels] Comprehensive Plan, but what are the issues in the city, what are they tackling today versus tomorrow," said Thad Rutherford, CEO of SouthStar Communities.
Through the development agreement, the city would be able to impose development standards including needing review and approval by city bodies, regulating the form and placement of buildings, ensuring housing diversity and implementing walkability and connectivity standards.
"It allows them to regulate in a way that makes sure that at every step the vision of Mayfair is consistent," Rutherford said.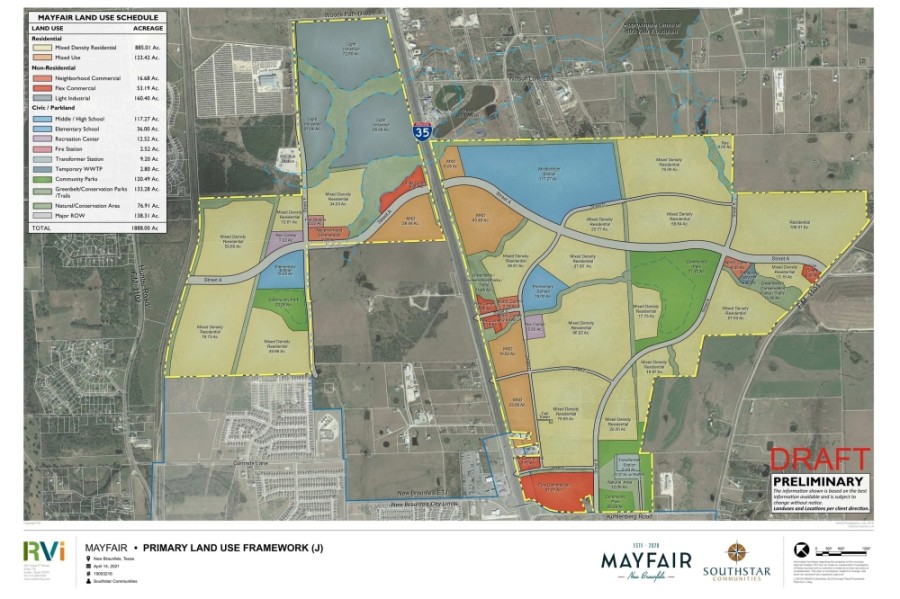 Once the development agreement is approved by the city, Rutherford said his team would work to establish a water improvement district, or WID.
The WID would give officials the ability to enter the agreement to outline permitting and planning reviews and oversee the developer's commitments to deliver project amenities for the district.
Developers have entered into a cost sharing agreement with New Braunfels Utilities to gain access to the utility services, Rutherford said, but the community will be responsible for funding and maintaining water and wastewater infrastructure.
"The beauty of the water improvement district is it operates and maintains everything within this boundary," Rutherford said.
In addition to utility infrastructure, Rutherford said Mayfair will finance the creation of roadways, fire services, emergency medical services, police services and trash collection for the community.
"It's really a self-contained community," Rutherford said.
According to project plans, the community will include up to 300 acres of public space and parks, varied housing options, an employment center for commercial and industrial development and schools that are accessible to residents.
SouthStar has partnered with Comal ISD to provide space for four schools within the boundaries of Mayfair, including two elementary schools, one middle school and one high school.
"We are talking to a lot of people about employment centers, and they want to know about the school district because they're moving their people," Rutherford said. "That's a really important part for younger families for value and for employment."
Once the necessary approvals have been received, the first homes are expected to be complete in 2023, said Gretchen Howell, vice president with SouthStar Communities.
Howell and Rutherford said the first phase of the project will focus on the portion of land on the east side of I-35, between Kohlenberg Road and the proposed east/west I-35 underpass.
The first portion to be developed will include commercial projects fronting the highway, several types of residential options and public outdoor space, Rutherford said.
"Right now our focus is NBU and the city and the planning. We are still tweaking things and will probably tweak things up until council votes [on the development agreement]," Rutherford said. "There will be multiple builders [and] other developers partnering with us, too, but we will stay as the leader for Mayfair for the life of the project."