Michael Meek, New Braunfels Chamber of Commerce CEO, recently offered a chilling bit of context to the economic toll of the coronavirus.
"Yes, we have in years past had economic downturns caused by floods, droughts, 9/11 and more, but this current one is the granddaddy of them all impact-wise," Meek wrote in a blog post for the chamber.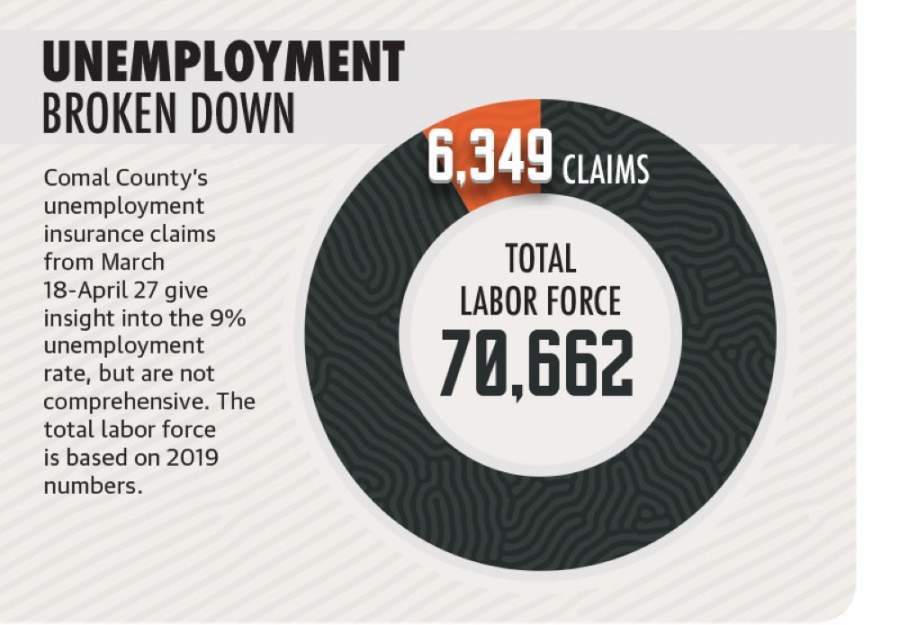 Many quantifications of the virus have failed to capture the true scope of its impact. Whereas New Braunfels has so far been spared from the soaring death counts associated with larger cities, livelihoods have been a major casualty.
The Texas Workforce Commission reported 6,349 unemployment insurance, or UI, claims from Comal County residents from March 18-April 27. Of those claims, 1,261 were turned away for not being monetarily eligible.
Information on the New Braunfels Economic Development Corp's website puts the size of Comal County's labor force at 70,662 as of 2019.
That ratio puts the county's unemployment rate at 9%—at the minimum.
If unemployed residents haven't applied for UI, or if TWC hasn't reported additional claims yet, that rate could rise.
For comparison, the unemployment rate during the Great Recession and the collapse of the housing market peaked at roughly 10%.
"We're all swimming in new waters, and there are no easy answers out there," Meek said in an interview. "The thing that the chamber is trying to do is to inform, advocate and promote [businesses]."
According to TWC, the New Braunfels industries with the most UI claims are—in descending order—full-service restaurants, dentist offices, hotels and motels, general medical and surgical hospitals, and beauty salons.
Schlitterbahn New Braunfels—the city's second-largest employer—laid off more than 2,000 seasonal workers in March after a brief season opening came to an abrupt halt due to closure orders issued by the city.
Representatives for the company said that employees were paid for the rest of their scheduled time in March but did not disclose how many work hours that included.
They went on to say that no new information on the park's reopening was available as of April 28 but pointed to a release from March that said a mid-May reopening was the goal, which is unlikely to happen due to statewide restrictions.
With rivers closed and the local tourism industry sinking, the water park isn't struggling alone.
A filing with the TWC by the Gristmill River Restaurant & Bar on April 9 reported 305 employees were laid off March 19. Willie's Grill & Icehouse reported 45 layoffs March 17.
Hanna's Kitchen closed after being in business for 36 years.
Statewide, an estimated 61% of the dining industry's 1.2 million employees were expected to be out of work by the end of April, according the Texas Restaurant Association.
"The hospitality industry will be one of the last and most important ones impact-wise to come back, and they will need our support," Meek wrote on the chamber's website.
For residents with lost income, stimulus checks from the federal government for $1,200 arrived in April, but according to a report done by Community Development Strategies for the EDC in 2018, that barely covers rent for a 900-square-foot apartment in New Braunfels.
City revenue takes a dive
Some estimates for the pandemic have suggested that social distancing measures could be required into 2022, a daunting prospect for businesses, individuals and the local government.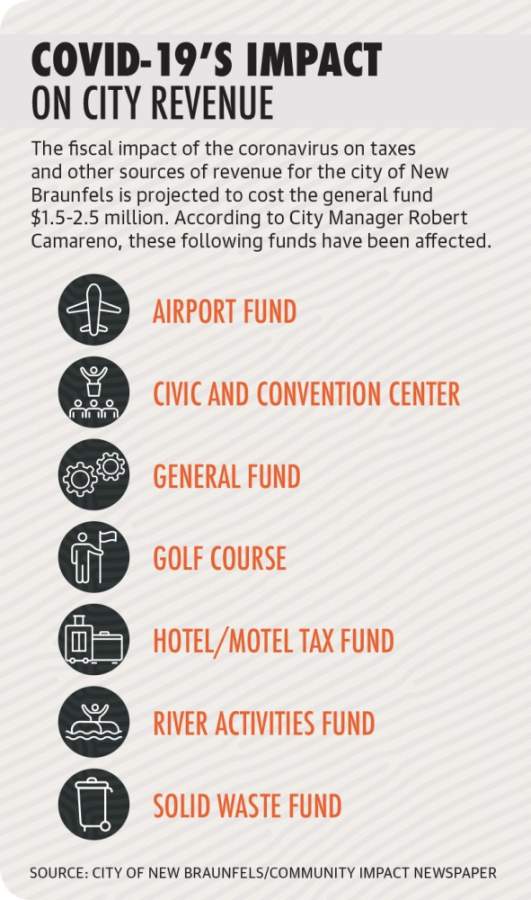 City Manager Robert Camareno reported that as of April 15, a reduction of at least $1.5 million-$2.5 million in revenue is expected for the city's general fund.
The source of the slump was attributed to short-term impacts such as reduced sales tax revenue, service charges, and income from parks and recreation.
Casteel said in an interview that the city had put measures in place to handle large economic downturns resulting from disasters.
"We didn't talk about pandemics, but we know immediately what happens is we lose our single largest source of revenue, which is sales tax," Casteel said. "There's policies and procedures put into place—a freeze on hiring, various budgetary constraints."
An additional problem for local business owners, Casteel pointed out, was that New Braunfels' property tax valuations were done in January when the economy was still strong.
"Now everybody's getting their valuation, and some of their businesses aren't even open," Casteel said. "A lot of [businesses] pay the tax associated with their place of business—even though they don't own it—it's a part of their lease. ... Their rents will go up based on the valuation."
Nonprofits feel the squeeze
New Braunfels Grants Coordinator Jennifer Gates announced to City Council on April 27 that a total of $243,102 from the U.S. Department of Housing and Urban Development would be made available to nonprofits, small businesses, city departments, housing organizations and other public agencies late July.
McKenna Foundation CEO Alice Jewell illustrated the shortfall in an email sent to city officials a day earlier and during the council meeting.
A survey McKenna sent to other local nonprofits found that from mid-March through May, more than $3.6 million in revenue will be collectively lost by 30 local organizations, or $130,507 each.
"This loss in revenue will continue past May," Jewell said in her email. "Nonprofits have also lost many volunteers. This is particularly challenging since about half of them report an increase in demand for services."
The results of the survey go on to show that 34.38% of the participating nonprofits have less than two months of cash reserves on hand, and nearly 10% have none.
"83% of [the nonprofits] provide a service that directly supports the health or basic needs of those affected by the pandemic," Jewell wrote.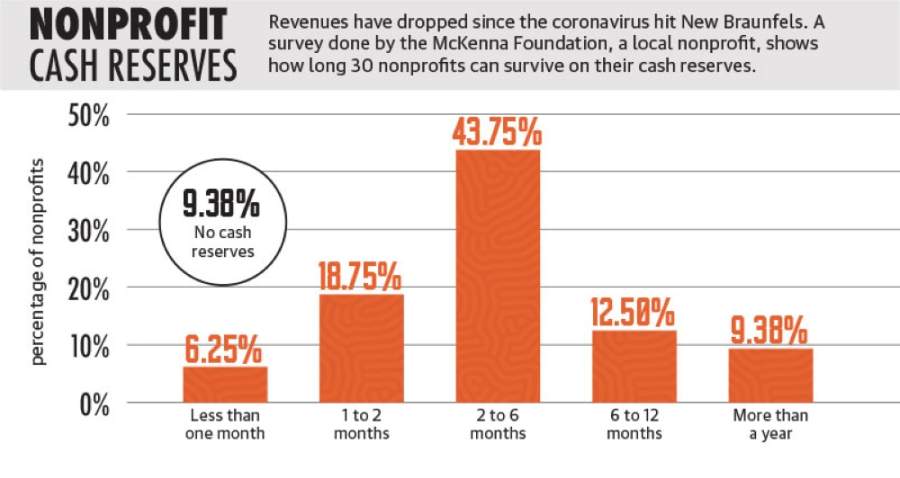 Groups less affected
While many industries have been hit hard, construction contractors have mostly dealt with delays instead of mass layoffs.
Texas Department of Transportation road projects have continued with barely a hiccup in New Braunfels, and the city's scheduled construction projects for this year, funded by bonds issued in 2013 and 2019, have also moved forward.
New Braunfels Utilities received approval from City Council in April to issue $386.6 million in long-term debt over the next five years in a series of bonds, which will largely be used to fund capital projects.
A representative for Continental Automotive Systems said that the company's $110 million plant was still moving forward, albeit with a short delay. It was previously reported that the plant would employ 444 full-time employees by 2023.
Developers such as Southstar Communities are so far weathering closure orders better than many other industries.
"There's no impending layoffs or furloughs or anything like that," Southstar President Thad Rutherford said. "We're going to do everything we can to be a better Southstar next year—hopefully we can add jobs. I would love to do that."
Rutherford also said there is a continued demand for homes despite the economic outlook.
"Interest in sales are still out there," Rutherford said. "That's not just optimism; we're seeing people talk to us online."
The Southstar president went on to say that companies like his have a responsibility to the communities they have built.
"We need to think a little bit more beyond just how do we survive," Rutherford said. "We need to be doing a better job at engaging our residents to do things for other people that are less fortunate, because we're a catalyst."
Reopening New Braunfels
With Gov. Greg Abbott's executive orders having begun to reopen the Texas economy, a big concern was a surge in coronavirus cases as people re-entered public spaces, restaurants and retail stores.
"What we hear from our hospitals and the medical health professionals is that they are far more educated and understanding of COVID-19 than they were two months ago," Casteel said. "They're confident that they can deal with it going forward."
Abbott said in late April that his hope is to open many businesses to 50% capacity by May 18.
"Once all these restrictions are lifted, I think we could return to some sense of normalcy or the way it used to be," Meek said. "It's going to take a long time."
With the apparent support of the medical community, Casteel voiced support for the reopening, also noting that stay-at-home orders were ineffective unless widely enforced.
"We need to give [residents] opportunities to be able to earn a living," Casteel said. "We've got to start moving in the direction of reopening Texas."